Losing Faith is simple and straight if you don't see things happening in your favor. However, these Bible Verses About Faith and Trust can guide you on why you must always shave Faith in God's plan.
Life and God work in mysterious ways, and it's enough reason to lose Faith when you don't understand why a thing happens to you. The worst part is seeing the sinner winning and the saint losing.
It's also challenging to walk on God's guided path in modern days. Most of us can experience contradictory experiences with events. However, If you decide not to entertain other thoughts and beliefs, you can experience that miracle God always says.
If you are struggling with life and feel that your Faith in God decreases, reading these scriptures on Faith will strengthen you.
Also Read: 8 Soulful Bible Verses About Life in Heaven 
Bible Verses About Faith And Trust KJV
Romans 8:28 "And we know that all things work together for good to them that love God, to them who are the called according to his purpose."
Have you ever thought that your Faith didn't start out of the blue but because of some experiences? You may have forgotten as beliefs, with time running on automated ways.
Let me remind you that deep in your heart, you know there is someone unseen watching over you. Circumstances might temporarily shake your Faith and trust in God, but they can not take away all.
You, searching for the light of hope and looking for the reasons to keep up your Faith, prove that you have Faith in the Lord. Additionally, reading these Bible Verses About Faith and Trust will guide you to strengthen it.
Psalm 9:10 "And they that know thy name will put their trust in thee: for thou, LORD, hast not forsaken them that seek thee."
Bible Verses About Faith in Hard Times
Isaiah 41:10 "So do not fear, for I am with you; do not be dismayed, for I am your God. I will strengthen you and help you; I will uphold you with my righteous right hand."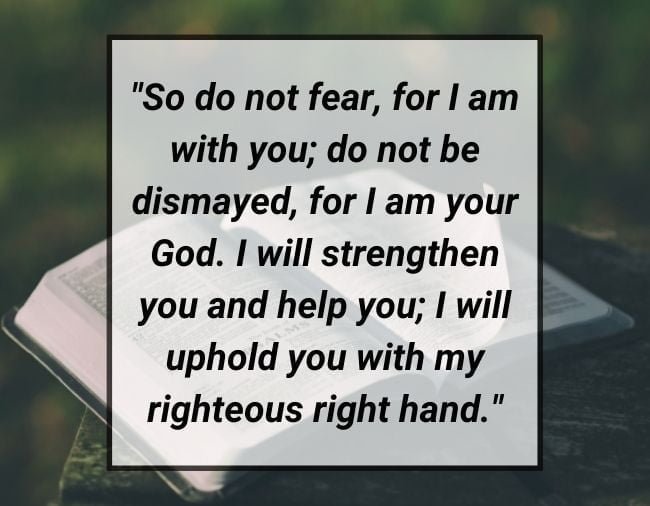 Challenges are the ways God strengthens His children, and those who believe in Him doesn't feel lost when they fail. God never lets you down when you take the first step toward God with your heart full of Faith.
The most magical experience and thought that helps me high is that every step of Faith in God brings me closer to Him. Believe me, He is almighty, and His closeness isn't easy and plain.
If you can dare to make up your mind that no matter what, you will never lose your Faith in God, no circumstances can shake it. The only problem happens with those who doubt His existence.
Keep reading these Bible Verses About Faith and Trust, keep walking on His path, one day you will realize He has protected you on every rocky road.
Isaiah 26: 3-4 "Those of steadfast mind you keep in peace—because they trust in you. Trust in the Lord forever, for in the Lord God you have an everlasting rock."
Also Read:  Powerful Bible Verses About Money Blessings
Bible Verses About Faith and Strength
Isaiah 41:10 "Fear thou not; for I am with thee: be not dismayed; for I am thy God: I will strengthen thee; yea, I will help thee; yea, I will uphold thee with the right hand of my righteousness."
When you decide not to shake your trust in God and increase your Faith in Him by showing it in your action, God will make sure to be on your Side. Guiding you, protecting you, and most importantly, you will develop a stronger connection with Him.
Unlike our parents in this physical realm, He is also hungry for our Love, Attention and wants us to obey His rules. The difference between these two parents is He is an ocean of Love, power, peace, and all the goodness we desire.
The best way to please Him and Make Him proud is to show your Faith in Him and never doubt His ways. No matter how much stormy your life seems now, once the storm is over, you will be able to see His way of loving you clearly.
Reading these Bible Verses About Faith and Trust has helped me develop my relationship with God, so I can assure you that it will do the same to you.
Hebrews 11:6 "But without faith, it is impossible to please him: for he that cometh to God must believe that he is and that he is a rewarder of them that diligently seek him."
Also Read: 14+ Soulful Short Prayers For New Beginnings in Life 
Trusting God in All Circumstances Bible Verse
Proverbs 3:5-6 "Trust in the LORD with all your heart, and do not lean on your own understanding. In all your ways, acknowledge him, and he will make straight your paths."
Do you know when we feel more stressed out and suffer from pain? When we resist the circumstances happening around us. If we can learn to believe in happening and wait for it to pass, we will be able to see everything.
"This too Shall pass" is my Mantra for a hard time, which has been working as well. Find your own Mantra that can keep you calm during a difficult time, and pray to strengthen yourself.
From my past experiences, I can say that if one can put Their hundred percent Faith in Lord, they experience His Love and concern. Reading these Bible Verses About Faith and Trust on a daily basis will also guide you to develop your trust.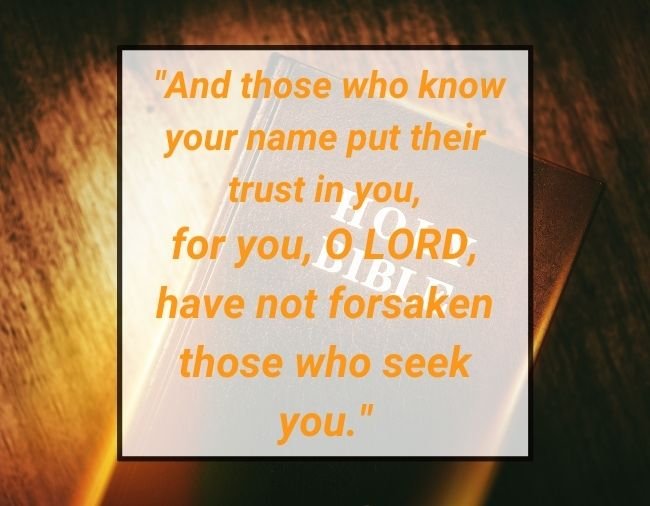 Psalm 9:10 "And those who know your name put their trust in you, for you, O LORD, have not forsaken those who seek you."
Final Words: I pray for you that May God strengthens you and guide you to walk on His Faith without any doubt in the way He works. I highly suggest you keep reading a few Bible Verses About Faith and Trust when you feel discouraged or lonely.
Life can sometimes look like a battle, but the victory is always with those who keep God to their Side. Yes, it's we who choose whether God is on our Side or opposite. Chose God, Chose Faith, and Trust in His way.
If you found this article helpful and Informative, Share it and let others enhance their Faith by reading it. Sharing knowledge with others is a great way to help others.
Also, Don't forget to bookmark this page for more informative articles like "Bible Verses About Faith and Trust" for instant aces in the future.
Stay Healthy, Stay Blessed