Are you planning to start over in business, relationship, or job again but worried about the outcome? Keep your worries aside, and Let God Pilot you with the help of Prayers For New Beginnings.
At some point in life, we all feel the essential to restart and forget the past. Of course, it feels exciting to experience new, but it's also scary. However, victory often awaits at the end of the fear zone.
There is always hope no matter what type of past you have experienced in your job, business, or relationship. The Rays of hope only guide when one dares to step forward toward the unknown future.
This article will share a few powerful Prayers For New Beginnings in life. Before going to Prayer For New Chapter In Life, let's see what God says about new beginnings.
Also Read: What Does The Bible Say About Manifestation
Bible Verses About New Beginnings
Job 8:7 "Your beginnings will seem humble, so prosperous will your future be."
When I was confused a few years ago, Reading these prayers for new beginnings bible verses cleared my mind. It removed all the distractions and made me see my true path.
I used to think moving on might be a sin; not keeping my promises is a sin, but I realized something is not meant to be part of my future.
If you have such confusion, read some more Bible verses before starting Prayers For New Beginnings. Let your mind and heart have clarity about your lift first.
God is always there for you to support your decision and make it right for you. He will never let his children keep walking on the path they are not meant to.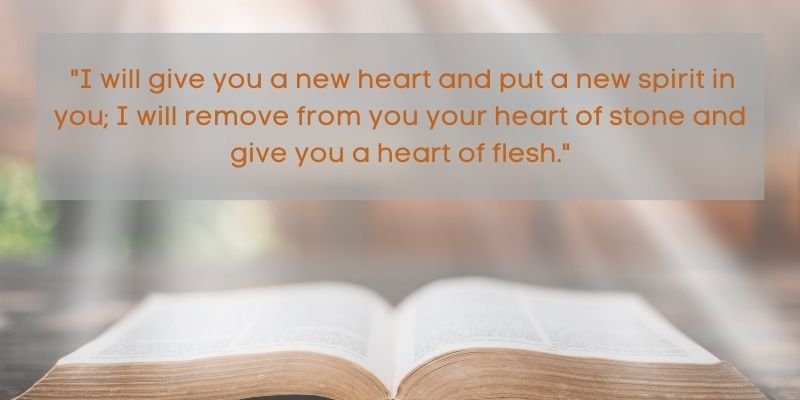 Ezekiel 36:26 "I will give you a new heart and put a new spirit in you; I will remove from you your heart of stone and give you a heart of flesh."
Prayers For Endings And New Beginnings
"Heavenly Father, My only shepherd, Today, I pray you to help me let go all my past that do not serve me in the future. Let all the struggles related to the past end and allow me to move on. Guide and Protect me, Lord, as the new beginning scares me. Amen."
In order to move on in life and experience something new, you must free yourself from old burdens. Most of the suffering in the world is due to the baggage of the past, which people are unable to leave behind.
Self-healing, spiritual healings, and hypnosis are a few intelligent and effective ways to remove all those attached baggage. Prayers are always effective if your faith isn't into other healing techniques.
Before moving on with Prayers For New Beginnings, Ask God to eliminate all that is blocking your bright future.
"Heavenly Father, I have never been more ready to move on with my life and create something new that excites me. Something is blocking my way, and I find myself weak to remove that. I pray you strengthen me, Lord, and remove all the heaviness I am carrying around me. Amen."
Celtic Prayer For New Beginnings Images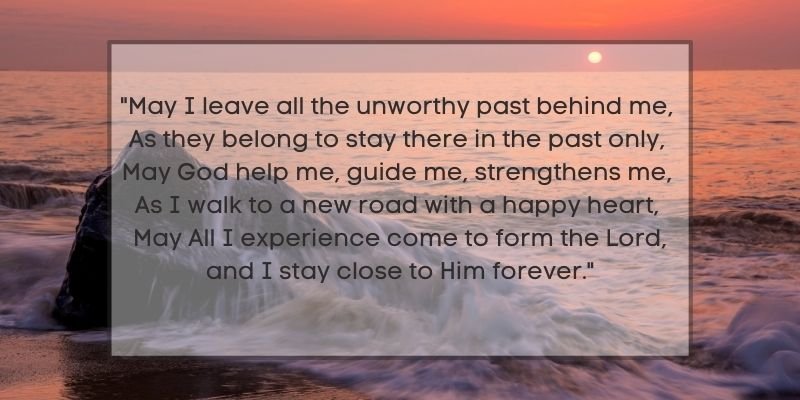 "May I leave all the unworthy past behind me,
As they belong to stay there in the past only,
May God help me, guide me, strengthens me,
As I walk to a new road with a happy heart,
May All I experience come to form the Lord,
and I stay close to Him forever."
The human mind constantly manipulates faith which is crucial for any achievement. You need to enhance your faith before walking in a new direction with a new purpose.
Your faith is the highest force that can lead you or destroy you, so have faith in Lord's guidance, at the same time in you too. When you walk with God, keep reminding your mind that you are unstoppable.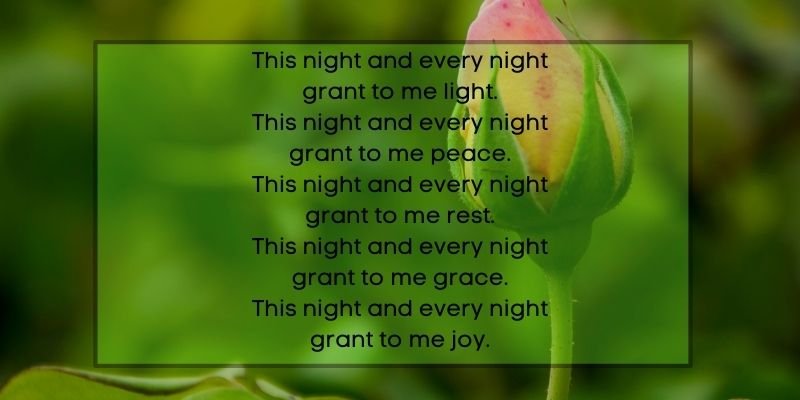 This night and every night
grant to me light.
This night and every night
grant to me peace.
This night and every night
grant to me rest.
This night and every night
grant to me grace.
This night and every night
grant to me joy.
Prayers For New Beginnings mixed with your hundred percent faith will let you shake for a second. Give yourself time to heal, enhance your faith and then start walking towards your goal; magic will follow you.
May God bless you with a new dawn,
May the glory await you in the end,
May your path be clear and safe,
May you move ahead with joy and wisdom,
May God stay Beside you for the rest of your life.
Catholic Prayer For New Beginnings
"Dear God, I thank you for making me realize to close the door of the past, which isn't serving me any good. I pray you to guide me to see a better, healthy, wealthy, and peaceful future. I am eager to walk in the unknown new beginning holding your hand Lord. Please Hold my hand, guide me, protect me and walk with me to the path ahead. Amen."
When your past hurts your present or does serve anything that adds value to your life, you must let that go. God has gifted us this life not to shrink it but to expand ourselves mentally, emotionally, and spiritually.
If you ask me about your emotional past, I will suggest that the past, be it good or bad, only need to stay in the past. If you are serious about experiencing the result of Prayers For New Beginnings, stop thinking over the past.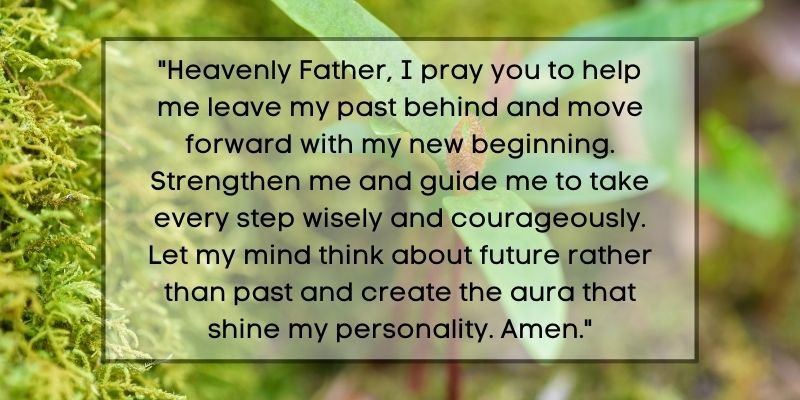 "Heavenly Father, I pray you to help me leave my past behind and move forward with my new beginning. Strengthen me and guide me to take every step wisely and courageously. Let my mind think about future rather than past and create the aura that shine my personality. Amen."
Prayer For New Chapter In Life | Prayers For New Beginnings
"Dear Lord God, Moving on from my past seems to suck all of my every and make me sick. I find myself weak to close the door of my past. I pray you to help me move on and start a new chapter of my life Lord. Be with me and guide me to start with the right mindset with the right person in the right direction Amen."
It's tough to leave something behind where you have invested your money, emotions, and many days of your life. However, sometimes, it's wiser to leave that past if it behind doesn't seem to serve you in your future.
Do you know the past that keeps coming into the present and hurting you is the sticky, dirty, soul-sucking energy you must get away from ASAP? It's always wiser to listen to your inner voice.
If you find yourself unable to clean that stinky painful past, take the help of these powerful Prayers For New Beginnings and start walking forward. God will never fail you if you have 100% faith in Him.
"Lord God, My shepherd, I need you to protect me from any evil eye or harmful energy stopping me from walking towards my future. Yes, I am willing to move on and start a new chapter of my life. ASAP. Heal me, guide me hold my hand, ensure me by walking with me, Lord. Amen."
Also Read: 11 Best Bible Scripture for Breakups and Healing Energy
Catholic Prayer For New Beginning Relationships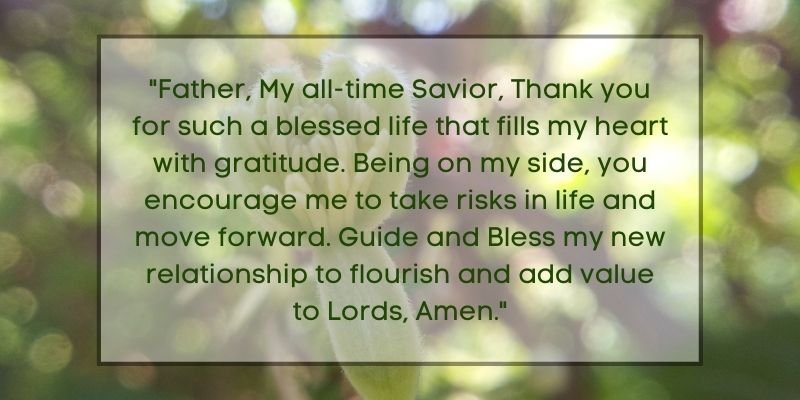 "Father, My all-time Savior, Thank you for such a blessed life that fills my heart with gratitude. Being on my side, you encourage me to take risks in life and move forward. Guide and Bless my new relationship to flourish and add value to Lords, Amen."
It's easy to stay happy in a new relationship that looks perfect at the moment. I have witnessed more relationships collapsing with passing time due to multiple challenges.
It's crucial to keep God with you since you meet the person for the first time. Whether you believe it or not, you will never find any better well-wisher than God.
Keep using Prayers For New Beginnings and long-lasting relationships; He will make sure your relationship grows magically.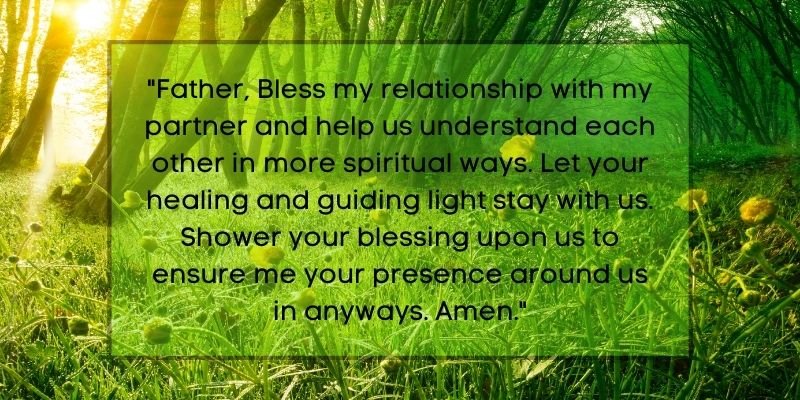 "Father, Bless my relationship with my partner and help us understand each other in more spiritual ways. Let your healing and guiding light stay with us. Shower your blessing upon us to ensure me your presence around us in anyways. Amen."
Short Prayers for Spring And New Beginnings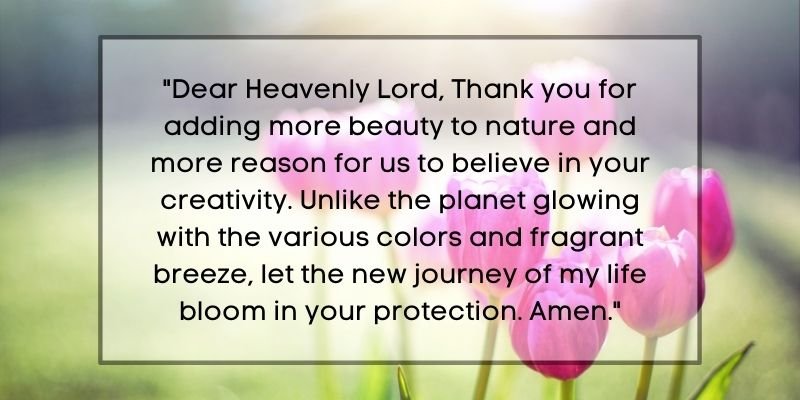 "Dear Heavenly Lord, Thank you for adding more beauty to nature and more reason for us to believe in your creativity. Unlike the planet glowing with the various colors and fragrant breeze, let the new journey of my life bloom in your protection. Amen."
Spring is the season we all love, including the birds and animals. I find the aura of our planet more robust and vibrant, which inspires me to add value to my life.
Springtime is also a message from God to all living beings to believe and accept the changes life brings to them. Resisting nature's movement invites suffering, especially in human life.
I find it blissful to live and embrace the change and share these soulful Prayers for new beginnings.
"Heavenly Father, unlike spring season, let all the unworthy things and memories leave my life and invite new, exciting memories and events into it. I believe in your will Lord and accept the change you brought into my life. I pray you to let this season be one of the best season by growing me spiritually, mentally emotionally and financially. Amen."
Final words: I pray for your future journey to be a fantastic, unforgettable and more exciting step towards your desired life. I am certain one of the above Prayers For New Beginnings will touch your core and open the door to a bright and better future.
If you think this article was helpful and informative, let others benefit from it. Please share it with your friends, family and social media platforms.
Also, don't forget to bookmark this page for a more helpful and informative article like "Prayers For New Beginnings" for instant access in the future.
Stay Healthy, Stay Blessed.