The pandemic has shaken humanity and stolen the peace of millions of people on this planet. Yes, It's not that people around are the only ones suffering, but the pain has spread worldwide. One of  the most peaceful and soul-satisfying acts I do on a daily basis is offering prayers for helping others.
Yes, I know we are too busy in our lives that we don't even get time to pray for ourselves or our relatives, but if you want to contribute to other life, Just pray for them.
We can not reach millions of people, but our prayers have the power to reach the entire planet. Make out sometimes in a day, find a peaceful place around the corner, and spread positivity by offering short prayers for helping others.
In this article, I will share a few prayers I have been offering since the pandemic started. If you like, you may use these scripts and send your positive and pure energy to those in need.
Before sharing the prayers script, Lets how to pray for others who are totally stranger to you. Even if someone who is your known but not very close, you may pray for them too.
Lets what what God says about helping others?
Also Read about Bible Verses About Luck and Good Luck Charm
Bible Verses about Prayer for Helping Others
HEBREWS 13:16 "Don't forget to do good and to share what you have because God is pleased with these kinds of sacrifices."
God Gives more to those children who share what they have, whether it's in terms of money, knowledge, or good wishes. It's one of the reasons people do charity.
So if you encounter any needy one, try to help out, whichever you can, and you will end up getting more from God. Therefore prayers for helping others may return to you a hundred times more.
Many times people worry about their future and refuse to help those who are in need presently.
For them, God says never refuse to those who ask you for help or want to borrow from you. It's God only who blessed you with abundance so that you can share with others and play your part.
MATTHEW 5:42 "Give to those who ask, and don't refuse those who wish to borrow from you."
Often people confuse happiness with money or material things, which is entirely false. Have you not met someone who has a lot of money but still looks unhappy in life?
Sometimes it's your presence, or your prayer is something that people need you the most.
Here are a few prayers for helping others that you may use to send for world peace and happiness.
Also Read about Soulful Short Prayers For New Beginnings in Life 
Powerful Prayer for Someone Going Through A Hard Time
"Heavenly Father, I am here to ask you for help (Name) during the challenging time they are going through. He is tired; worn feels pressured by all of these circumstances surrounding him. He seems to be losing his faith as everything is happening against him. Please bless him with strength and patience, Lord, and let him cross this storm. Amen."
If you see someone troubled and in pain around you, Known or Unknown, Pray to God for strength. Everyone around the world these days is going through some or other challenges.
Time is precious, and it passes faster than anything, but it seems stopped for those facing challenges in life. Your few moments of prayers for helping others may lighten their path and make them feel light.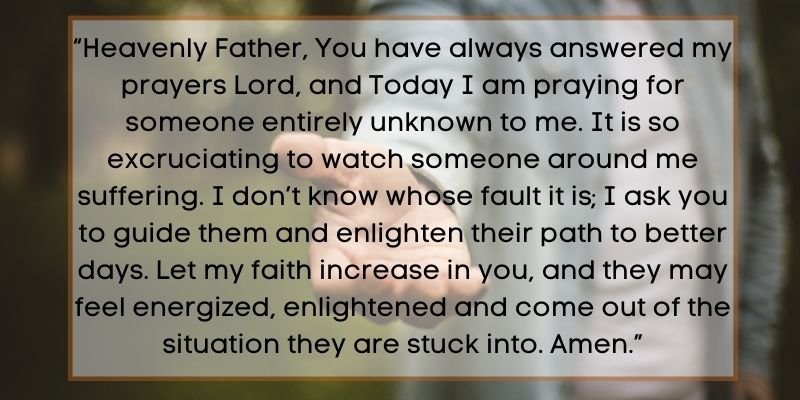 "Heavenly Father, You have always answered my prayers Lord, and Today I am praying for someone entirely unknown to me. It is so excruciating to watch someone around me suffering. I don't know whose fault it is; I ask you to guide them and enlighten their path to better days. Let my faith increase in you, and they may feel energized, enlightened and come out of the situation they are stuck into. Amen."
Short Prayers for The Hungry and Needy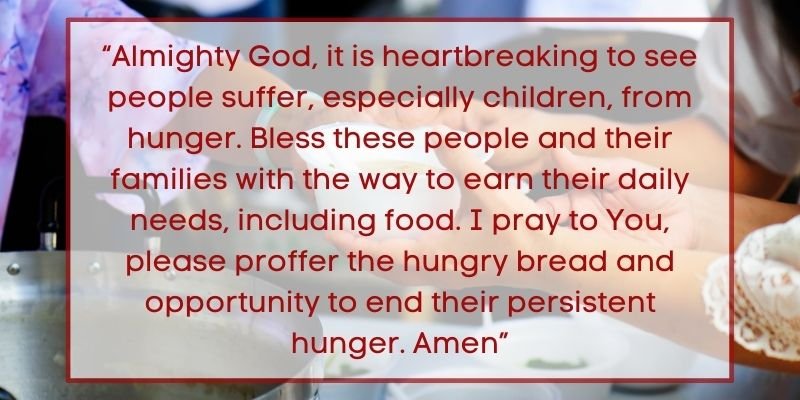 "Almighty God, it is heartbreaking to see people suffer, especially children, from hunger. Bless these people and their families with the way to earn their daily needs, including food. I pray to You, please proffer the hungry bread and opportunity to end their persistent hunger. Amen"
When we walk on the road, we surely meet either children or adults to beg for food. Often we ignore them and move on.
It might be they all are not in need, but I am sure there are some of them genuinely fighting for food. If you cant help them, there is no harm; you may pray for them.
Your prayers for helping others, including these hungry people, will guide them to earn their bread. Let us all start a movement and pray for the hungry worldwide so that no one suffers from hunger anymore.
"Dear God, I pray for your support and guidance to people fighting food around the world. Please provide them food at the right time and give them the strength, wisdom to grow food for their survival. Let their life be filled with more opportunities to contribute to humanity. Amen."
Powerful

 Prayer for Strength to Help Others
"Lord, I want to support and guide people around me, It's my deepest desire, but my challenges are the primary blockage. I feel hopeless and demotivated If I am unable to help others. Lord, Please clear these blockages and make me able to help and inspire others to do the same. Be my inspiration to spread happiness and motivation around my world. Amen."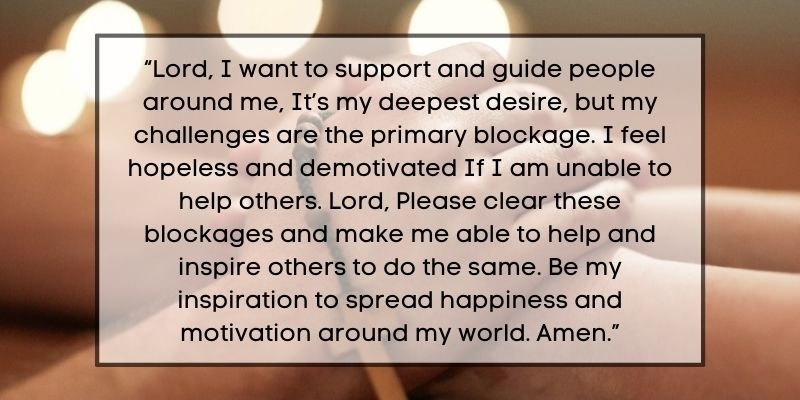 Sometimes you may want to help others by donating food, clothes, or money but your challenges make you unable to do this. Do not feel discouraged during such a phase, but ask God to rise above your situations and fulfill your desires.
Prating God to fulfill your desires, especially those which include helping others, is the greatest cause. Your prayers for helping others and spreading smiles on others' faces will definitely get answered.
"Dear God, Renew my strength and fill me with your energy to defeat my challenges. Allow me to feel inspired instead of defeated so that I can help others during their challenging days. Walk with me, Lord, so that I can represent your wisdom and help them rise in the name of you. Amen."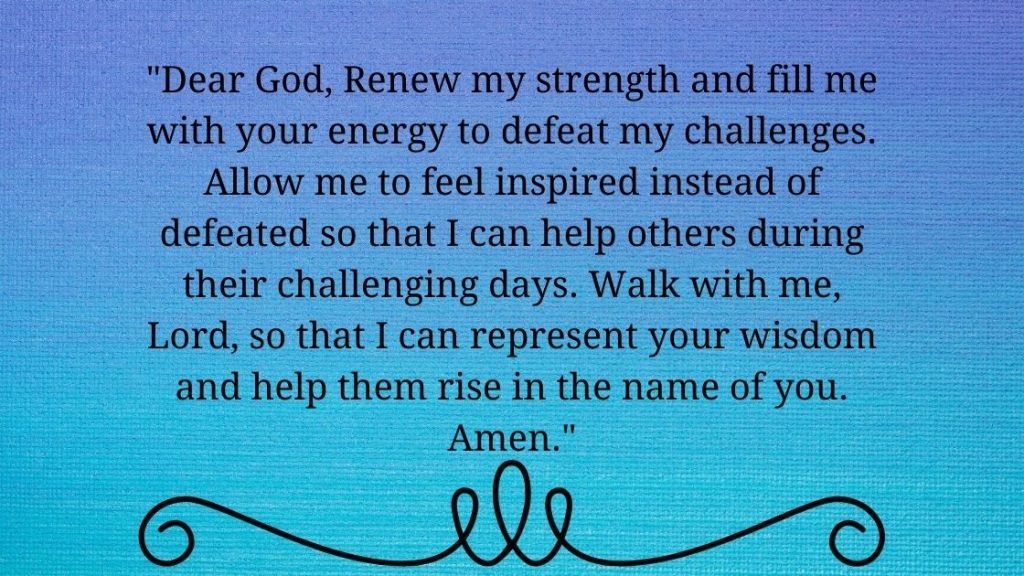 Powerful Catholic Prayers for Helping Others
"Dear Heavenly Father, Give me the wisdom to recognize the right one and the strength to help others. Forgive me for my sins, guide me throughout and send me the energy to help those in need. Amen."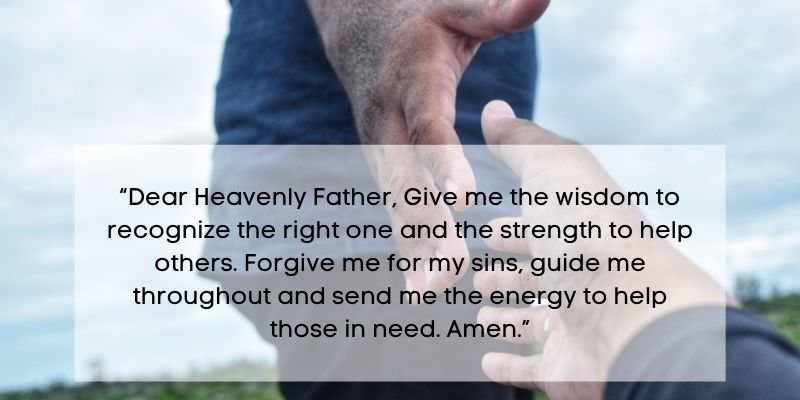 The world is going through such an extent that we can not imagine. In such a painful atmosphere, often, we feel helpless.
The wisest act we can do is, Praying to God and ask for strength to help others. In order to receive more strength, wisdom, and wealth, it's crucial to embrace what we already have.
"God in heaven, accept my deepest appreciation for all the blessings you shower upon my family and me every day. The bounty of your graces truly humbles us. Today we are asking for the compassion to follow the inspiring example of the good Samaritan. Provide us the strength to embrace and bring comfort to those suffering. Amen."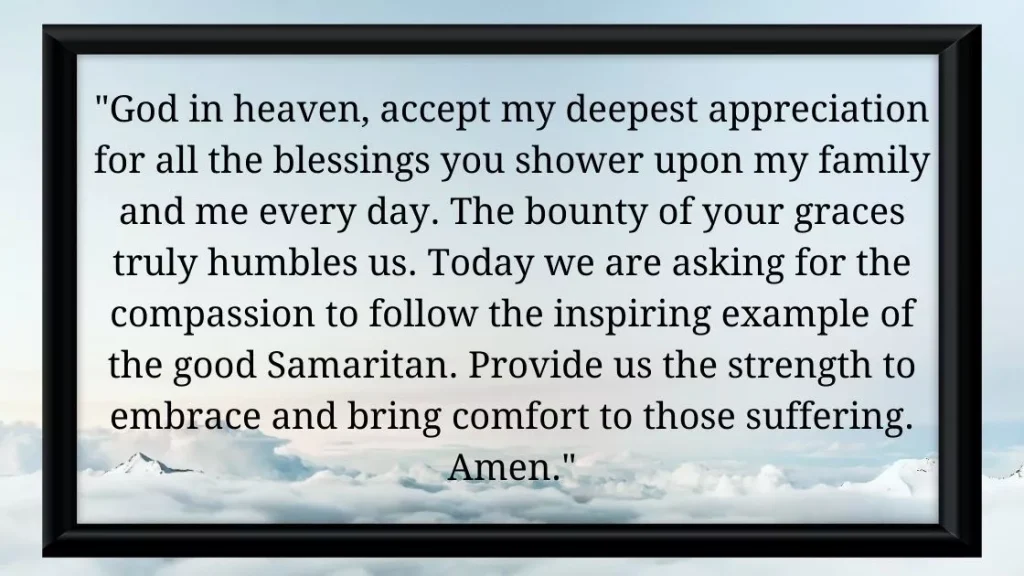 Short Prayer for Strength for A Friend
"Dear Lord, I love and value my wonderful friend [Name] a lot. I thank you for sending her into my life. I feel pain and helplessness when I see her in trouble or facing challenges. I request you to grant her courage and protect them. Please hold her and stay with them when life is hard. Amen."
I believe friends are fuel to accelerate the fun and happiness in life. Being with them, sharing our challenges with them seems to ease every trouble of life.
The most painful moment is that when your help isn't enough to solve their issues. In such a situation, it's better to ask God to give them strength.
These Prayers for helping others, no matter in what sense, are not less than any other good deed.
"Dear God, my heart is crushed for my friend[Name], who cannot cope these days. I request you, Lord, please be her comforter and provide the courage and patience. Accept my prayer for my friend and remove all the troubles she is going through. Show your mercy, father, and let our life shine with your blessing as it has always done. Ameen."
Prayers for Helping Others in Need
"Heavenly Father, I thank you for all the love, support, and wisdom you have showered upon my family and friends. With your grace and wisdom, we have been able to support others as much as we can. Please allow us to expand our reach and fulfill others' needs in time. Amen"
Not only does general help matter, but offering Prayer for The Unique Needs of Others, such as medical help, can do a miracle in someone's life.
If you spend time on social media, you might get mail or advertisement about people asking for medical help.
Even If you are not an internet person, look around you and try to save as many lives as you can. If you can help physically, your Prayers for Helping Others in Need will do the same miracle.
"Dear God, people who are suffering around me take away my peace and happiness. Either make me capable of fulfilling their unique needs or send someone to do the same. Please forgive their sins and Shower your blessing on needy ones, Lord. Encourage others to make this world a better and happy place. Amen."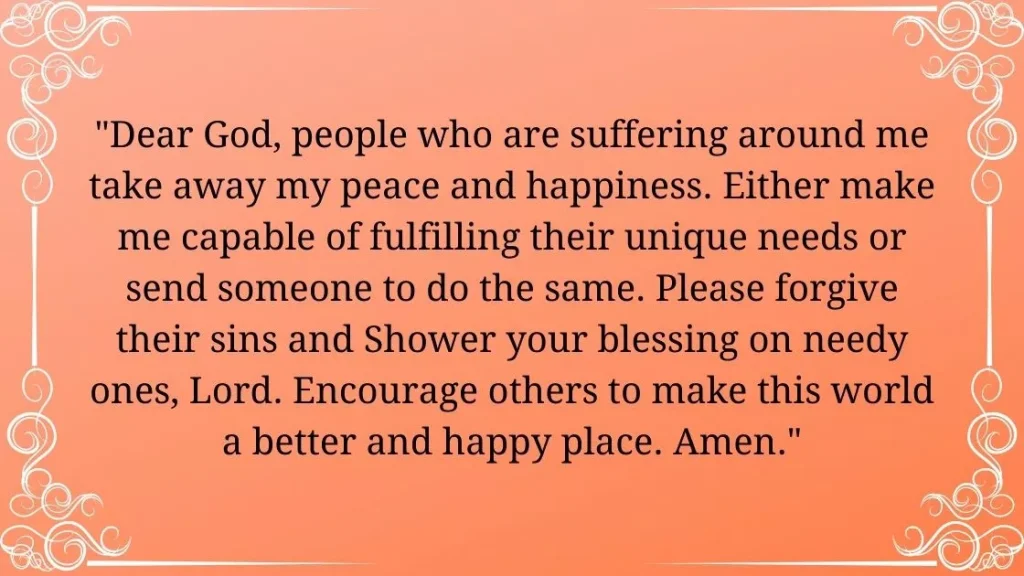 FAQS
1- How to Effectively Pray for Others?
Do you know if you have the power to change someone's life by thinking about them? You might not believe it because you have been praying for your close ones, but nothing changed.
Well, Prayers only get answered when it is done correctly. I often have seen people praying for the change but don't believe deep down in their hearts.
The reason behind this mental conflict is the current situation. The troubled present steals all the future expectations and shakes the belief.
So, If you want to pray for someone going through a hard time, Avoid focusing on the current situation and keep believing, praying that good days are about to come.
In order to pray for others, Bring God between you and them and ask God to guide, support, and protect them. When you ask God to do something for you, accept it as "It's Done"!
2- How do you pray on behalf of others?
The best way to pray for others is to involve angels, Jesus or any related saint in your prayers and ask Them to pray for you. Let your good wishes reach out to God through many of His children.
3- How do you write a blessing for someone?
Select a powerful scripture while sending your blessing to someone. When you add a scripture in your thoughts, you directly mix God's guidance that immediately touches their heart.
It's crucial to make your intentions clear while sending your good wishes as its easy for people to misjudge you.
Final Words: If every individual on this planet starts offering prayers for helping others or for friends, the word will change in no days. Prayers have such tremendous power that they can change the scenario of people's life.
Let's start a movement and include one of the above prayers in your daily prayer list. If you found this article helpful and worth reading, like and share it on your social media accounts.
Your one share will add others to our movement for the betterment of the world.
Stay Healthy, Stay Blessed