Often challenges blind people and steals their hope for life. If you are someone who is losing hope and feeling lost, this article is for you. There are many bible verses about Optimism that will raise your faith again.
Life, if it's not a roller coaster, there is no fun. By NO FUN, I mean it will be hard to understand the true meaning of happiness.
Luke 11:28, "But he said, "Blessed rather are those who hear the word of God and keep it!"
Challenges are the exam taken by God that reveals your hidden potential. Yes, It's easy to say but heartbreaking to face. Reading scripture and God's words have made me so hopeful for the future that I can remain calm during the storm.
Only reading isn't important; the crucial part is to understand the secret message for you. Every Bible verse you read has a secret message for you, according to your challenges. You will understand further in this article what I mean.
Before I jump to those uplifting bible verses about Optimism that raised me so high, allow me to share the meaning of being optimistic?
Also Read: 11+ Bible Verses and Uplifting Prayers 
What Does Optimistic Mean?
Some people say we are really some say we are optimistic. By realistic, they mean to accept the present and think accordingly.
On the other hand, "being optimistic means being hopeful even in adverse situations and finding out the good hidden in that."
You may say that it's a developed mental attitude that keeps their hope positive all the time. I believe it's the way to enjoy every ride of life. More importantly, I found the way to salvation.
It's not an attitude humans discovered, but God has taught us to be optimistic centuries ago to live our full strength.
Before we jump to the bible verses that talk about Optimism, what the Bible says about realistic thinking?
What does the Bible say about realistic thinking?
John 14:17 (ESV)" Even the Spirit of truth, whom the world cannot receive because it neither sees him nor knows him. You know him, for he dwells with you and will be in you."
The reality, What is reality? How can one claim the real truth when there are many versions of one incident? Here is what Bible says about realistic thinking.
It's not right to judge by seeing one side of the coin. If you hear one side of the truth and go to a conclusion, It's your fault. Here is the real question, What to do and how to find out what's the truth?
John 14:6 (ESV)" Jesus said to him, "I am the way, and the truth, and the life. No one comes to the Father except through me."
The only way to discover the truth is to follow God's words, Have faith in Him, and let the truth reveal itself.
Now let's see the bible verses about Optimism that help increase and stabilize my hope in the future.
Also Read: 11+ Encouraging Bible Verses On Clarity Of Mind, Direction And Relationship
KJV Bible Verses About Being Optimistic
Ephesians 4:29 – Let no corrupt communication proceed out of your mouth, but that which is good to the use of edifying, that it may minister grace unto the hearers."
Words, They say It has powers, choose wisely, especially when talking about self. The word you use for yourself makes you what you are. That's what I have learned from studying various holy books.
If you want to excel in your profession, personal relationship, or overall life, accept that you are already. Even if you are talking about others, your words must be so powerful, faithful, and soul-satisfying that everyone wants to hear you repeatedly.
In order to apply bible verses about Optimism in your life, study them closely and experiment with them in your daily life.
Proverbs 4:23 – "Keep thy heart with all diligence; for out of it [are] the issues of life."
Positivity Inspirational Bible Quotes/ Bible Verses About Optimism
Psalm 37:23-24 "A person's steps are made secure by the Lord when they delight in his way. Though they trip up, they won't be thrown down because the Lord holds their hand."
In life, we all have someone upon whom we have faith that they will never let us down. However, It's extremely painful when that person destroys our faith.
That's the difference between humans and God; He never let us lose our faith in Him. The only criteria to get his hand is Belief in him so much that you don't have someone else to think about.
Below is one of the most powerful and unforgettable bible verses about Optimism I have always held onto.
Ephesians 3:20 "Now to him who is able to do immeasurably more than all we ask or imagine, according to his power that is at work within us."
Being Optimism doesn't mean that you will never get a feeling of low mood or negative. The mind always tricks us; in fact, it is so trained to think negatively that it goes negatively in the first place.
Let's see what does Being Pessimistic is about?
Also Read: 11+ Powerful Prayer for Motivation and Strength
Bible Verses About Being Pessimistic
Corinthians 12:10 ESV "For the sake of Christ, then, I am content with weaknesses, insults, hardships, persecutions, and calamities. For when I am weak, then I am strong."
Being Pessimistic doesn't claim that you don't have another side of the Belief. However, Not willing to shift your attitude on the other side of thought is a weakness.
Therefore, studying bible quotes provides enough wisdom to choose and shift our behavior mindset. Ultimately it helps us select the side which makes us better human beings.
Keeping these bible verses about Optimism in your pocket or writing them in your personal diary is the best way to gain more from it.
James 4:6 ESV "But he gives more grace. Therefore it says, "God opposes the proud, but gives grace to the humble."
FAQS
#1 What is Optimism in the Bible?
Here is The best quote I ever read about Optimism in the Bible.
Matthew 6:22: "The Eye is the lamp of the body. If your eyes are healthy, your whole body will be full of light. But if your eyes are unhealthy, your whole body will be full of darkness. If then the light within you is darkness, how great is that darkness!"
It says, Eye, which represents the way we look at things. In other words, It's also the way we accept the thing, positively or negatively. So, it is better to keep our eyes healthy so that no darkness can touch us.
#2 What is an uplifting Bible verse?
Isaiah 41:13 "For I, the LORD your God, hold your right hand; it is I who say to you, 'Fear not, I am the one who helps you."
It's one of the most uplifting bile quotes I love to remind myself whenever darkness clouds my vision.
While reading various bible verses about Optimism, note those bible quotes that are touching your soul and making you feel high.
#3 What is the verse Jeremiah 29 11?
"For I know the plans I have for you,' declares the Lord, 'plans to prosper you and not to harm you, plans to give you a hope and a future."  Jeremiah 29:11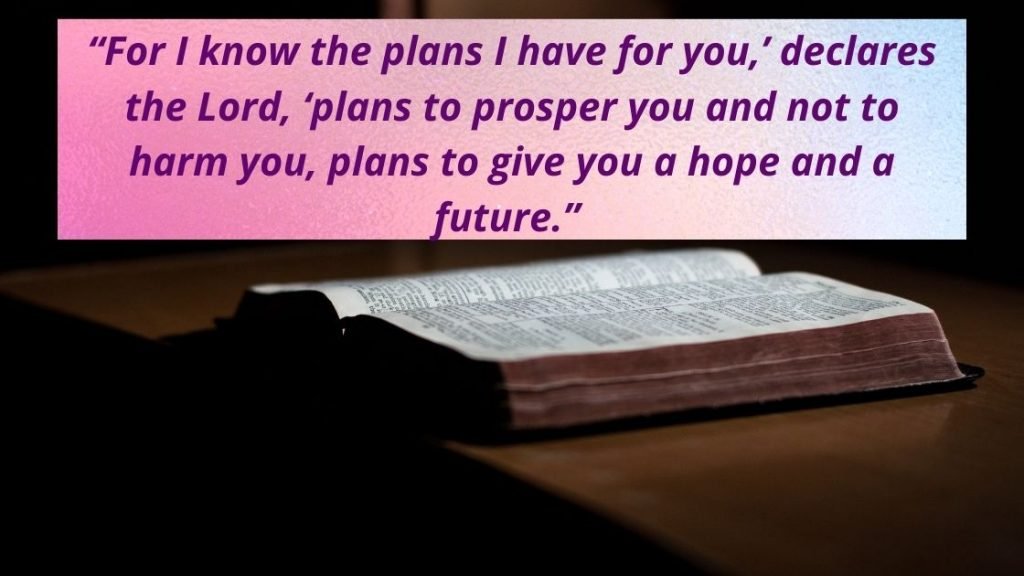 The above bible quote is about to boost your faith by making you understand that God always wants your better, not worse. He always wants you to stay positive and hopeful by making your heart sure that God is always around you.
#4 How is Jesus optimistic?
The children God sends on this planet teach us His wisdom and guide us to the right path like Jesus was a believer of "ONE." He never took any responsibility to act but surrendered all of his Act to his Father in his heart.
The moment we surrender, everything we claim as "OURS" becomes holy. Those who are holy never get depressed, negative, or lost as They are protected and guided by the Creator.
#5 Is faith an optimism?
Developing a positive attitude towards life, events, and even about people always leaves a progressive footprint upon our life.
"Faith" is one of the most powerful words I have always found inspiring me in positive ways. Therefore, for me, faith is Optimism that may uplift your mood, life attitude instantly.
Final Words: I am sure reading all the above bible verses about Optimism will leave an unremovable impression on your mind. If any of the above bible quotes help you progress in life or develop your personality, all my effort will be worth sharing.
If you found this collection "Bible Verses About Optimism" worth reading, like it and share it on your social media account and help others upgrade their mindset.
Also, don't forget to bookmark this page for instant access in the future for such inspiring articles.
Stay Healthy, Stay Blessed