Life is easy if one has clarity in mind and wisdom about his purpose. No matter how wise you are, life keeps testing your understanding from time to time. Understanding the deeper meaning of Bible Verses On Clarity will help you decide promptly when you are in doubt.
We all often find ourselves puzzled about choosing the right path, which sucks a lot of time and energy. What if following the scriptures, not blindly, is the key to walking in the right direction.
In this article of bigbraincoach, I will share 11 Bible Verses On Clarity and my understanding about it that always assists me to decide.
Before we jump to the main topic, let's define clarity to become more crystalized in order to accept the scriptures.
Related 7 Mystical Signs of God is Watching Over You
Meaning of  Clarity
clarity means to express so well that the other person understands your intention clearly. Just like having a clear vision helps you achieve your goals in less time, clarity in communication, intention, and overall decision-making make a person wiser.
The best example of clarity is crystal clear water, where there is not a single particle of any other substance. Similarly, having clarity in your thoughts or actions make you an intelligent person.
Many Verses in the Holy Bible and other religious books have explained the power of clarity very. Let's see what the Bible says about clarity. Before that, let's see what does clarity means in the Bible.?
Biblical Meaning of Clarity
"Bible," just like "Holy Gita," is a direct message from God that he sent through his beloved Son. Understanding the deeper meaning of the Bible verses provides not only clear vision but also increases emotional intelligence.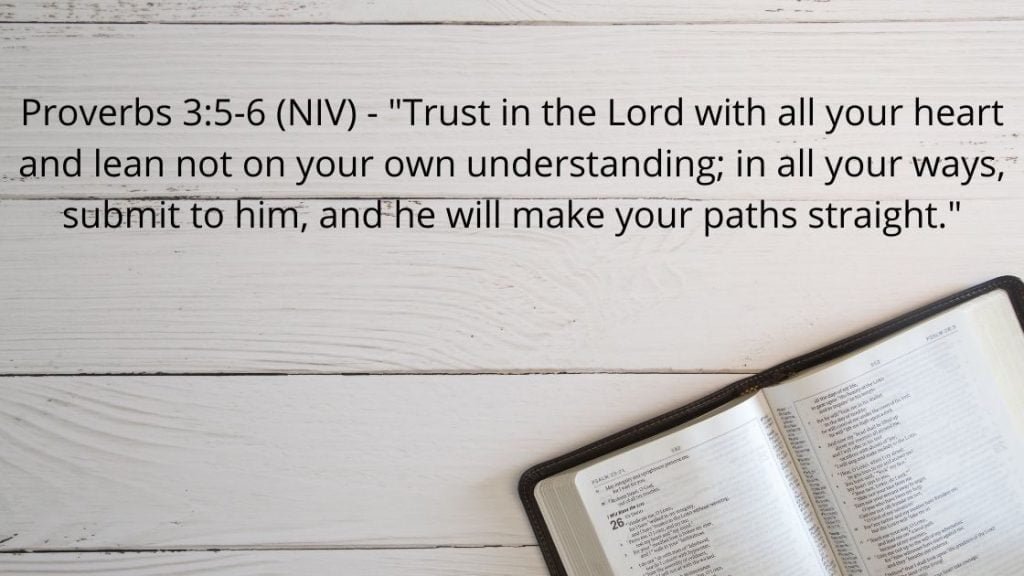 Proverbs 3:5-6 (NIV) – "Trust in the Lord with all your heart and lean not on your own understanding; in all your ways, submit to him, and he will make your paths straight."
If someone has developed a strong connection with God, He does not need to fear his poor decision because God himself Guides him. Bible says, In order to have that clarity, one requires to surrender wholeheartedly and have faith in God's Guidance.
Reading the Bible has provided a clear mind that helped me design my future.
Bible Verses On Clarity Of Mind
I believe when you are connected to the Created, everything falls into place at the right time. So, I like keeping those verses in my daily diary that provide me an extra vision.
Isaiah 30:21 (NIV) – "Whether you turn to the right or the left, your ears will hear a voice behind you, saying, "This is the way; walk in it."
I learned from this line that If you put your faith in God and follow his words, there is no wrong path for you.
Whether you go to the right or left, your mind cant make you confused. Every road will go in the right direction for you because God will support you and inspire you to keep walking.
Scriptures on Clarity of Purpose/Bible Verses On Clarity
One of the biggest bundle a man faces when he is not clear about his purpose in life. Reading and understanding the Bible Verses On Clarity helps reach the point where there is no doubt.
Timothy 3:16 "All Scripture is breathed out by God and profitable for teaching, reproof, correction, and training in righteousness."
I don't believe in reading many verses at a time but one at a time and follow the instruction for the entire day. This is how I apply the guidance from scriptures that gives more clarity to my thoughts and life purpose.
Following bible verses and applying them on a daily basis takes you one step closer to your life purpose. You may not understand while walking, but in the end, you will see.
Also Read about Prayer For Hopeless Situations
Bible Verses For Clarity in Relationship
Relationships these days are more complex than any other subject in life. The main reason behind this is a lack of trust and unmatched thought.
For those who believe in God, every relationship becomes a pure bond without any expectations.
Peter 4:8 "Above all, keep loving one another earnestly, since love covers a multitude of sins."
No matter what the current relationship status is, keep loving others with your pure heart. As God says, love is the most powerful weapon against hatred.
Reading these Bible Verses On Clarity helped me develop a sense of doing the good but expect nothing.
Bible Verses For Direction And Clarity KJV
James 1:5 KJV- "If any of you lack wisdom, let him ask of God, that giveth to all men liberally, and upbraideth not; and it shall be given him."
KJV has been the most understandable version for me as it explains things in a very simple way. Those who love God and have faith, everything works in favor of them.
Romans 8:28 KJV- "And we know that all things work together for good to them that love God, to them who are the called according to his purpose."
Mental confusion is the result of thinking too much and not having faith in God's plan. Repeatedly revising these Bible Verses on Clarity helps increasing faith and walking on the divine path.
Philippians 4:6 KJV- "Be careful of nothing, but in everything by prayer and supplication with thanksgiving, let your requests be made known unto God."
Also Read about Children's Morning Prayers to Guidance and Protection
Bible Verses on Clarity of Mind Wisdom Strength in Battle
Life is becoming a more challenging battle with passing time, and the man himself has lost all of his strength. Let's see what the Bible says about clarity of mind wisdom to win this battle.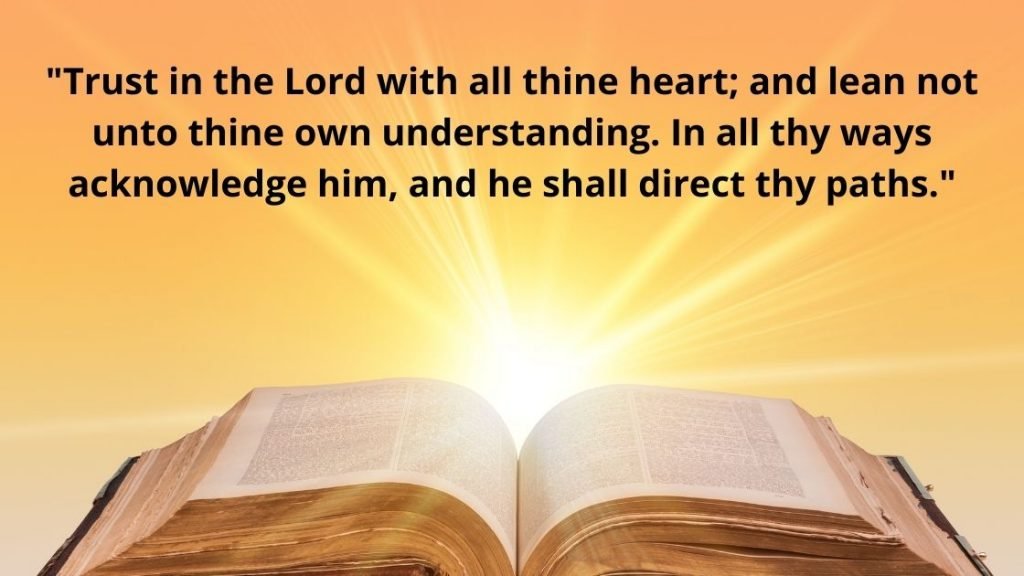 Proverbs 3:5-6 KJV- "Trust in the Lord with all thine heart; and lean not unto thine own understanding. In all thy ways acknowledge him, and he shall direct thy paths."
The one who has complete faith in Lord doesn't need his wisdom but the only acknowledgment that God himself will direct his path. All you need is to keep walking with a grateful and surrendered heart.
John 5:19 KJV- "Then answered Jesus and said unto them, Verily, verily, I say unto you, The Son can do nothing of himself, but what he seeth the Father do: for what things soever he doeth, these also doeth the Son likewise."
Bible Verses for Direction and Clarity
Matthew 6:24 ESV-"No one can serve two masters, for either he will hate the one and love the other, or he will be devoted to the one and despise the other. You cannot serve God and money."
All I have understood until today is that all you need to do is listen to your heart, follow God's words, and never fail. Clarity is the result of your faith in God's words and his plan for you.
No motivational speaker or business coach can guide you the way these scriptures can do. The only criteria to access its deeper wisdom is developing your relationship with God.
Romans 12:2 ESV- Do not be conformed to this world, but be transformed by the renewal of your mind, that by testing you may discern what the will of God is, what is good and acceptable and perfect.
Those who accept the scriptures with a proper understanding will never turn to the wrong path. In other words, God himself won't let him go in the wrong direction.
Psalm for clarity of mind
"O Lord,
lighten my Pathway,
uphold my soul.
Let your wisdom take over my mind,
Let my heart be beholden
Let my Path proceeds towards right.
Amen."
Not having clarity in life is frustrating but remembering God in those dark days and praying for the same is the right way to gain wisdom. Whenever you feel lost the way or no joy in living, ask God in the prayer to enlighten you.
"Heavenly Father, My spirit is dying as I have lost my vision and experiencing only darkness around me. My savior once again has mercy on me and helps me in rising. You are only my hope whom I have my faith in, I surrender myself to you, enlighten me God, Amen."
Bible Verses About Relationships with Boyfriend
As the Hebrews 13:4 NIV say marriage should be honored. In my opinion if you are in a relationship, you must be sure and take the next step to give it a pure name and maintain it in the Godly ways.
When you do so, you will get clarity about your future, relationship and types of bond with your partner. If you are looking for Love, God loves those who treat others with unconditional love and care. However, It must not involve physical contact.
FAQS
1- How do I ask God for clarity?
The best thing I experienced with God is He can enlighten our path and take us to the right path. So, If you have been feeling lost, allow Him to take you on the right path.
You may keep asking God to guide you by repeating one simple sentence several times a day. "God, I surrender myself to you, Use me, take me on the right path and lead my life."
One simple and short sentence will surely give you much clarity in life, keep using it on a regular basis for guidance and clarity.
Final Words: I hope you have more clarity in mind about your future or the required area. Keep your faith high in your belief, and Let God guide you throughout this life.
I hope these bible verses on clarity will transform your life as they did to me. If you found the article worth reading, do like, comment, and share it with friends, family, or social media.
Note: I have taken some of the verses from other sites; if anyone has any issue with it, let me know I will delete them from my article. Contact Us
Stay Blessed