Are you looking for the numbers of Bible Verses About Goodness of God? 
God is the source of mercy, strength, knowledge, and every essential we use on a daily basis. Somebody asked me this question to check my spiritual study, and I was totally shocked. 
I study scriptures to understand and have God's guidance in my practical Life. I never counted the number of Verses or Quotes about a particular topic. 
You may get your answer for your academic knowledge, but I believe God's Goodness is infinite. However, The question Hit me, and I started searching for the different verses about God's Goodness. 
I will share the answer and my understanding of all these Bible Verses About Goodness of God. 
Before we jump to the various Bible Verses About Goodness of God, let's see what Goodness is in the Bible?
The Biblical Meaning For Goodness
If you look closely, simply at the words, it says Goodness is the best from being good. In the Bible, Goodness is the sixth fruit of the Spirit. On the more profound level, Goodness means being Holy, pure, and righteous. 
In other words, Goodness is Godliness that must be seen in our day-to-day activities. 
Therefore, I believe the easiest way to live Godliness is to show kindness, compassion, and Goodness to society and its people. 
Also Read about Bible Verses and uplifting prayer to Lighten Your Day
Bible Verses About The Goodness of God
Romans 12:9, "Love must be sincere. Hate what is evil; cling to what is good."
Every day, we repeat in our prayers, "God Is Good All The Time," But I have seen people keep asking God questions about their miserable lives. 
I realized It's He who keeps forgiving us for our uncountable sins; how many times we say "Thank You" for that?
Is it the human mind Who have forgotten his Goodness or the lust, anger, and greed that has taken over each of us? Instead of Blaming Him, why dot sit back, read Bible and find the answer to our problems?
Researching, reading, and understanding these Bible Verses About Goodness of God made me think we only carry the Goodness of God; the rest is evil.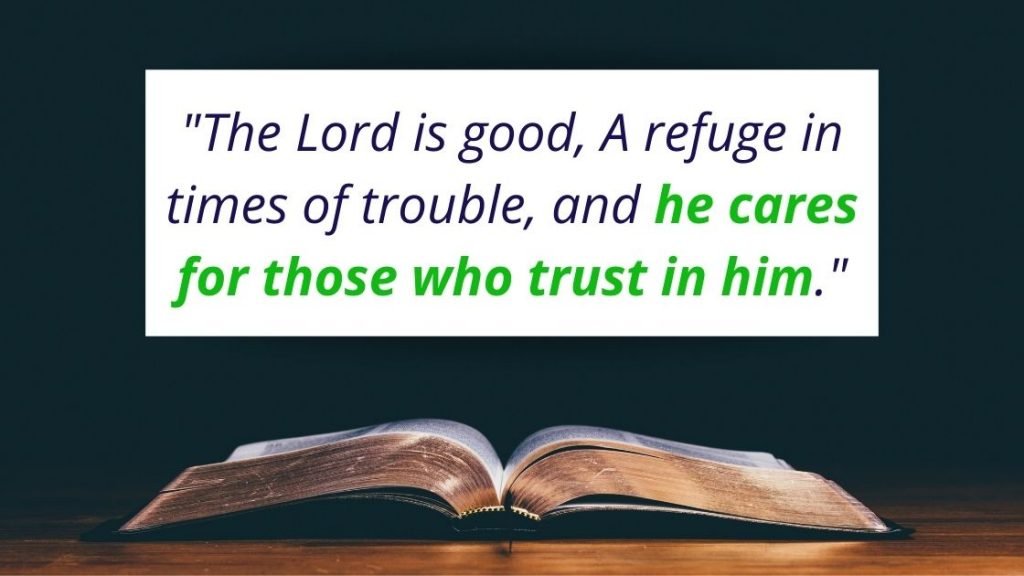 Nahum 1:7: "The Lord is good, A refuge in times of trouble, and he cares for those who trust in him."
Also Read about Bible Scripture for Breakups and Healing Energy
Bible Verses About God's Goodness Images
Romans 12:21, "Do not be overcome by evil, but overcome evil with good."
Unfortunately, People Read the Bible like an academic book and get misled by worldly Maya. The truth is, once you decide to walk on Biblical Path, adopt this teaching, the essential rule to follow. 
If you dare to do that and put your complete faith in Lord, no devil can steal your Goodness. Don't let worldly circumstances shake your faith and steal your peace and kindness. 
Reading these Bible Verses About Goodness of God on a daily basis provided me the strength and wisdom. I was able to go against what the world expected from me and do What God asked of me. 
Psalm 37:3, "Trust in the Lord and do good; dwell in the land and enjoy safe pasture."
What Verses in The Bible Speak About The Goodness
Proverbs 19:17, "Whoever is generous to the poor lends to the Lord, and he will repay him for his deed."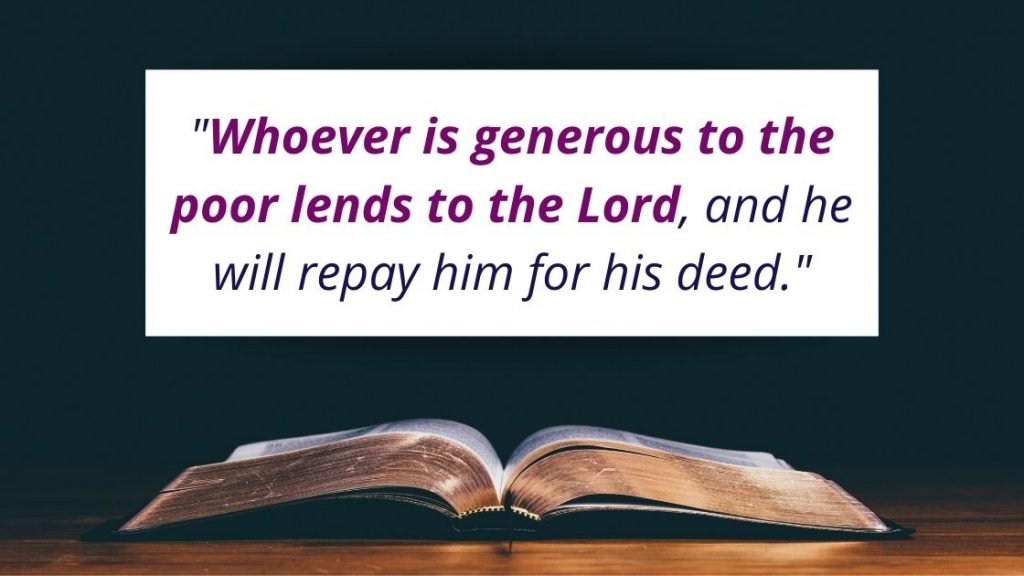 Life isn't about being selfish and doing things that enhance you and only your life status. These Bible Verses About Goodness of God made me realize to do more good to others. 
In order to get closer to God and become better human beings, we must practice Kindness compassion on a daily basis. God taught me to help people instead of just thinking or telling others. 
91 John 3:18, "Little children, let us not love in word or talk but in deed and in truth."
Bible Verses About Goodness KJV
Psalm 27:13 KJV, "I had fainted unless I had believed to see the goodness of the Lord in the land of the living."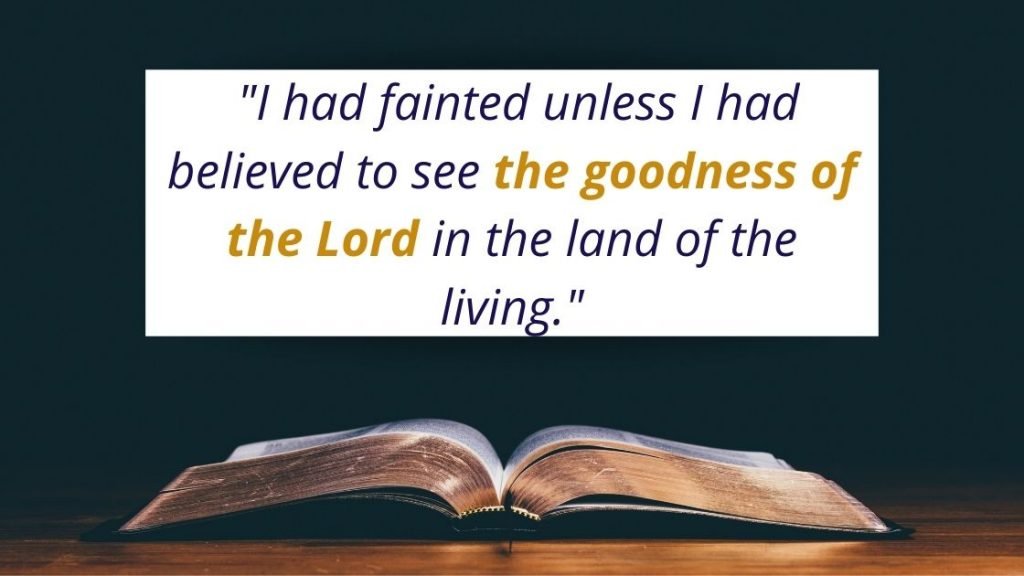 Even I don't believe in pure theory but the practicality of Life. If you are new to the faith and believe, you must use Him in your Life. Do not fall for others' stories and the wisdom the Bible share, but Invite Him into your Life and experience His Kindness and Goodness. 
Proverbs 12:25 KJV, "Heaviness in the heart of man maketh it stoop: but a good word maketh it glad."
I never leave my house without asking Him to be with me, protect me, and guide me to finish my work in the holiest, best way. Once you learn to have God as your companion, Life becomes heaven. 
I suggest you all read this article, "Bible Verses About Goodness of God," today Onwards, Let God be there in your every moment. He is our Father, and he won't let any circumstances trouble us or hurt us in any way. 
Lamentations 3:25 KJV, "The Lord is good unto them that wait for him, to the soul that seeketh him."
Also Read about What Does The Bible Say About Manifestation 
Best Bible Verses About The Faithfulness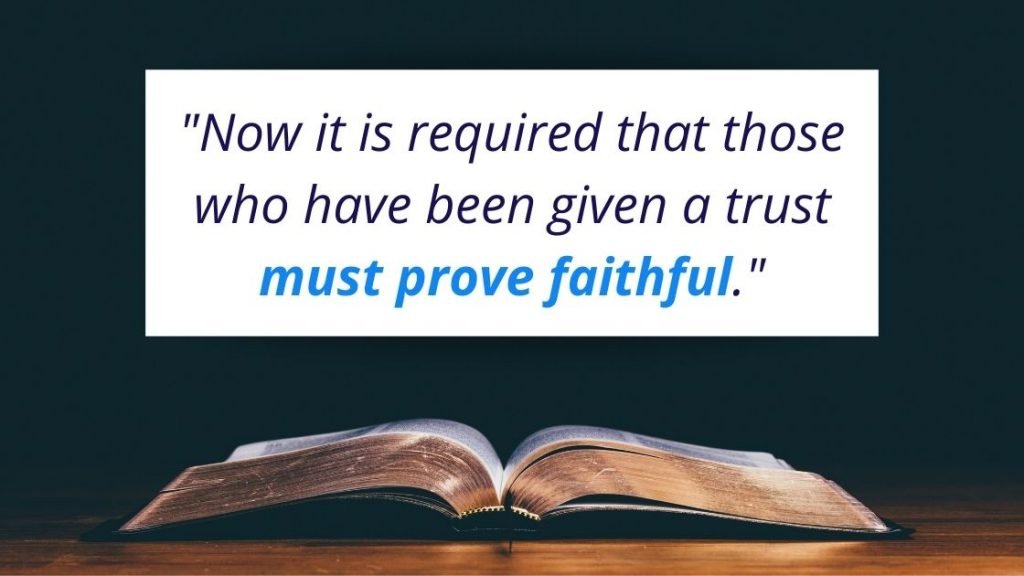 1 Corinthians 4:2 "Now it is required that those who have been given a trust must prove faithful."
I will suggest it's not the time to keep your faith in just words ut show it in your action. There are violence, cruelty, and injustice with many people worldwide every day. 
Let's unite by heart and allow our faith to do magic and make this world a better place. Let's pray to God and ask him to let his wisdom, mercy goodness rule the world and eliminate all the evil from this planet.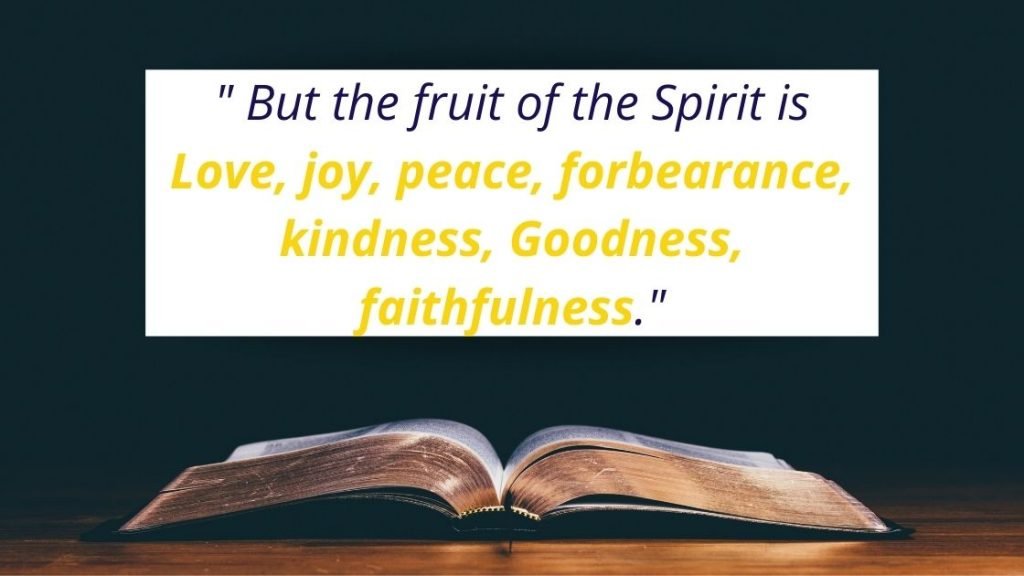 Galatians 5:22, "But the fruit of the Spirit is Love, joy, peace, forbearance, kindness, Goodness, faithfulness."
Let His wisdom rule our hearts and become His beloved children, warriors to make this planet heaven. Is it more challenging than other circumstances? I don't think so. 
While reading these Bible Verses About Goodness of God, I realized he is the one who forgives our sins each day. It's time for us to listen and follow his words with full faith and conviction that we will bring changes to this planet.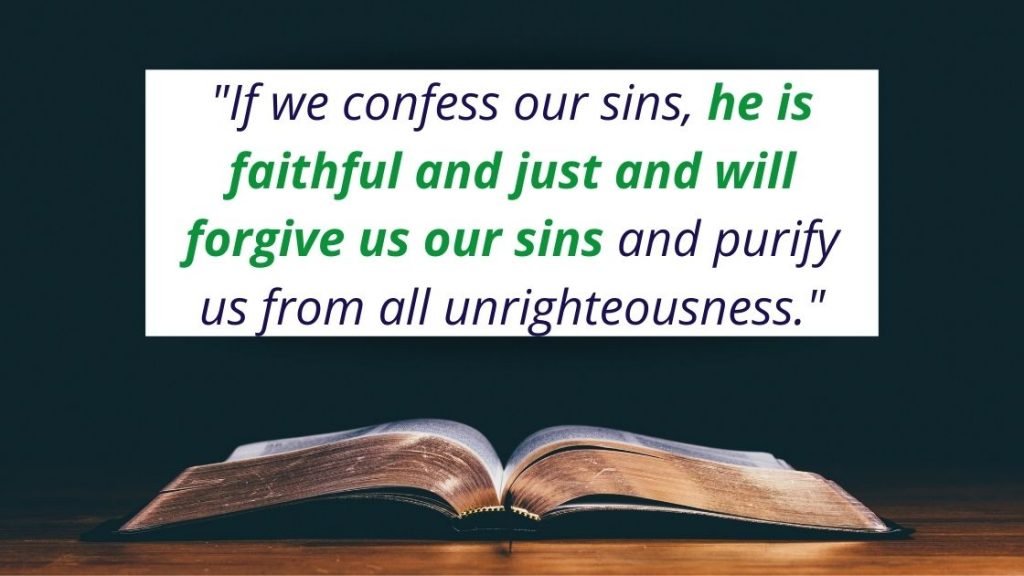 1 John 1:9, "If we confess our sins, he is faithful and just and will forgive us our sins and purify us from all unrighteousness."
Examples of Kindness And Goodness In The Bible
The perfect example of kindness and Goodness in the Bible is Jesus's Life itself. He forgave sinners, died for us, who couldn't give anything in return. He Follows Father's word and lives a life for others. 
Most importantly, He healed even those who hurt Him. Below is the perfect example of the Bible Verses About Goodness of God and his Child. 
While he was still speaking, a crowd came up, and the man called Judas, one of the Twelve was leading them. He approached Jesus to kiss him, but Jesus asked him, "Judas, are you betraying the Son of Man with a kiss?"

When Jesus' followers saw what was going to happen, they said, "Lord, should we strike with our swords?" And one of them struck the servant of the high priest, cutting off his right ear.

But Jesus answered, "No more of this!" And he touched the man's ear and healed him. – Luke 22:47-52
Examples Of God's Goodness In The Bible
The Bible and the Life of Jesus are full of inspiration and nervy moments that inspire me to become like Him every day. Here is one more example of Jesus's Goodness, "Bible Verses About Goodness of God." 
When Jesus came down from the mountainside, large crowds followed him. A man with leprosy came and knelt before him and said, "Lord, if you are willing, you can make me clean."

Jesus reached out his hand and touched the man. "I am willing," he said. "Be clean!" Immediately he was cleansed of his leprosy. Then Jesus said to him, "See that you don't tell anyone. But go, show yourself to the priest and offer the gift Moses commanded, as a testimony to them." – Matthew 8:1-4
FAQS
1- What Bible verse says God is good all the time?
There are no two opinions that God is Good and everything that happens in our life is for our best. Even if it doesn't feel in that way right now.
Psalm 100:5 says, "For the LORD is good; His loving kindness is everlasting And His faithfulness to all generations."
2- What is Isaiah 41 verse 10?
10 "So do not fear, for I am with you; do not be dismayed, for I am your God. I will strengthen you and help you; I will uphold you with my righteous right hand."
These verses are the true source of inspiration and essence of what God wanted His children to know. We must treasure and always keep these verses in mind.
Final Words: Reading repeatedly these Bible Verses About Goodness of God transformed me into a kinder empathetic and filled my heart with His Glory and Goodness. 
If you can remind yourself of Him and these Goodness verses every day, you will be a fantastic Godly Person. 
If you found this article helpful and informative, share it on your social media and make other people aware of it. 
Also, don't forget to bookmark this page for more helpful and illuminating content like "Bible Verses About Goodness of God" for instant access in the future. 
Stay Healthy, Stay Blessed