Tired of working hard and not receiving expected results? You are reading the article that will give you some effective tips along with Miracle Prayer for Business. It's also crucial to give a little extra time and attention to the things that matter to you the most, just like your business.
We all are on this planet fighting to have a better and luxurious life, which we deserve. However, there are times when we don't get what we wish or work for. If you are going through such circumstances, praying is one of the best ways to keep going easily.
Often there are some emotional, mental blockages that stop our financial growth or affect our business effectively. Unfortunately, we don't know about the main cause behind this issue, so Praying and asking God to clear our financial block and help grow business works like a miracle.
Here are some of the most powerful Miracle Prayer for Business breakthroughs that have helped me in the past and I pray it does the same to you.
Prayer for Business Breakthrough
"Dear God, I thank you for the guidance and courage you provided me to start the business I am doing. Please shower your blessing and let this business grow beyond my wish. Please Empower and guide me to keep working my best. Amen."
Starting a business is not a random and easy act but it takes courage and strength to step up to become independent and grow financially. I believe it's your calling however, you need to accept and never give up on this thought.
Business is something that requires all of your mental, physical and emotional strength. Business chart is not always on the same track, it always keeps swinging. So, it's crucial to have strength to control your emotions during unfavorable circumstances.
If your business is performing poorly and want an enhancement, use this Miracle Prayer for Business enhancement.
"Heavenly Father, Starting this business was my dream that you allowed me to fulfill. Please guide me to work in the right direction and enhance this business. My faith is in you Lord, please bless me to make this business successful and make millions of dollars. Amen."
Also Read About Powerful Christian House Blessing Prayer
Powerful Prayer for Business Owners
"Dear Lord, Thank you For this wonderful and financially independent life. I love this life and all the wisdom, guidance, blessings you have showered upon me. Please keep your love and light upon me in the coming years and let my business grow constantly. Amen."
People who are into jobs, I see them constantly complaining about a lot of things. However they don't have the courage to quit and start their own firm. The reason behind this attitude is fear of failing.
If you are someone who has started your own venture like me, are courageous and trust me Loved by God. Yes, I know there are a lot of challenges blocking desire success but Having God on your side will eliminate those blockages, just have patience.
Here is a Miracle Prayer for Business growth for those courageous owners like me.
"Heavenly Father, your source of my courage and guidance. Guide me to enhance my services and strengthen me to provide better service in the coming days. Let me be the reason to grow my business and help my customers to get what they want. Amen."
Miracle Prayer for Business Sales with Images
"Heavenly Father, I am working hard to make more sales and earn more money but failing is making me lose my confidence. Please help me make more sales and feel enthusiastic for my work, even when I am failing. Amen."
Business takes a lot of mental and physical strength to make our business successful. Most importantly, accepting failure is hard and discouraging. Therefore, it's crucial to accept failure, learn from it and make changes in work strategy.
If you are not getting the result you expect then it's crucial to understand that sales are always challenging. So, keep learning, keep improving, use different techniques, and have faith in your efforts, you will succussed.
Here is a Miracle Prayer for Business sales for you, use it every morning and evening to get your dream success.
"Heavenly Father, despite all of my efforts, success is not near me. Please strengthen and guide me Lord, Let my efforts be more effective and attract more success to me. Guide and strengthen me Lord, I pray you to please make me successful in the business I am doing. Amen."
Also Read about Most Powerful Prayers During Fasting Catholic
Powerful Prayers to Start New Business
"Heavenly God, I am tired of my job which is sucking my strength and making me feel worthless. Please provide me guidance and strength to start a business that boosts my confidence and makes me successful. Amen."
If you are willing to start a new business and worried about the success, prayer is essential to stay inspired. Having God on your side is a powerful way to keep growing and keep going.
I heartily congratulate your thought of starting something that is connected to your heart. It also assures you to not regret in life for not taking steps towards your dream life. Here is a Miracle Prayer for Business Growth, especially for those who are starting new venture.
"Dear God, I want to start a new business that provides me with enough money to live a luxurious and fulfilled life. I need your blessings Lord, be my lock and help me start and grow in this business. Amen."
Novena Prayer for Business Success

Catholic Prayer for Blessing a New Business
"O God, Grant that all who plan and conduct business in this office may, through your guidance and support. I pray you will guide in the right decisions and carry them out fairly. We ask this through Christ our Lord."
Prayer for Success at Work
"Dear God, As I pray to you today, I ask for guidance to perform my best and achieve the reward I deserve. Help me become better in what I am doing and give the best to the world I desire to Give. Amen."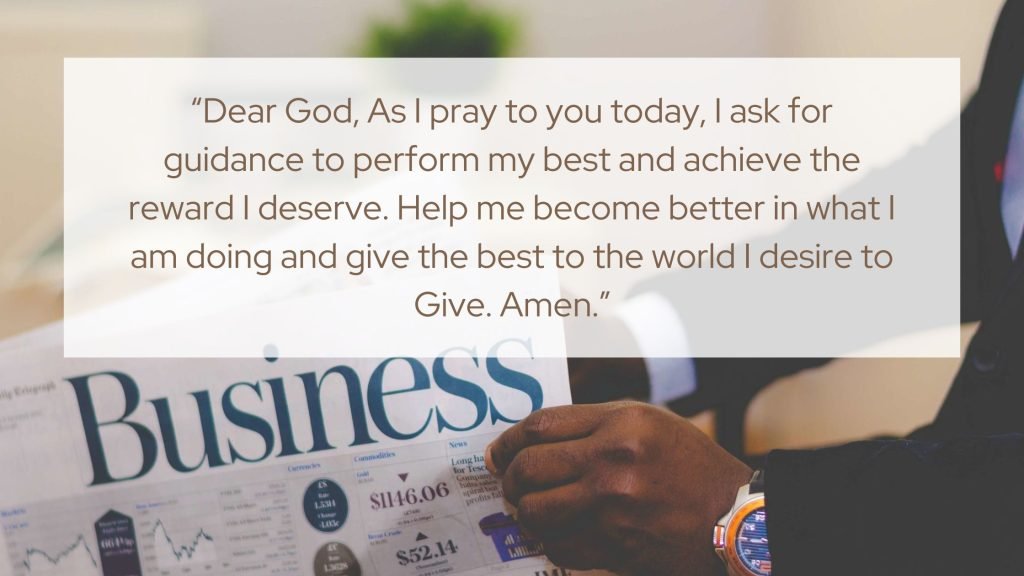 Working means serving God and the world with a true desire for being your best version. I believe life itself is a business so all we need to do is perform best and leave a mark on others' hearts.
In order to achieve that level of higher consciousness, asking God by using a simple and short Miracle Prayer for Business success can do miracles.
"Heavenly father, let my day become better than yesterday and let me perform better than my past. Guide me Lord, so that I can achieve the level of Success I am working for. Amen."
FAQS
1- How do I pray to start a business?
"Heavenly Father, I pray you to please take charge of all the plans I have in my mind. Provide me with the wisdom beyond my years, power beyond my own strength, and bless me with the joy of being able to serve you. Amen."
Ask God to guide you, believe that at the right time you will get guidance from Him. Once you feel thrilling with the insight you get, follow them blindly.
2- How do I put God first in my business?
Well, Looking for answers to such an intense question means you are always close to God. In other words, you keep God first in your life. Yet, I can give you one simple answer to make sure God is first in your life or business.
Well, everything you do, offer to God before doing it. For example, before opening your shop, ask God to take care of everything because It He who has given you a responsibility to take care of this business.
This is how you put God first in your life and business.
Final Words: I wish you all the best for your business in future. I hope this article will give you one of your Miracle Prayer for Business growth. If you found this article helpful or any prayer touched your heart, share this article with others.
Let others get benefits from this guiding article by sharing it on your social media. Also, bookmark this page or more helpful article like "Miracle Prayer for Business" in future for instant access.
Stay Healthy, Stay Blessed