Prayer for Good Exam Results | Miracle Prayer for Awaiting Exam Results | Prayer for Good Results | Short Prayer Before Examination
Exams, be it in any academic areas, are never easy for anyone. The most stressful days are before results get announced. Students work hard, prepare for exams but results often disappoint them.
If you are a student and worry about your exams results, or you are parents and want to ease your child and yourself, prayer is the most effective way to do so. Most, importantly, parents have a lot of power to support their children.
In this article I will share some of the short and powerful Prayer for Good Exam Results you may use to offer everyday. Before prayers I would like you to remind me what the Bible says about exams. It will give a bigger insight abouts exams and its outcome.
Bible Verses About Exams and Exam Results
Philippians 4:6-7 – "Do not be anxious about anything, but in every situation, by prayer and petition, with thanksgiving, present your requests to God. And the peace of God, which transcends all understanding, will guard your hearts and your minds in Christ Jesus."
No matter how anxious you are about your exam results as you might g=have planned your life according to the results. However, God always has a plan for everything and trust me it's always for the best.
So offer a Prayer for Good Exam Results everyday but keep in mind that your results are already planned to let God take care of your worries. Have complete faith in God's will and allow Him to establish your plans, your life in the best way.
Proverbs 16:3 – "Commit to the Lord whatever you do, and he will establish your plans."
Also read about Tips for Prayer Journaling for Beginners
Powerful Prayer for Awaiting Exam Results
"Dear God, As I am waiting for the result of an exam I attended in the past, I come to you for patience. Accept my "Thank You" for the knowledge and strength you gave me during exam period. I am open to learning and growing in the future, Lord. Today, I pray you will please strengthen my anxious mind to accept whatever result is on the way to me. Amen."
Waiting periods are truly stressful for a student, even for parents as they have a lot of expectations and worry about their child's future. However, parents must support the child by showing their support and accept whatever happens.
Remember, stress, anxiety give you nothing but take away all of your time that you may use for something fruitful. Instead of waiting, expecting and worrying, learn a new skill and keep offering a Prayer for Good Exam Results.
It will keep you engaged, strengthen you and protect you from any negative thoughts about your own future.
"Dear God, guide me to learn something that can beautify my career while waiting for my exam results. Give me strength and wisdom to learn the right skill which will help me in the future. I pray you to design my life in the way I desire Lord, I am already for your Mercy. Amen."
Prayer for Success and Gratitude

|

Prayer for Good Exam Results
"Heavenly Father, My Guide and Inspiration, As I am waiting for the best result of my exam, I pray you to grant me success. I Thank you for everything you provided me to study well, become a good citizen and contribute to your plans. Today, I pray you to please grant me wisdom, patience and strength to achieve the best and accomplish everything my heart desires. Amen."
Everyone has their own dreams, desires and goals for their future. No one but God is the one who can provide you with everything you need to achieve your goals. It's always the right way to have God with you and successfully design your future.
Take out sometimes in the morning, evening and if possible during the day time, to sit in the silence and keep praying. Using a Prayer for Good Exam Results repeatedly helps to increase its speed and reach to God early.
Yes, it's one of the ways you can make your prayer manifest so keep praying and hope for the best.
Short Miracle Prayer for Exam Results
"Dear God, I am anxious about my exam result coming within a few days. Please help me keep up with my faith in the result I am expecting. Please Grant me strength and wisdom to be open to accept whatever comes my way. Help and guide me to do my best and achieve success, I am expecting, dear Lord. Thank you for your protection and blessing, Amen."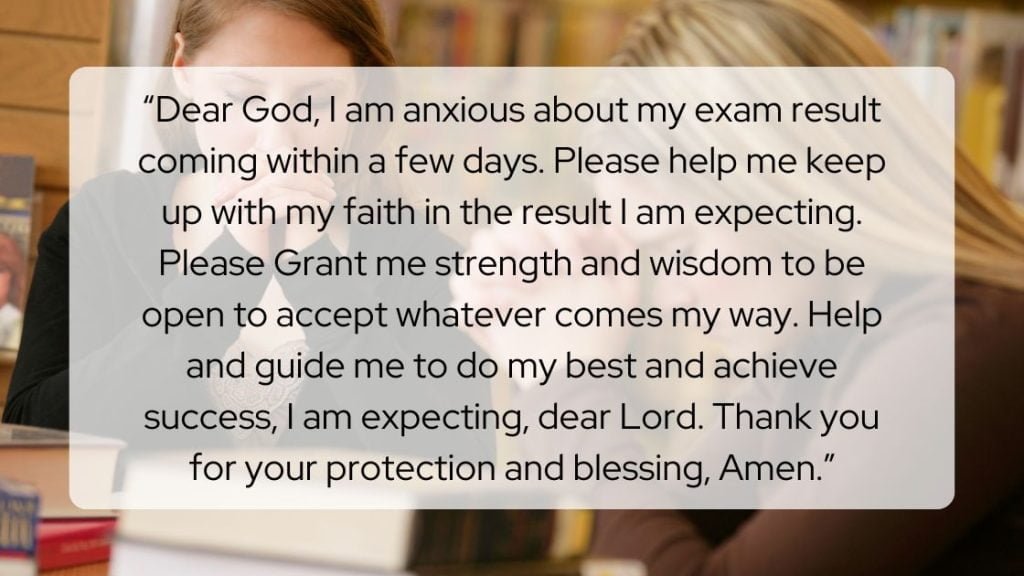 While expecting your result, make sure to be thankful every time you feel stressed about the outcome. When you give thanks to God for everything, you command your mind to stay hopeful and faithful.
Your faith and mindset plays a crucial role in whatever you think about. Think Positive, keep offering Prayer for Good Exam Results and let God take care of everything for you. Your feeling of faith towards God is important to manifest your prayers.
"Father, I pray to you for a miracle exam result that can shape my life in the best way. I put all of my faith and my life in your hands to give me the best of Life. Please grant me peace in my heart and calm mind. Fill my mind, heart and life with more moments to be more grateful to You, Lord. Accept my "Thank You" for all the love, blessings and strength you have been pouring upon me. Amen."
Prayer for Good Luck in Exams
"Dear God, As my exams are about to begin, I am feeling nervous. Today, I pray to you to please bless me with luck and courage to prepare myself confidently. Bless me with confidence and clarity to pass my exam with ease Lord, Amen."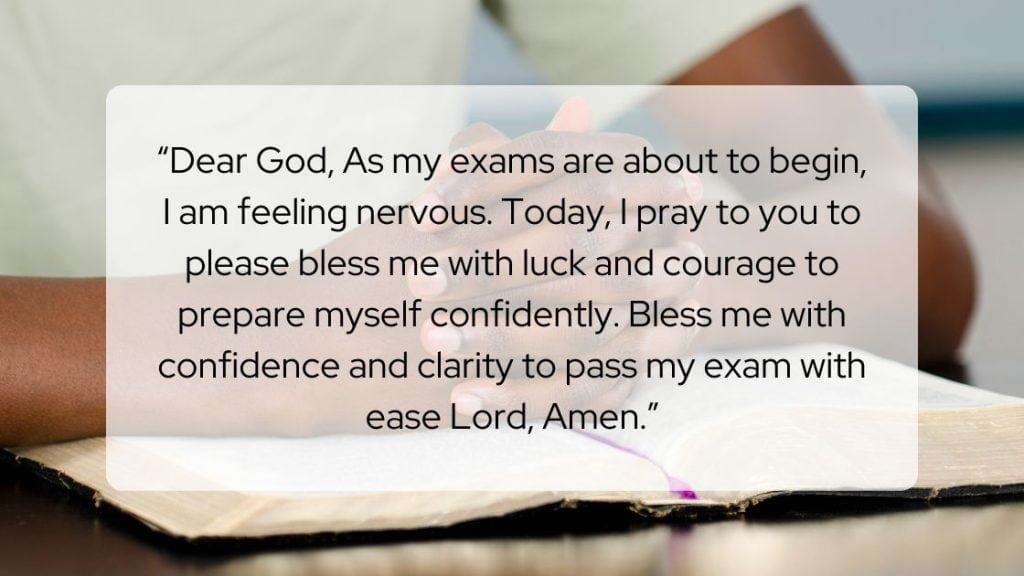 There are children who have anxiety issues before exams. Such children are intelligent but the anxiety issue can take away all their confidence. Lack of confidence surely demotivates and affects the learning, writing process during exams.
For such children a Prayer for Good Exam Results and confidence before exams can bring luck to them and enhance their confidence. Asking God for luck means surely preparing yourself for receiving good luck for life.
"Heavenly Father, Today I pray you will take away all the stress and anxiety I am feeling from my upcoming exams. Please increase my confidence and Let goodluck be on my side. Give me strength and clarity to prepare the right questions and get the result I desire. Amen."
Short Prayer Before Examination
"Dear God, As I am studying for tomorrow's exam, I pray to you to guide me to study those topics which are in the exam paper. Help me focus, learn and write in the best way tomorrow so that I can get the result I am studying for Amen."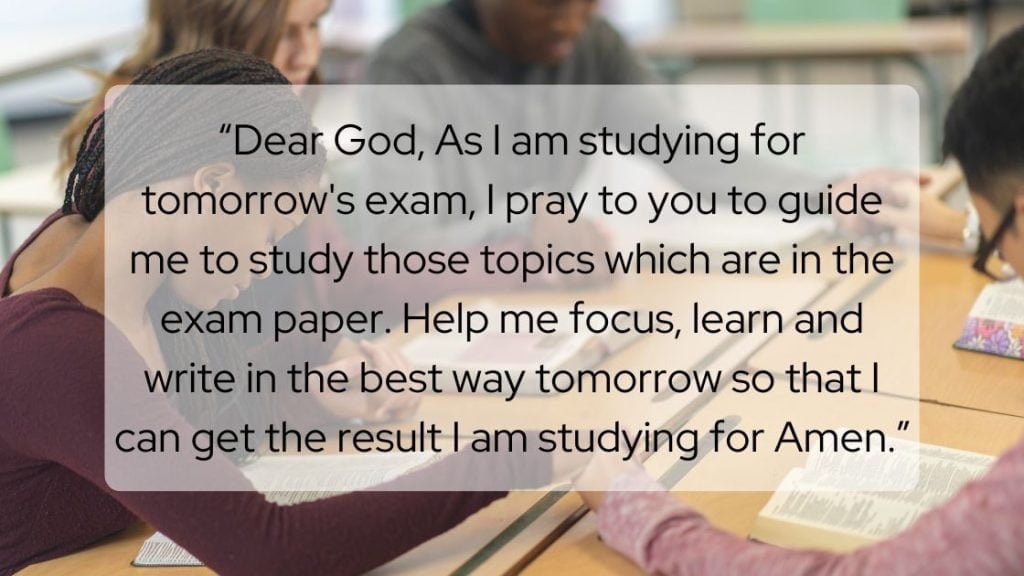 Trust me, if you can ask God to guide you for the important topic to prepare before examination, You will be guided. God is there for you, looking after you, all He wants from you to connect and ask.
Therefore, use this Prayer for Good Exam Results and easy paper for upcoming subjects and see the result. Prayer does not mean you don't need to study, but it means to study those topics well which is about to appear in the test paper.
"Dear God, today I pray for you to help me focus and study all those topics which are going to help me solve all the questions. Guide me, study in the right direction, write in the best way and stay connected to You. I thank you for guiding, strengthening and protecting me Lord, Amen."
FAQS
1- How do I pray for good exam results?
Well, first and foremost, make a plan to pray and let it reach God. Make a list of things you want to happen in your life academically. Once you are clear about your goals such as expected percentage, Next college for admission, the area where you want to achieve success and so on.
Create a prayer script in your own words including everything you have listened to on the paper. I will suggest that you make a habit to pray at least 5 times a day. If it's not possible at least twice a day and keep your prayer in mind all the time.
Repeating single Prayer for Good Exam Results everyday will help you achieve the stage of speaking in the tongue and manifest your prayers. In addition, remove any doubt from your mind and heart, be very specific, firm and faithful.
Final Words: Remember, prayer is the time when you get intimate with the divine creator you might call father or God. Let this time be the most beautiful, very personal and pure. The more clear you are in your intuition, the faster it will manifest.
Whenever you feel anything, unlike any academic exams, stressful and fearful, let prayer take over your thoughts. Replace everything stressing with prayers, that's the key to allow God to work for you.
If you found these prayer connections with reading and are powerful, share it with someone who might be suffering from exams or exam result anxiety.
Also, Don't forget to bookmark this page for more articles like "Prayer for Good Exam Results" for instant access in the future.
Stay Healthy, Stay Blessed