It's really heartbreaking to see people searching for more and more Prayers for Broken Relationships. We are living in a modern world where everything is becoming easy except relationships.
In this article, I am going to talk about various reasons behind failing relationships and will guide you on how to pray effectively to heal any relationship. Yes, Prayer alone has tremendous power to heal Hearts Yet, but mixing it with actions works faster.
There are endless reasons behind falling Love relationships in modern times. However, the most crucial reason is acceptance, Patience, and Trust Issues. A beautiful relationship will grow if one can work on these three areas.
Allow me to share some of the powerful Prayers for Broken Relationships you may use for different reasons.
Powerful Relationship Prayers for Couples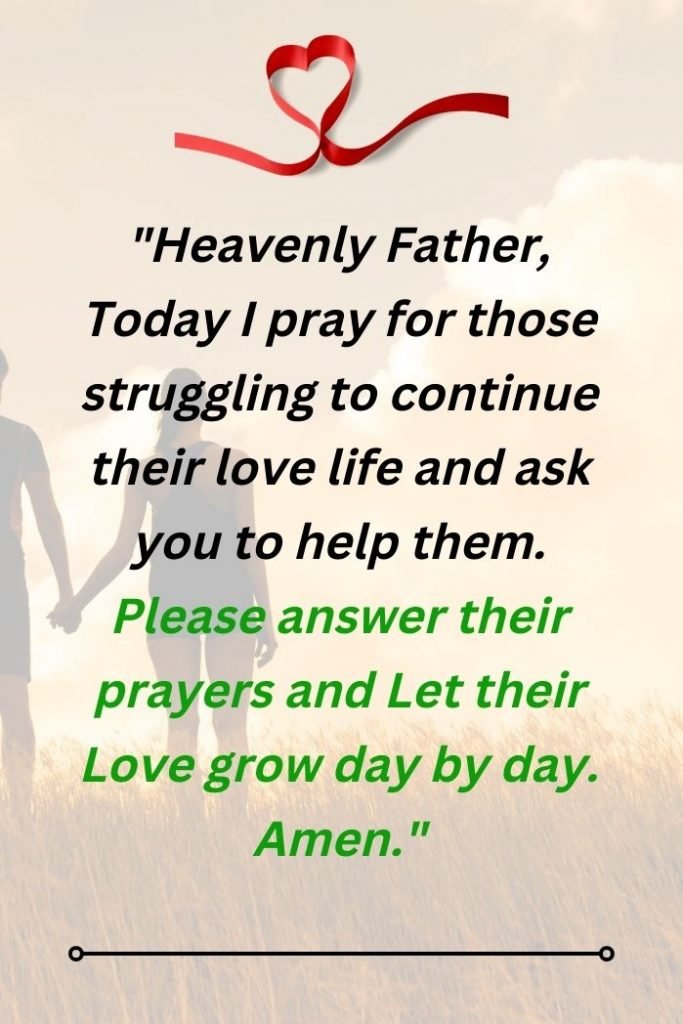 "Heavenly Father, Today I pray for those struggling to continue their love life and ask you to help them. Please answer their prayers and Let their Love grow day by day. Amen."
It's my Prayer for those who are looking forward to making their love life more romantic, caring, exciting, and happy. To those couples struggling to live a life they want to experience, I will suggest they allow God to guide them and fill their life with more Love.
Every Couple dreams of living a life without no conflicts between them. However, with time uninvited issues start popping up and make their life hard. Here is a prayer for them to use for the life they want to have in the future.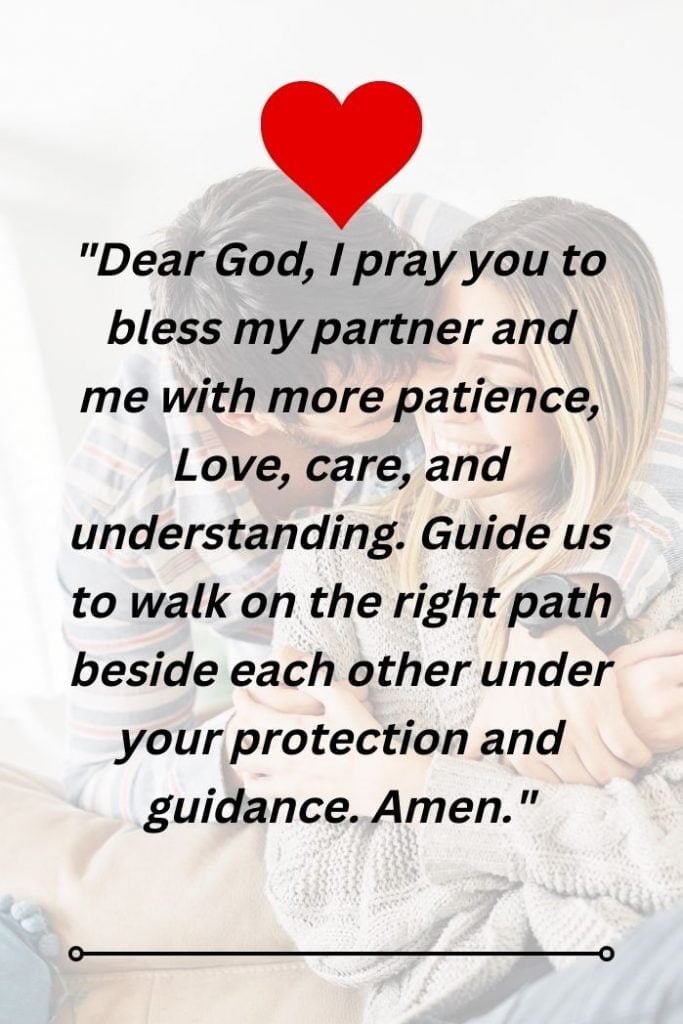 "Dear God, I pray you to bless my partner and me with more patience, Love, care, and understanding. Guide us to walk on the right path beside each other under your protection and guidance. Amen."
Also Read: Prayers for Relationship With Boyfriend
Prayer for Relationships Strengthening
"Heavenly Father, Please bind us in the Stronger threat of Love, care, and togetherness for each other. I pray you develop a better and stronger sense of togetherness in our hearts. Shower the rain of Love upon us, Lord, Amen."
No relationship loses its charm, but people forget to show the craziness they used to express in the early days of their Relationship. A love relationship requires extra effort to stay charming and new for the rest of your life.
In order to make your Love life charming and the bond stronger, one must express the Love and care in words and action as well. It keeps the fire of craziness alive in each other's hearts. For those looking for especially Prayers for Broken Relationships, This Prayer shared below might help bring the same charm again.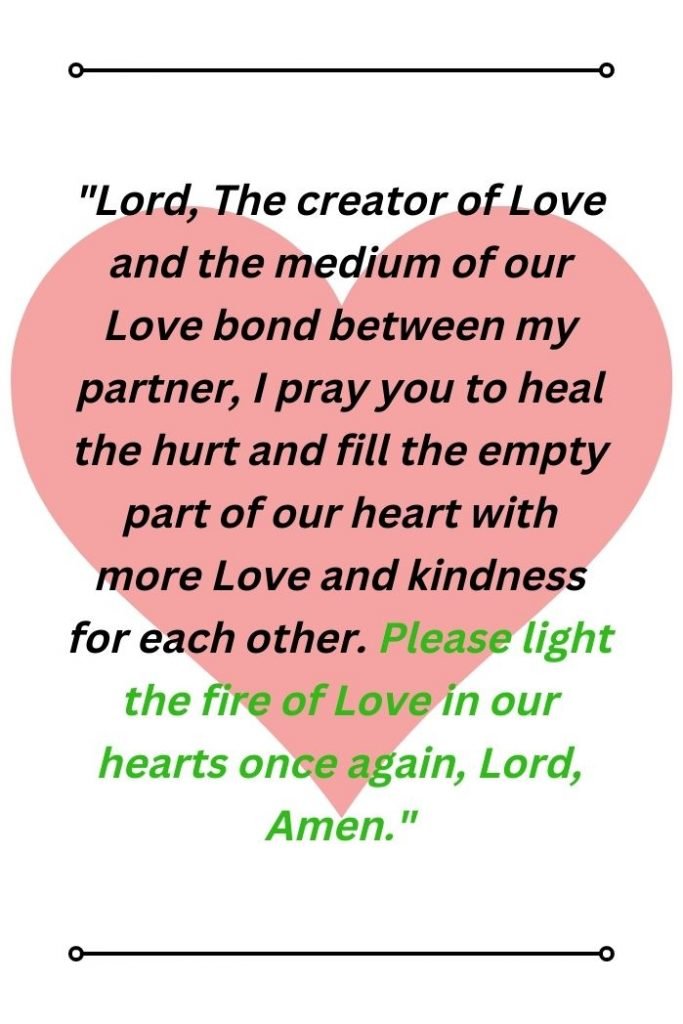 "Lord, The creator of Love and the medium of our Love bond between my partner, I pray you to heal the hurt and fill the empty part of our heart with more Love and kindness for each other. Please light the fire of Love in our hearts once again, Lord, Amen."
Prayer for Reconciliation with an Ex
"Father, Please forgive the unintentional mistake that took the Love of my life away from me. I pray you Give second chance to work out and make our Relationship the way we wanted. . Amen."
It's really unfortunate to see someone thinking or praying for those who have broken the bond and are moving forward with their lives. Usually, I suggest people move forward and never look back. However, if someone like you wants something back, you must try as you know the entire truth about your bond, not me.
Just one suggestion: If you have been praying or secretly wishing your ex to come back to you, keep a distance, keep attracting and keep praying, and do not mix the energy by communicating from your side.
Here is a Prayers for Broken Relationships that will heal your past and change your ex's heart if God wants the same.
"Heavenly Lord, I accept that I am no perfect human being but a bundle of imperfection that broke my bond with the person I love the most. God, I am seeking forgiveness and another chance to develop a better bond and make our relationship perfect. I pray you to please bring my Lover back and give me a chance to act on my promises. Amen."
Related article Powerful Prayers to The Universe for Healing And Manifestations
Miracle Prayer for Love Relationship
"Father in Heaven, Bless the Love of my Life with all the happiness and Pure Love and care for me. Bless us with enough wisdom and understanding and provide us with the strength to make our Lives beautiful with each other forever. In the Name of Jesus, Amen."
No doubt, there is no other powerful feeling but Love. Having a loving heart and someone who cares for that heart is a special blessing. Either you already have someone or desire someone to love you in the same way; I hope your prayers get answered soon.
I found it necessary to share some happy texts along with Prayers for Broken Relationships for those who just want to enhance their bonding. Here is a prayer that will surely help you feel closer and excitement in your heart forever if you keep God with you.
"Dear God, I am grateful for the Love of my Life who knows how to keep me happy. I pray you to let our Love and respect for each other grow with time. Let You Mercy and Love stay Upon us Lord, Amen."
Fasting and Praying for Relationship Restoration
"God, Help me complete my commitment to restoring my Relationship with the person I decided to spend my life with. Please Guide us to respect, Love, care for, and value each other the way we deserve. Bless us and accept my sacrifice, Lord, Amen."
The most powerful and effective way to manifest anything is Prayer along with fasting. Fasting is the greatest way to eliminate negativity and gain focus on what you want. If you desire to have a fulfilling life with your partner, some rituals are vital to manifest.
I pray for people to instead look for Prayers for Broken Relationships and look for enhanced love life when you are with the person. It will prevent you from experiencing heartbreak and unbearable pain.
"Father, The Holy Spirit, Please accept my sacrifices and provide me strength to keep enhancing my Love life for the rest of my life. Keep us under your protection shield and fill our life with Love for each other, every day Lord, Amen."
Related Article Powerful Prayer for Relationships Strengthening
FAQS
1- Can prayer fix a broken relationship?
Prayer holds your deepest emotions and has immense power that can do anything. However, it's crucial to use the right words with the right intention.
So, Yes, prayer can fix a relationship that seems impossible to fix. When you connect God with your pure intention and ask for something, God is bound to fill your desires.
2- How do you pray to save a relationship?
First and foremost, remember one thing before asking God to save your relationship. Your relationship starts with you so make sure the required changes you need to do, not the other person.
"Dear God, thank you for helping me to restore a broken relationship. Help me to trust that you can restore what has been damaged. Give me the strength to work through any relationship that has become difficult. Give me the strength to work towards a relationship that has been broken. Amen."
Final Words: Loving someone or being loved by someone is a beautiful responsibility I think we all love to do. The only thing that makes it a burden is expectation. Relationships will grow and flourish if one can remove expectations from another person.
As I am writing these Prayers for Broken Relationships and making the bond stronger with your loved ones, I am developing a better relationship by eliminating my expectations. Therefore, My suggestion to you will be the same because I know it works.
If you found this article helpful, guiding, and prayers effective, do like and share this page with others and guide them indirectly to have a better relationship.
Also, don't forget to bookmark this page for more articles like "Prayers for Broken Relationships" for instant access in the future.
Stay Healthy, Stay Blessed