Marriages are made in heaven so we must respect and give our dedication to it in order to let it work in the best way. However a lot of people find this term invalid these days. Lets see What does the Bible Say About Marriage Vows and Problems afterwards.
If you don't look at modern marriage Issues, the relationship only provides happiness, care, protection and companionship. However, there are some sacrifices involved which I believe are everywhere.
Unfortunately, A lot of people are scared these days to marry after seeing failed marriages or relationships. If you are one of those confused ones who deeply wants to get married but are afraid, this article might help you clear your confusion.
In the Scriptures, believers are constantly reminded to be anxious for nothing and fear not ;. In fact, these words are repeated 365 times in the Bible. So, Let God take care of your faith. 
Along with my views upon marriage, You will see What does Bible Say About Marriage and problems afterwards. So, let's see some Bible Verses about marriage, specifically between man and woman.
Bible Verse About Marriage Between Man and Woman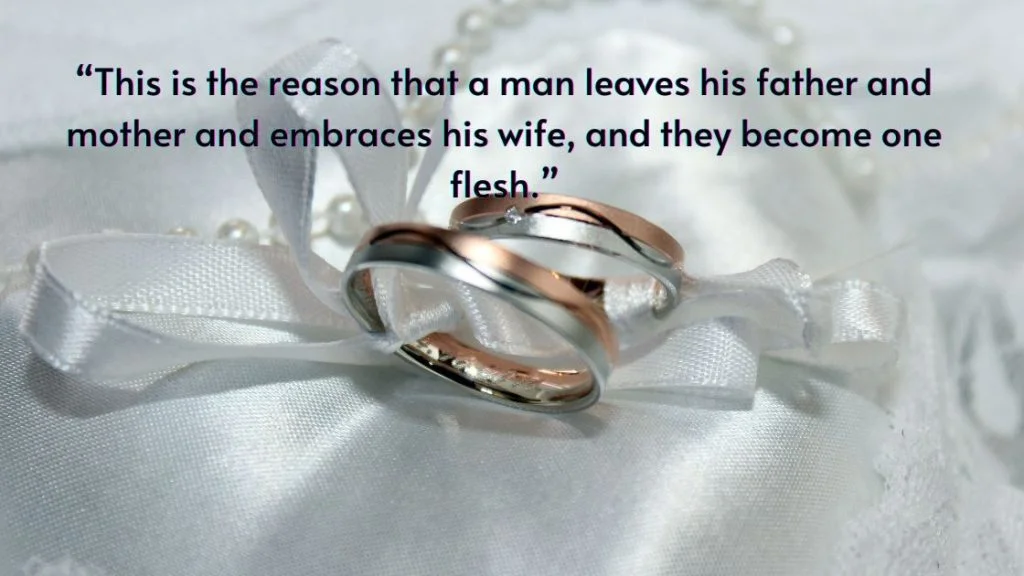 GENESIS 2:24 "This is the reason that a man leaves his father and mother and embraces his wife, and they become one flesh."
A lot of problems in marriages occur these days because of involvement of In laws and other people. Taking care of parents and other relationships is your responsibility, However, solving the conflicts between husband and wife needs your attention, not others.
In order to allow your marriage to become the strongest relationship you, husband and wife, both need to give it hundred percent without involving someone else's. Yes, Nobody's perfect but when you accept each other, you learn to live together.
When you are willing to know each other, make necessary changes and grow together, life becomes easy and of course marriage feels like heaven. So, In my opinion the answer to your question "What does Bible Say About Marriage" is simple : love each other and be totally devoted.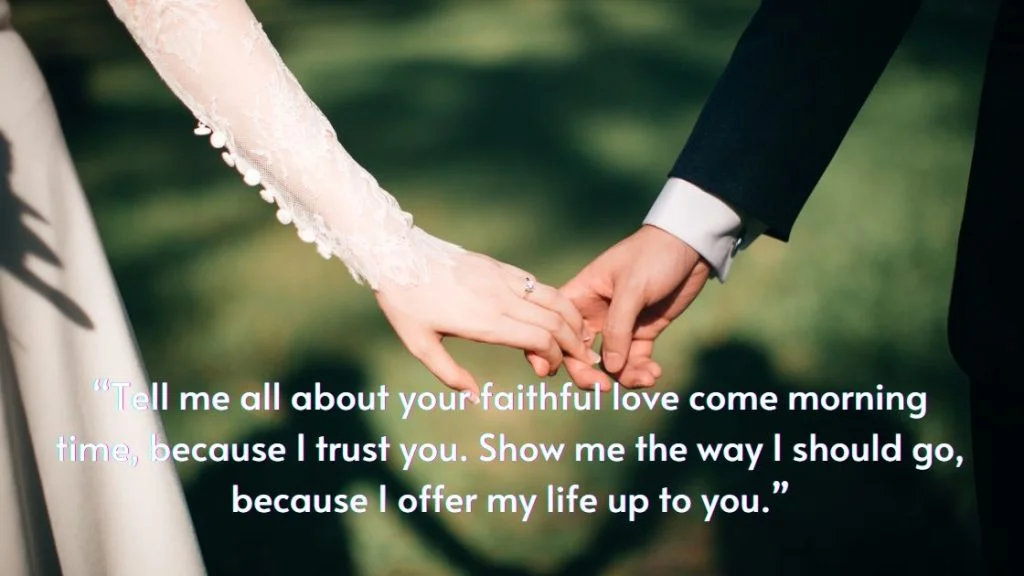 PSALM 143:8 "Tell me all about your faithful love come morning time, because I trust you. Show me the way I should go, because I offer my life up to you."
Marriage According to The Bible Proverbs
Romans 13:8 "Owe no one anything, except to love each other, for the one who loves another has fulfilled the law."
The only criteria to have a successful marriage is Love each other unconditionally without throwing yourself on the other person. When there are a lot of expectations and demands involved, the relationship shrinks.
Trusting each other and breaking it at any cost is another crucial ingredient of a successful marriage. Your trust is the strength of your partner and if someone breaks it, even secretly, the relationship starts breaking.
While looking for a deeper answer to What does the Bible Say About Marriage, I found out that pure love and faithfulness towards each other strengthens the marriage and partners as well.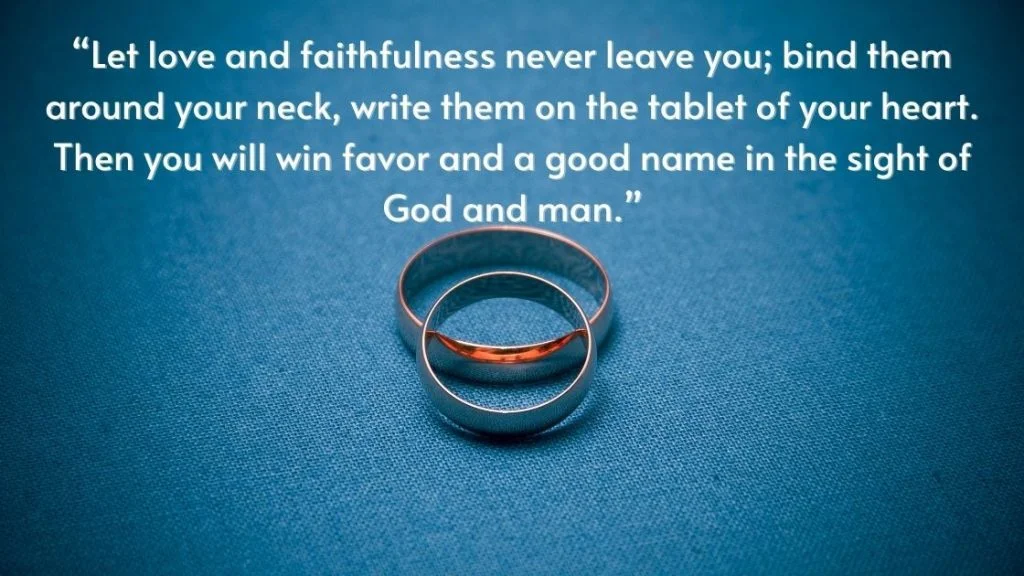 Proverbs 3:3-4 "Let love and faithfulness never leave you; bind them around your neck, write them on the tablet of your heart. Then you will win favor and a good name in the sight of God and man."
Romans 12:10 "Be devoted to one another in love. Honor one another above yourselves".
What does The Bible Say About Marriage Vows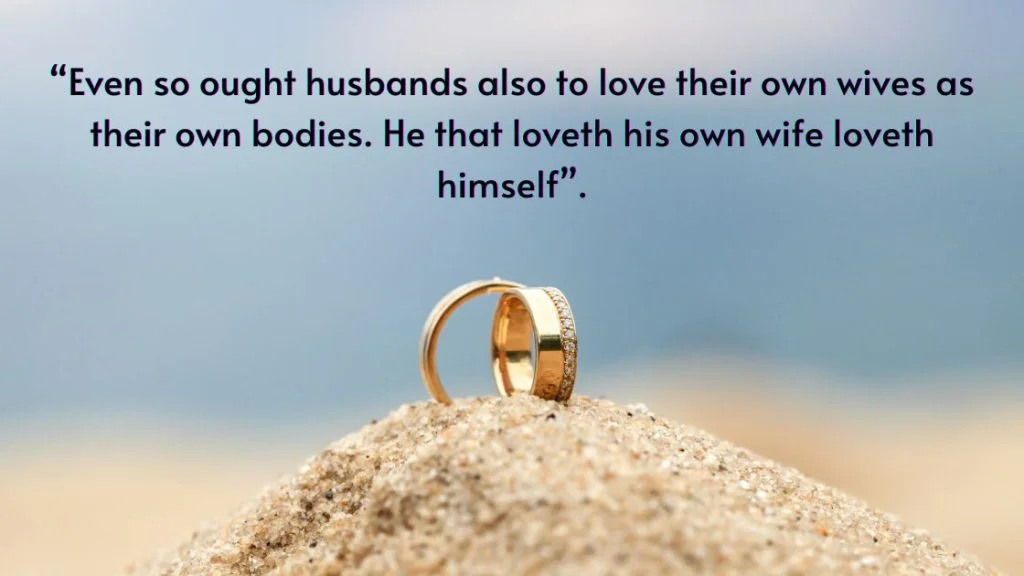 Ephesians 5:28 "Even so ought husbands also to love their own wives as their own bodies. He that loveth his own wife loveth himself".
In marriage, the best ingredient you can add is selfless love and care towards your partner. No matter how much, how many previous experiences you carry with yourself, unless you lose yourself in Love, it's not complete.
Husbands or Wives, It's crucial to bound yourself in that relationship completely in order to become one. Unfortunately, problems like no trust, less compassion are rising with modern society.
However, If you believe in God's words and are looking for an answer to "What does Bible Say About Marriage", believe in these verses. Leave your past behind and be fully present in your marriage and stay loyal to your vows.
Proverbs 18:22 (ESV) "He who finds a wife finds a good thing and obtains favor from the LORD."
What are God's 3 purposes for marriage?
According to the Holy Bible the three purposes of marriages are companionship, procreation, and redemption. In simple words, marrying someone means having a companion to share everything you achieve in life.
Learn to balance with other people, feel loved, protected and most importantly, I believe it's a way to pay past life karma as well.
What marriage is forbidden in the Bible?
According to the Holy Bible parent-child, sister-brother, grandparent-grandchild, uncle-niece, aunt-nephew, and between half siblings and certain close in-laws marriages are forbidden.
In fact, Not only in the Bible but if you study other communities and religious Laws, these marriages are not allowed due to a lot of reasons.
What are God's principles for marriage?
"Husband and wife must be devoted to pleasing one another. Jesus says: "He who sent me is with me. The Father has not left me alone, for I always do those things that please him." (John 8:29).
Marriage is an agreement where you willingly step forward to live your life with someone. Therefore, it's crucial to stay loyal, open and caring to each other.
Final Words: To those who are still confused but want to marry, I am sure after reading "What does Bible Say About Marriage" your confusion is gone. Marriage is beautiful if both the partners understand each other.
If you found this article helpful and guiding, like, comment and share with those who need this article. Also, don't forget to bookmark this page for more guiding articles like "What does the Bible Say About Marriage" for instant access in future.
Stay Healthy, Stay Blessed