Are you looking for Bible Verse For Hurting Heart that can calm your mind and heal your heart? Unpleasant events, especially in relationships, seem to affect our mood enormously.
You might be feeling that there is nothing that can take your pain away and make you feel better again. However, reading these bible verses for healing and strength can make you feel better for the start-up.
Isaiah 41:10 "So do not fear, for I am with you; do not be dismayed, for I am your God. I will strengthen you and help you; I will uphold you with my righteous right hand."
Relationships are beautiful and fill our hearts with excitement and happiness. On the opposite side, when relationships break, it kills all of our life desire.
God has taught us to fight and win any life battle easily if we can understand the true essence of scriptures. This article will share a few powerful and soothing bible verses for hurting hearts to heal you.
Lets see What Does The Bible Say About A Hurting Heart?
Comforting Bible Verse For Hurting Heart Relationship
God Heal A Broken Heart Of A Lost Relationship Verse
Psalm 51, "the most honest confession of personal sin in the Bible, ends with these words to God: "You will not despise this broken and crushed heart."
When you ask God to heal them and restore your faith in Love again, He showers his ocean of Love and strength upon you. He is the one who loves you unconditionally, even when you don't think of Him.
When His children go to Him with their pain and requirements, He provides everything to fulfil their needs without questioning them. He doesn't complain or punish us, but our Karma does. Broken relationships teach many lessons and enhance our wisdom and the power to recognize the right person in the future.
I am confident that one Bible Verse For Hurting Heart, will touch your core and strengthen you to move forward and forget your past easily.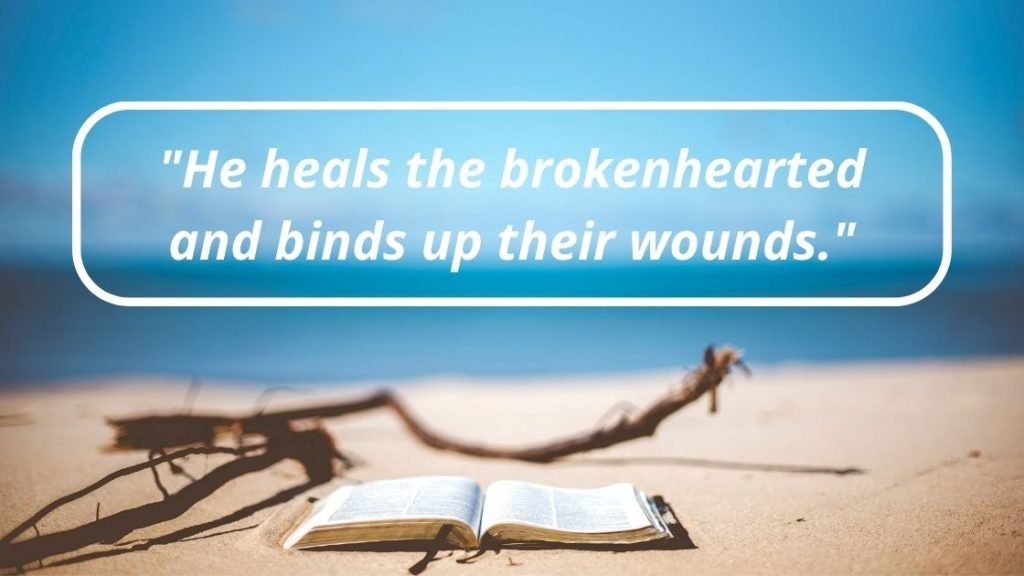 "He heals the brokenhearted and binds up their wounds."
Also Read about Bible Scripture for Breakups and Healing Energy
Bible Verses For Restoring Broken Relationships
Jeremiah 29:11 "For I know the plans I have for you,' declares the Lord, 'plans to prosper you and not to harm you, plans to give you hope and a future."
Some relationships only get a part because of a lack of respect and understanding for each other. In such cases, if both are willing to reconnect and restart, God always guides them to make it happen.
The best part of His guidance is if things don't work out, it doesn't hurt like last time. Reading this Bible verse For Hurting Heart will surely help you heal and decide what's better for your future.
God is the greatest shelter you will ever have, so instead of hurting yourself more, keep reading, rereading and experience His power into your life.
Matthew 11:28 "Come to me, all you who are weary and burdened, and I will give you rest."
Bible Verses For A Broken-Hearted Woman
Psalm 147:3 "He heals the brokenhearted and binds up their wounds."
Every soul is God's special child; however, women are closer to God. As we all know, they are a powerhouse and can overcome any challenges when it comes to hardship.
Unfortunately, Being a female, I know we too get badly hurt when someone breaks our Hearts. We feel cheated, not needed, most importantly, we don't deserve Love.
That's not true; not even one per cent, we just give too much, and when someone hurts us, we blame ourselves. If you are a woman reading it, remember you are more worthy than anyone in this world, so ask God to restore what you separated from you.
Prayers and reading some Bible Verse For Hurting Heart have been my medicine when I feel cheated. Reminding myself to never dwell on the past helps me move on.
Isaiah 43:18 "Forget the former things; do not dwell on the past."
Short Prayer For A Broken Heart Relationship
"Heavenly Father, I gave everything, above my capacity to the relationship, and now I feel cheated, hurt and Empty. Heal my broken heart, fill the emptiness and remind me of the true mission of my life Lord, Amen."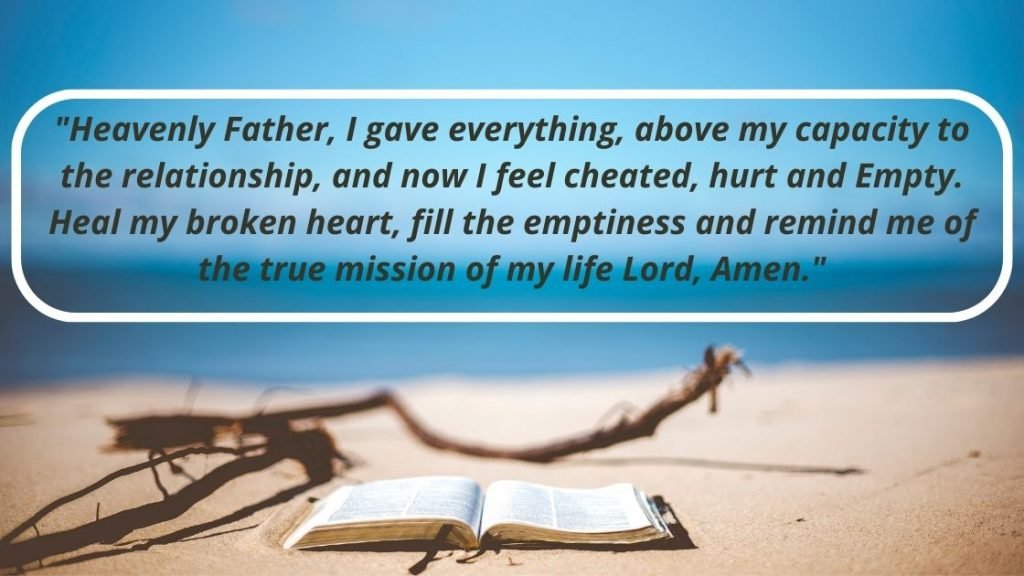 When someone leaves our life or adds no value to my life, I feel that I need to move on. Studying scriptures, Meditating, and growing wisdom help me recognize harmful people or energy around me.
Keep praying if you are hurt because of someone, and See how God will heal your wound and make you stronger than before. Reading Bible Verse For Hurting Heart will help you recover and love yourself again.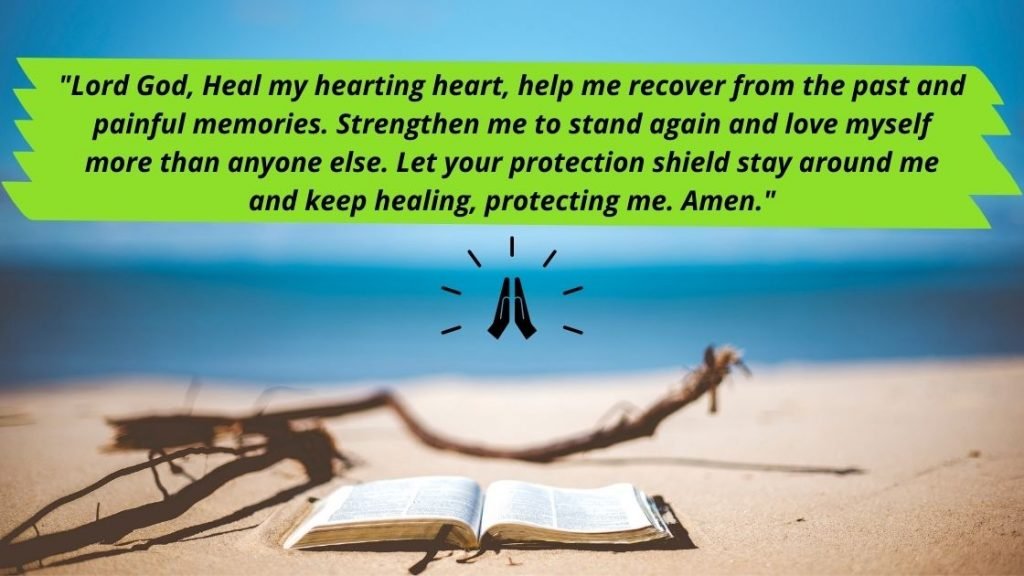 "Lord God, Heal my hearting heart, help me recover from the past and painful memories. Strengthen me to stand again and love myself more than anyone else. Let your protection shield stay around me and keep healing, protecting me. Amen."
Also Read about Bible Verses About Moving On From A Relationship
Bible Verses For Healing And Strength
Jeremiah 33:6 – "Nevertheless, I will bring health and healing to it; I will heal my people and will let them enjoy abundant peace and security."
You need to accept that No one, Yes, No one, can heal you the way God can. He is the one who is always available for you and ready to protect you. All you need to remember is Him, pray to Him, ask him to protect you from unworthy people.
No matter how hurt you are or how damaged or unworthy you feel right now, He will restore all of your strength. God brings healing when you go to him, put your faith in him and surrender yourself to him.
I am confident that reading this Bible Verse For Hurting Heart will enhance your faith in Him and Heal the pain you have been feeling for so long.
Isaiah 41:10 – "So do not fear, for I am with you; do not be dismayed, for I am your God. I will strengthen you and help you; I will uphold you with my righteous right hand."
Bible Verse For Hurting Heart KJV
Psalm 34:17-18 KJV, "The righteous cry and the Lord heareth, and delivereth them out of all their troubles. The Lord is nigh unto them that are of a broken heart; and saveth such as be of a contrite spirit."
Have you ever realized that most people only come to Lord when they are in pain? It's like a thirsty person searching for water and going too well because He knows the water source is well.
Similarly, the spirit knows that the source of healing energy is Lord, and He will take all the pain away. One of the healing and restoring strength ways is to read Bible Verse For Hurting Heart or regaining my power back.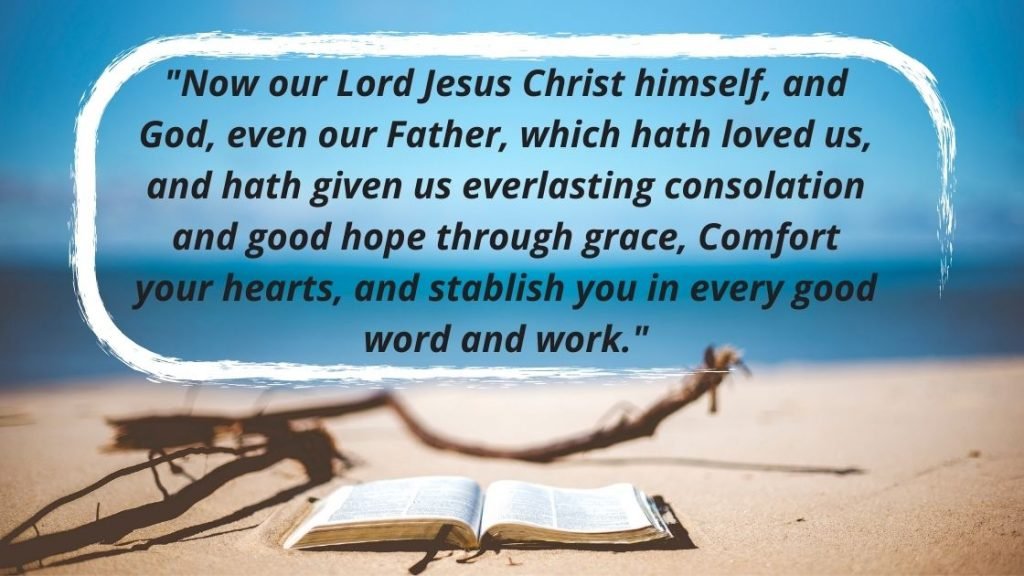 2 Thessalonians 2:16-17 KJV "Now our Lord Jesus Christ himself, and God, even our Father, which hath loved us, and hath given us everlasting consolation and good hope through grace, Comfort your hearts, and stablish you in every good word and work."
Bible Verses Emotional Healing Images
72 Kings 20:5 "The Lord, the God of your father David, says: 'I have heard your prayer and seen your tears; I will heal you."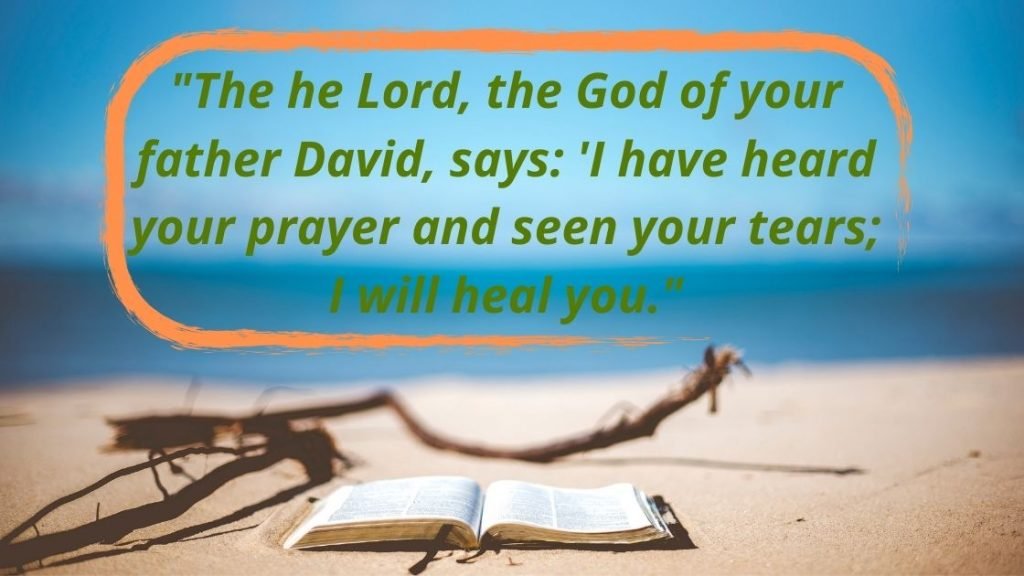 As I always say, prayers or words mixed with your emotions reach God faster than any other prayers. When you pray to Him with a broken heart, hurting heart, it reaches and forces Him to comfort you.
Emotional hurt requires healing at the right time, and otherwise, it gets deeper and hurt the spirit to a deeper level. The best way to heal emotional pain is to find comfort under God's Love.
Read some Bible Verse For Hurting Heart, pray to him, surrender yourself and leave rest upon His will.
19 Mark 5:34 "He said to her, 'Daughter, your faith has healed you. Go in peace and be freed from your suffering."
FAQS
1- What God says about failed relationships?
God says that He always stays closer to those who are suffering with a broken heart as He is the greatest Healer. He not only provides comfort but gives strength to heal and move forward in life.
God is the one who is ruler of every heart, even if they are unaware. When a person gets hurt, He goes closer to God and he helps to heal and overcome as He is always there for us, His children.
2- Can God fix a broken relationship?
Relationships are the outcome of the intensity, honesty, love and care for each other. So, if for some reason the bond is breaking, God suggests checking where you are facing and changing it.
The best way to fix or repair a relationship is to let God do it for you. All you need to do s, pray for the same. Therefore, Yes, God can fix broken relationships and if you explore the internet or your surroundings, you will meet with many experienced people.
Final words: I am certain you will feel comfort and less pain after reading this Bible Verse For Hurting Heart. Don't stress yourself much but design your future, a better one with yourself.
When you are hurting inside, it's crucial to shift your focus to something that makes you feel good and worthy. You deserve a better person, a better life, and all the Happiness God is going to shower upon you.
If you found this article helpful and informative, share it with others and let them heal themselves under God's protection.
Also, don't forget to bookmark this age for a more informative article like "Bible Verse For Hurting Heart" for instant access in future.
Stay Healthy, Stay Blessed