Addiction is a trap that does not allow people to see the world around them. However, unlike our parents, God is always good to be His children free. If you or Your loved one is trapped in any habit, share these Bible Verses To Help With Addiction.
Obsession about anything can take a person away from all the possibilities they can do or experience. Unfortunately, after crossing a level, people find them helpless to come back to their original state.
On the other hand, the good news is that many organizations are helping people get rid of any addiction and be sober. Even after getting help, it's crucial to stay motivated and positive are hard.
In order to counsel yourself, reading good books, listening to the audio, and watching related videos help. Most importantly, reading God's world can provide the strength to eliminate any obsession.
Here are 15 Bible Verses To Help With Addiction and push toward being God's better child.
Bible Verses to Help With Addiction
Proverbs 20:1 "Wine is a mocker, strong drink is raging: and whosoever is deceived thereby is not wise."
The above lines are about the strong drink only, but any substance that makes you depend upon it isn't right. Because anything that makes you crave for it takes away all the power and strength, God has blessed you.
Yes, God has given you the free will to have your own opinion and decide what to eat, drink, or live. Unfortunately, when a person gets addicted, every free will is gone, and addiction only pulls toward painful life.
Reading these Bible Verses To Help With Addiction on a daily basis guides, strengthen you, and opens a new door of possibilities again.
Bible Verses To Help Someone With Addiction
Proverbs 25:28 "He that hath no rule over his own spirit is like a city that is broken down, and without walls."
I Have suffered from sweet addiction; yes, it's an addiction if you know how harmful it is to consume a lot of sugar. You lost control over yourself, which is your birthright; in fact, the only right.
No matter how hard I tried, at some point, I used to lose control or couldn't think and was drawn towards the sweets. So, I put some of these Bible Verses To Help With Addiction on paper and kept them with me.
Reading, rereading and praying with this script helped me overcome my issue; I am sure it will do the same to you.
1 Corinthians 6:12 "All things are lawful unto me, but all things are not expedient: all things are lawful for me, but I will not be brought under the power of any."
Powerful Bible Verses To Help With Addiction
1 Peter 5:8 "Be sober-minded; be watchful. Your adversary, the devil prowls around like a roaring lion, seeking someone to devour."
One of the most eye-opening quotes I have ever read is, "You become like the person you spend most of the time with". Unfortunately, when you are trapped in the wrong circle, you get blind to seeing the reality.
However, when you put your faith in the Lord and ask him to guide you or help you, you indeed become worthy of God's Love. God is the one who easily forgives our sins and takes away all the weaknesses and strengthens.
I suggest you write your favorite Bible Verses To Help With Addiction and make a habit of picking a random one and reading after a few hours gap.
Corinthians 15:33 "Be not deceived: Evil companionships corrupt good morals."
Also Read: 6 Easy and Effective Steps To Live Addiction Free Life
Bible Verses to Help With Addiction
Corinthians 10:13 "No temptation has overtaken you that is not common to man. God is faithful, and he will not let you be tempted beyond your ability, but with the temptation, he will also provide the way of escape that you may be able to endure it."
Once you adopt this habit, no matter how deeply you have been obsessed with something, you will be able to overcome it. There is nothing impossible when it comes to experimenting with God's will.
If you can dare to surrender yourself, your challenges and onto Him, and pray regularly, read regularly and follow his rules, all things are possible. Yes, it's crucial to follow the rules when you desire to have something you find yourself weak to get.
To clarify, God's rules aren't to punish you, but they are a set of Guidance that never fails to protect us. So, following His wisdom, praying and reading some Bible Verses To Help With Addiction will do the miracle.
Corinthians 6:12 "All things are lawful for me," but not all things are helpful. "All things are lawful for me," but I will not be dominated by anything."
Bible Verses to Help With Addiction
Proverbs 25:28 "A man without self-control is like a city broken into and left without walls."
The above Verse confirms that in order to bring your life back to the right path, you need to have some rules that will allow you to gain self-control. The easiest way to get your lost power is to connect to God and ask him for it.
He is our Father, and you are His beloved child; no matter how unworthy you feel, He Loves you. His love can make you worthy of all you think impossible, including becoming a sober and better person.
Reading these Bible Verses to Help With Addiction daily trains your mind to develop a different path that you will have control over. It helps you grow your wisdom and develop a connection with God and yourself.
Ephesians 5:15 "Look carefully then how you walk, not as unwise but as wise."
Also Read: 5 + Powerful Catholic Prayer For Alcoholic Loved One
Bible Verses to Help With Por*n Addiction
1 John 2:16 "For all that is in the world—the desires of the flesh and the desires of the eyes and pride in possessions—is not from the Father but is from the world."
I believe the most unfortunate are those who get trapped in physical addiction. It ruins the power of spirit and makes the person a prisoner for a lifetime if they are unaware of it.
It's crucial to know the limit of everything you do; the over of anything steals your true nature. Unfortunately, the internet has become the devil, making people addicted to watch, which must not.
I suggest you pray before bed and in the morning before leaving the bed for Guidance and strength to stop your craving. I am confident that if you can do that and read these Bible Verses To Help With Addiction to go away, you will win over your issue.
1 Peter 2:11 "Beloved, I urge you as sojourners and exiles to abstain from the passions of the flesh, which wage war against your soul."
Also Read: 11+Addiction Prayer to Eliminate Craving and Adopt New Lifestyle Habits
Bible Verses to Help With Addiction
Matthew 6:13 "And lead us not into temptation, but deliver us from evil."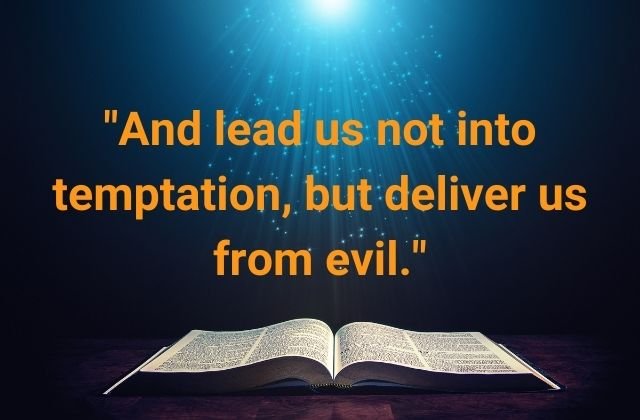 Yes, every temptation lead us to something that can harm us if not stopped at the right point. Temptations are the sign that something is slowly stealing your power.
Let God be your savior, guide and source of strength to overcome any addiction you are suffering from. Let him enter into your heart through prayers and protect you.
No one in this world, Yes, no one can help you the way God will do. Life is a one-time golden chance; you must choose to spend it in the cloud of God's love.
Read all the Bible Verses to Help With Addiction regularly, pray regularly and keep your heart open; something miracle is about to happen.
Galatians 5:1 "For freedom, Christ has set us free; stand firm therefore, and do not submit again to a yoke of slavery."
Final Word: My prayers are for those struggling with any addiction, and I salute those trying every way to gain control over their temptation.
Trust me; You will win, so let go of the thought of failure in your try and let your faith lead you. Faith is the most powerful weapon you can use against all the temptation.
If you found this article helpful and worth reading, share it with others and help them overcome their weaknesses. The best way to empower others is to guide them in the right direction.
Also, don't forget to bookmark this page for more articles like "Bible Verses to Help With Addiction." for instant access in the future.
Stay Healthy, Stay Blessed