Having control over your mind is the ultimate power everyone is looking for. The monkey mind requires a lot of effort and patience to stay calm. It's one of the powers we must claim that's what the Calming Bible Verses shared in this article will help you to achieve.
I am confident that once in a life you have heard that a calm mind is more powerful than a strong body. I too believe that there is nothing in this world that can take over the human mind ever.
It's possible that it's one of the reasons the mind is super active like money. A monkey that is taking control over a human's wish. If you are looking for various Calming Bible Verses, this article has collected all those for you.
Top 14 Calming Bible Verses for Anxiety and Sleep
Bible Verses About Staying Calm and Trusting God
PROVERBS 3:4-6 "So you will find favor and good success in the sight of God and man. Trust in the Lord with all your heart, and do not lean on your own understanding. In all your ways acknowledge him, and he will make straight paths."
The mind becomes more active and overthink especially when things are not in favor. Unfortunately, not everyone knows that overthinking blocks all the goodness on your way.
If you are God's child and read the holy Bible everyday things are easily in alignment with you. ON the other hand, if you are disconnected to the Divine God, unnecessary things enter in your life and make it hard.
If you are tired of your running mind, reading these Calming Bible Verses will help you stay calm.
PSALM 55:22 "Cast your burden on the Lord, and he will sustain you; he will never permit the righteous to be moved."
Bible Verses About Being Calm in The Storm
John 14:27 (NIV) "Peace I leave with you; my peace I give you. I do not give to you as the world gives. Do not let your hearts be troubled and do not be afraid."
God says that those who keep their entire faith in His words, He never let His children fail. The best way to keep your life full of excitement, peace in heart and happiness in relationships, letting God guide you is the best choice.
Challenges will come as they are for the same reason, however staying calm is your choice. You don't get stressed organically if you follow God's words and believe in them.
No matter what storm you are into these days, I am confident that reading these powerful Calming Bible Verses will help you feel better.
1 Peter 5:7 (NIV) "Cast all your anxiety on him because he cares for you."
Also Read: Top 5 Best Meditation For Anxiety and Depression At Home
Powerful Calming Bible Verses KJV
2 Timothy 1:7 "For God hath not given us the spirit of fear; but of power, and of love, and of a sound mind."
The Bible has influenced me profoundly in the past. Some of the The words have made me stronger and helped me develop faith in myself. The holy bible taught me not to fear from any circumstances and have faith in myself.
I am sure reading these Calming Bible Verses right now will develop the same quality in you. God's words helped me develop forgiveness and helped love even those who haven't done any good to me.
Most importantly, reading the Bible on a daily basis, made me a person I always wanted to become, the best version of myself.
Matthew 5:44 "But I say unto you, Love your enemies, bless them that curse you, do good to them that hate you, and pray for them which despitefully use you, and persecute you;"
Calming Bible Verses for Sleep
Psalm 8 "In peace I will lie down and sleep, for you alone, Lord, make me dwell in safety."
Anxiety, stress or worries takes away all the peace, even the regular sleep of a person. In such a situation, even their own mind goes against the person.
Most importantly, Less sleep is the origin of a lot of health issues in a long time. Or, you may write down, Print these Bible words, hang them on the wall of your bedside.
It also helps to print all these words of wisdom on mind that reminds the healing hand of God upon the person.
In order to eliminate all the stress and worries the best way is using some of the most powerful Calming Bible Verses before bed and have a sound sleep.
Psalm 33:8, "Let all the earth fear the Lord; let all the people of the world revere him."
Calming Bible Verses for Anxiety
Proverbs 12:25 "An anxious heart weighs a man down, but a kind word cheers him up."
The above verse clearly reminds us that stress or anxiety is a heavy burden that lowers human energy. The world is full of manipulation, that's the reason for the increasing stressing atmosphere.
You might not have people around who uplift you but God is the kindest person who cares for each His child.
In order to let go of the stressful things, remind yourself of your origin and read these Calming Bible Verses every time you feel stressed. It does magic to those who believe in the Bible and God's words.
Matthew 6:34 "Therefore do not worry about tomorrow, for tomorrow will worry about itself. Each day has enough trouble of its own."
Calming Bible Verses for Anger
Ephesians 4:31 KJV, "Let all bitterness, and wrath, and anger, and clamour, and evil speaking, be put away from you, with all malice:"
Anger is one of the most self harming emotions that people get trapped into. Unfortunately, even after knowing this truth some of us find ourselves helpless to control in opposite situations. Just like other emotions, Anger also slows down if you read God's words on a regular basis.
While losing self temperature and getting along in anger people take you nowhere. It's crucial to have full control on our emotions because it offers a chance to have a wishful life. If you find yourself trapped in an anger zone, reading these Calming Bible Verses every morning will help you design your day.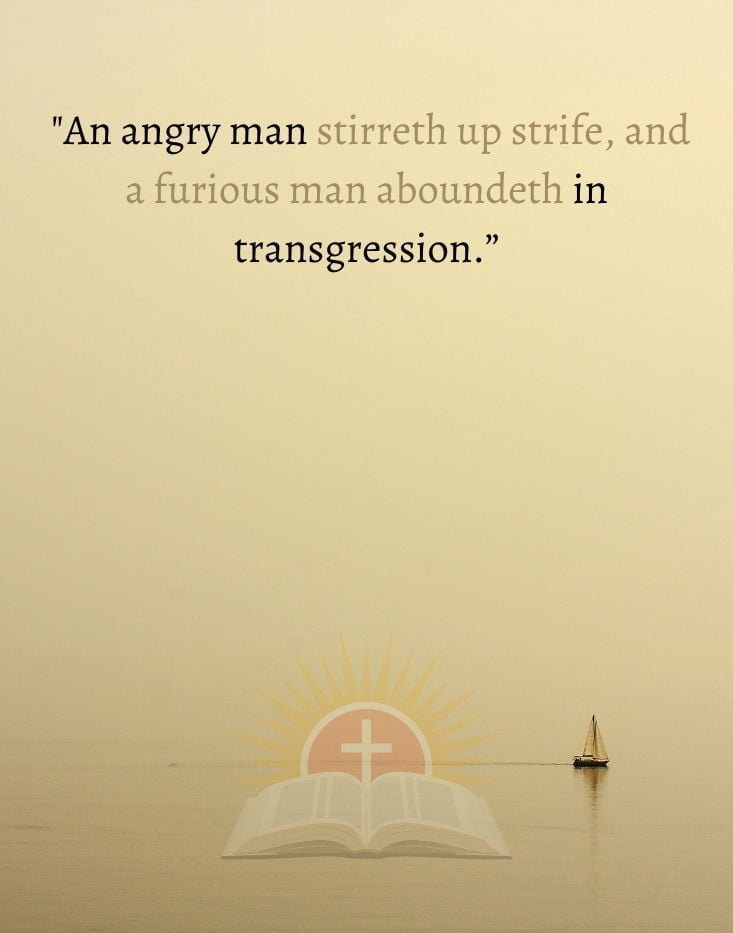 Proverbs 29:22 KJV, "An angry man stirreth up strife, and a furious man aboundeth in transgression."
Also Read: Powerful Scriptures for Mental Health Healing
Bible Verse About Worry and Stress
Matthew 6:34 "Therefore do not worry about tomorrow, for tomorrow will worry about itself. Each day has enough trouble of its own."
Worry and stress steals all the happiness, no matter how hard working we are. Opposite situations take away everything we work for and it's painful to remain in pain.
I know reading or meditating might not help instantly for some of you but it will definitely work if you can keep doing it for a few days. If you are a victim of negative feeling stress and anxiety, these powerful Calming Bible Verses will definitely help you.
Psalm 23:4 "Even though I walk through the darkest valley, I will fear no evil, for you are with me; your rod and your staff, they comfort me."
Final Words: Scriptures have been a free blessing God has offered us to have it anywhere and anytime. If you can adopt a very simple and easy habit of reading only the top 7 Calming Bible Verses every morning, it will do miracles.
If you find this article helpful and calming, do share it with others and help them live a better life every day.
Also, don't forget to bookmark this page for more "Calming Bible Verses" for instant access in the future.
Stay Healthy, Stay Blessed