Hope is a bright light in the distance that keeps our hearts beating and expecting miracles. If you are going through dark days and unable to that light, We have brought you some Inspirational Prayers for Hope that will brighten your day.
Even if the time is hitting your core, remember, Nothing is impossible for Lord God. Even a tiny candle can lighten the darkest room for a few minutes.
This article will cover some powerful Inspirational Prayers for Hope and miracle that will help you cross the darkest road.
Before we jump to the prayers, Let's see what God says about Inspirational Prayers for Hope in a difficult time.
Bible Verses about Inspirational Prayers for Hope
Joshua 1:9 "Have I not commanded you? Be strong and courageous. Do not be frightened, and do not be dismayed, for the LORD your God is with you wherever you go."
I, personally, am addicted to these tiny Yet Ocean of knowledge, powerful and inspiring Bible Verses. It inspires me to stay strong and search for the light during my darkest days.
All you need to do is, write and keep these words on a piece of paper and read them every morning. Also, use one of these Inspirational Prayers for Hope to let God knows your situation and desire.
Never fear the darkness but always Keep God in your heart; believe me, He will lighten a candle during the darkest tunnel. When you give your burden to him and put your whole heart in Faith, you are his responsibility.
Peter 5:6–7 "Humble yourselves, therefore, under the mighty hand of God so that at the proper time, He may exalt you, casting all your anxieties on Him because He cares for you."
Also Read: Most Powerful Prayer to Destroy Witchcraft Attacks
Inspirational Prayers for Hope in Difficult Times
"Heavenly Father, You have always made me feel courageous and wiser, and I am always grateful for that. The days I am going through are destroying my Hope and Faith. Lord, provide me enough strength and inspire me to keep moving while it's hurting badly. Amen."
It's easy to say, stay hopeful and ask God for help, but it's hard to experience such heart-wrenching days. I understand the situation, and Believe me; You are in my prayers.
If you cannot see the light, ask God to provide you the eye to see it and the encouragement to face the challenges. In this article, you may use any shared Inspirational Prayers for Hope in difficult times.
"Good God, Guide me in these dark times of my life and be my savior by showing me the light. Heal the wounds I have been experiencing these days and eliminate my fears about the future. Protect my Hope in you, Lord; I pray you to be beside me. Amen."
Inspirational Prayers for Hope and Strength
"Father, Challenges are burdening me so much that I am feeling weak and lost my way. Protect me from falling down and provide me with the strength to stand up again. God, Please enhance my Faith in you and shower your love and care upon me during these hard times. Amen."
Challenges often attack a person's strength of tolerance and level of Hope. There is no shame in admitting the real situation of your spirit in front of God.
Let God know your pain, suffering, and decreasing faith in Him. Ask Him to help you and rise above with the help and guidance of Him. Use of our Inspirational Prayers for Hope in difficult times and stay tall during challenging times.
"Heavenly Father, I pray you to grant me enough strength and courage to fight with the challenges I am facing these days. Let my weakness strengthen to rise above, and fear be my inspiration to keep moving and search for the light into darkness. Amen."
Also Read: 8 Powerful Prayer for Positivity and Strength During Difficult Times
Inspirational Prayers for Meetings Hope
"Father, I have lost all of my Hope for my better future. Living alone has been my crush for years. I am willing to use my life for something better, Lord. Let my Hope, Inspiration cross my path and enhance my energy to do something fruitful in my life. Amen."
Sometimes, the depression, frustration, and unfavorable circumstances suck all the Hope and make us feel worthless in life. Nothing seems available that inspires us to live and do anything for anyone.
These are the days when we must spend most of the time reading the Bible, Gita, and other holy, inspiring Books. Reading and praying many times during the day helps meet Hope and courage within a few days.
Here are some Inspirational Prayers for Hope and courage you may use to raise your energy and life.
"God, I know my time and challenges are killing everything I had earned in my life. Although I know you are there who is watching over me. Please forgive me for my sins and mistake that lead me here, Lord. Show your mercy and send rays of Hope to guide me to the path I meant to be on. Amen."
Inspirational Prayers for Hope and Miracles
"Heavenly Father, I know you are there because Miracle happen all over the world every day. God, I am tired of all the suffering I am going through; please show your mercy. Please send me a miracle that alters my mindset, courage and guides me to work in the right direction. Amen."
Sometimes, we lose all the strength to stand and walk again. I believe such situations result from some of our past life Karma. It's wiser to ask for forgiveness for those unknown Karma and stay Calm.
Pray and Ask for God' Mercy; He loves all of His children, mostly those who like to talk to him through prayers. You may use these Inspirational Prayers for Hope and expect miracles during your praying times.
"Dear God, Creator of this life, I am lost and fearful. I am not finding any hope in my life anymore. I am ashamed if I have done anything wrong to anyone in the past. Please forgive me for the forgotten Karma and enlighten Me, Lord. Let a miracle change my life and make me a better person in a better position. Amen."
Inspirational Prayer of Hope for 2022
"Almighty God, the past few years have been challenging for everyone, and pandemics have stolen the happiness of many. Let this new year, 2022 be the reason for happiness, peace and Hope for everyone. Amen."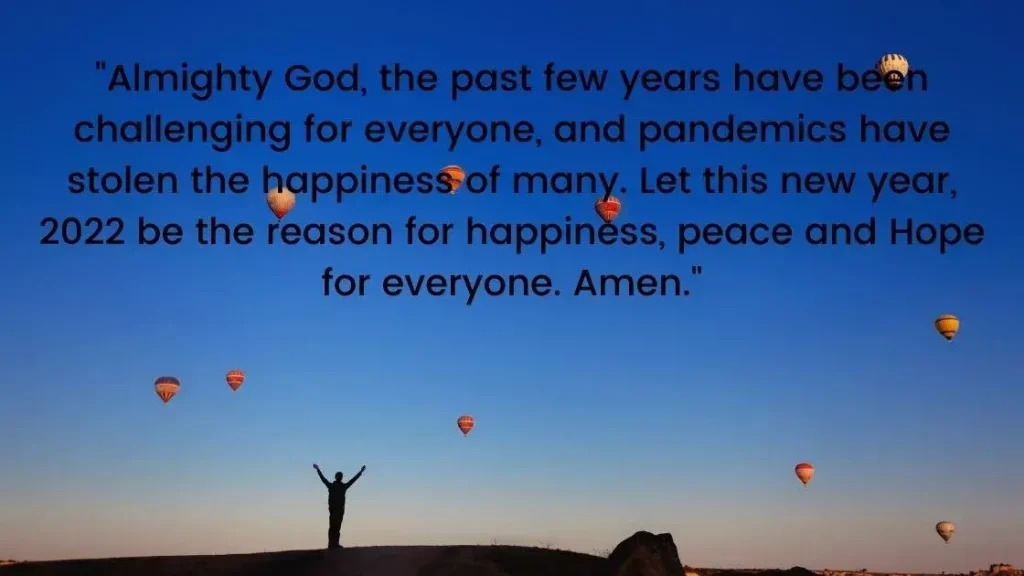 Pandemic affected the entire world and left a lot of pain and suffering. Many lost their way of earning, loved ones, and Hope of better days in the future. The world is in need of miracles and inspiration to stand again and provide opportunities to those who are fighting for a living.
Let's be a part of those selfless angels praying for people they don't even recognize. Join our circle and use these Inspirational Prayers for Hope and let this world overcome challenges and rise again.
" Dear Heavenly Father, Let your mercy be upon our beautiful planet and the people living here. Let the upcoming year be the reason for others to raise their Hope and eliminate the fear of losing their loved ones again. Amen."
Inspirational Prayers for Hope and Despair
"Heavenly Father, I have been your obedient child since I have learned to recognize you. Please answer my prayers and show me some hope to overcome the current painful situation. Let my prayer be the reason to rise me again, Lord, Amen."
If you have been entangled in painful or any adverse circumstances, let your prayer be your strength. Let God take you out of your pain and enhance your life quality.
God is the only one who can make you so stronger that no challenges will affect you. Fill your heart with God's Love, wisdom, and strength. Use these Inspirational Prayers for Hope and Faith in 2022.
"Father, Fill my life with favorable circumstances in 2022 and protect me during challenging days. Let my Faith in your remain forever Lord, Please bless me with your strength and courage. Amen."
Final Words: Past two years have been challenging for all of us, but let's use these Inspirational Prayers for Hope and Faith in 2022 for everyone. The say "Where there is prayer, there is Hope" Lets our prayers be bigger than our challenges.
If you liked this article about Hope and Faith, share it with your friends, family, and on social media.
Also, don't forget to bookmark this page for such inspiring articles in the future for an instant.
Stay healthy, Stay Blessed