Are you looking for some inspiring Lost Soul Quotes Images? We have collected many famous sayings, quotes, and inspiring images to make you feel you are not alone.
Often, brainy people feel lost and discouraged when circumstances hit badly. Yes, it happens only with intelligent people because they are hungry to give meaning to their life.
No ordinary people accept the fact that they are common, and no intelligent commit that they are wiser than others. It's the significant difference between these two categories.
If you are feeling lost, believe me, there is a new door about to open for you and guide you to the more significant path you are meant to take. In this article of BigBrainCoach, I will share those guiding and inspiring Lost Soul Quotes that gave meaning to many.
However, before jumping to the quotes, let's see what the term "Lost Soul" means?
Lost Soul Meaning
"Lost soul" means a spirit searching for its meaning while struggling to fit in the society it's living in. It also means that the spirit isn't a common spirit that settles for ordinary and fits in the society.
In other words, those who feel lost in life and look for guidance are meant to do something significant and leave their footprint on this planet somehow.
Therefore, If you are feeling lost and looking for meaningful and inspiring Lost Soul Quotes, know that you will be guided when the time comes. Unlike you, there were people in the world, who felt the same and left their speeches, and quotes for others to stay hopeful.
Inspirational Lost Soul Quotes Images
"The only good soul is a lost soul, and only a lost soul can find its way home." Trebor Healey
I find the above quote an accurate guide said by Trebor Healey. In fact, a lost soul isn't lost but searching for a better way to go Home and leave a way to others.
"Not every lost soul wants to be found because not every lost is lost; some of them found something or many things or even everything in their lostness!" Mehmet Murat ildan
"Legends become legends by getting lost so that humanity doesn't." Abhijit Naskar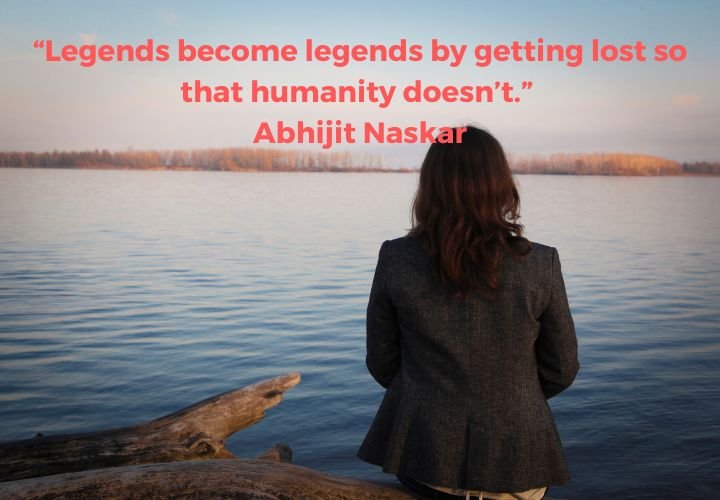 Yes, Legends, as I said above, Intelligent people only feel lost in their journey because they are looking for something the world requires. In losing themselves, they find something and guide millions of others not to feel the way they felt once.
"I travel to lose myself in the beauties of the world and to find my lost soul within the chaos of it all." Dina Al-Hidiq Zebib
Also Read: 15 + Inspiring Never Lose Focus Quotes Images
Quotes About People Who Lost Their Soul
"The soul which has no fixed purpose in life is lost; to be everywhere, is to be nowhere."– Michel de Montaigne
Those with no goal and ambitions are lost as well, but they don't feel uncomfortable. What takes a lost soul to the road of legendry is the uncomfortably and pain they experience while feeling lost.
"I hope you have lost your good looks, for a while they last, any fool can adore you, and the adoration of fools is bad for the soul."– George Bernard Shaw.
"We're all lost souls here. It's good we've got each other."– Amy Plum.
Don't you think you've found someone who is not with you but can feel your spirit? It's the power of reading Lost Soul Quotes and other stories while feeling lonely or lost.
"I put my heart and my soul into my work and have lost my mind in the process."– Vincent Van Gogh.
"I am a lost soul. We do wail." – Roger Zelazny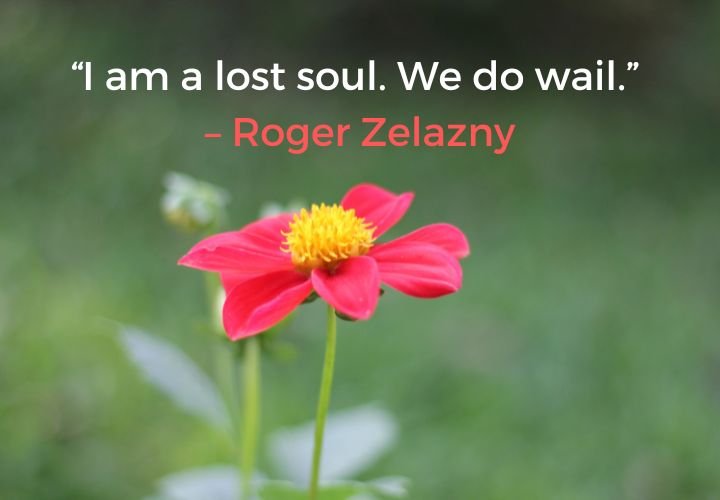 "I'm just a lost soul, belongs to nowhere." – ArEh
"I am a lost soul buried deep down in the misty frost." – Sadia Bilal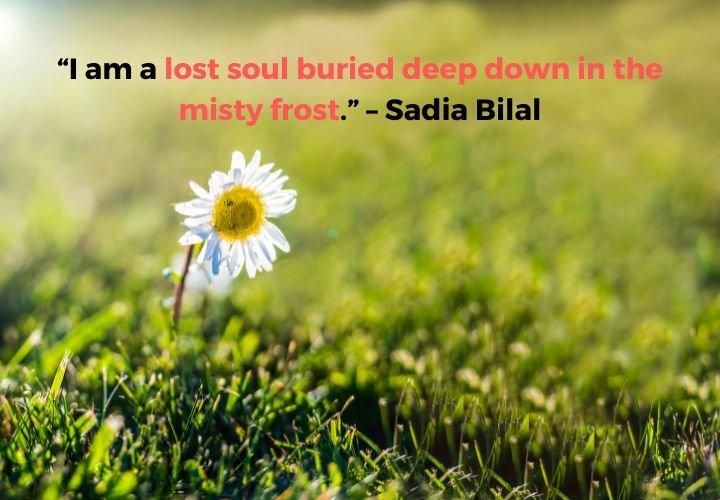 Deep Lost Soul Quotes Images
"Not a lost soul who fought for fool's gold / I shine like a diamond in its true state of coal" – Inspectah Deck "R.E.C. Room."
"It's easier to get over a lost body than a lost soul." – Joshua Prager.
Also Read: 20 + Inspiring Life Happens Quotes Images
Two Lost Souls Quotes Images
"A lost soul often looks for another lost soul!" – Mehmet Murat ildan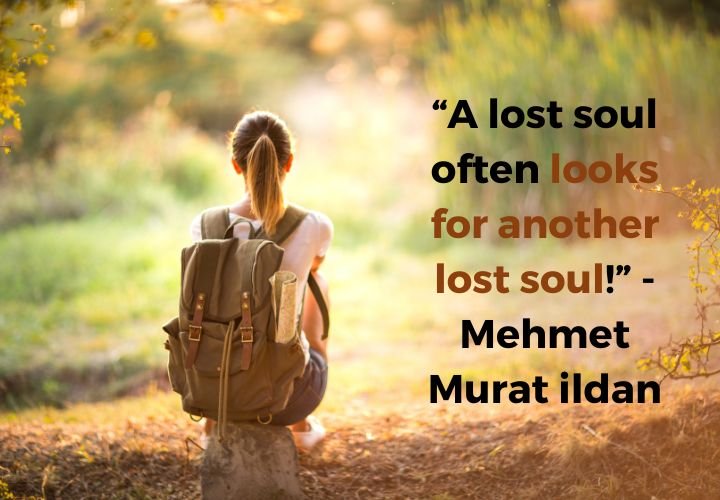 "Some souls just understand each other upon meeting."– N.R. Hart
Surprisingly, some of the use connects while reading these Deep Lost Soul Quotes Images. When readers comment on my articles and share their thoughts, I get over the feeling of loneliness.
The spirit doesn't need someone to be with it but someone to connect with, no matter how far they are. The simple connection inspires and boosts their energy to stand again and keep moving forward.
"For until ye become as a savior, as a help to some soul that has lost hope, lost its way, ye do not fully comprehend the god within, the god without." – Edgar Cayce.
"Lost is not the place; it's a soul in paralysis… waiting to feel moved." – Alfa.
"Two lost souls, yet home to one another. Two wild hearts, together with a melody." -A.B
Broken Lost Soul Quotes Images
"Prayer is the cure for a lost soul, confused mind, and broken heart."
Yes, prayer heals the hurting part and provides enough courage to keep moving and increase our faith. The saying "When feeling Lost, Pray" is a powerful statement that has always helped me.
"Lost soul, broken heart, shattered dreams, with a motivation to win." – Silent Queen
"My heart is a mess. A beautiful mess. Perfectly ruined. Splendidly destroyed." – Lost Soul.
"For Joey Bishop, always was kind of the lost soul, so I did a traffic joke." – Garry Marshall.
Reading these simple yet powerful Deep Lost Soul Quotes helped me realize the life journey more profoundly. It encouraged me to go deeper within myself, get the eye of the storm, and use it positively.
"Each lost soul will be a hell unto itself, the boundless fire raging in its very vitals." – James Joyce.
Final Words: I wish one of the above Inspiring Lost Soul Quotes connects your spirit and help it to find its purpose. Believe me, reading these legendary statements and their biography is the honest guide to greatness.
Keep reading such quotes, get the books written by the author, and see what secret they have shared in-depth. Feeling lost is just a feeling; it has come and will go. Therefore, wait for for your time, and in the meantime, keep reading, and stay inspired.
If you liked this article and found it guiding, and inspiring, let others get the benefit, so share it on your social media.
Also, bookmark this page for more inspiring quotes and Images like "Deep Lost Soul Quotes" for instant access in the future.
Stay Healthy, Stay Blessed