Seeing your child trapped in something that's keep harming them is the most painful experience. A Prayer for Drug Addicted Child can help you have a regular and sober life. 
If you have been trying your child to stop consuming harmful substances but it didn't work, this article might guide you to success. If yo suggestions and requests don't give you results, convert your words into prayers and see the results. 
Prayers can turn pain into pleasure and struggle into winning days if it comes from the heart's core. The relationship between a child and mother is the purest relationship on this planet. 
Believe, your prayers will be answered, and expect the results you have been waiting for so long. This article will share some powerful Prayer for Drug Addicted Children to help you find peace by asking God to help your child. 
Before I share the Prayer for Drug Addicted Child, let's see what God says about drug addiction, It will help you enhance your faith. 
Also Read about Miracle Prayer for Strength and Healing 
Bible Verses About Drug Addict Children 
1 Corinthians 10:13 "But when you are tempted, He [God] will also provide a way out so that you can endure it."
The phrase is a clear command to those who pray and ask God to help them in such circumstances. All you need is faith in your words, prayers, and God. 
God always keeps those children on top of his priority list who are in pain and asks God to take that away. A Parent's prayer for their children is the most sacred prayer. 
You may use the Prayer for Drug Addicted Child shared in this article with full faith and have the patience to let your prayer work for your child. 
MATTHEW 11:28-29 "Come to me, all of you who are tired from carrying heavy loads, and I will give you rest. Take my yoke and put it on you, and learn from me because I am gentle and humble in spirit, and you will find rest."
Short Prayer for Addicted Child
"Dear Good God, I pray you to guide and strengthen my child to have the self-control to stay away from harmful substances. Please Help him to eliminate consuming it Lord and become a child every parent wish for their children. Amen."
Believe Me, I can feel your struggle and pain with your child's condition, But panicking will never help. No matter your child's condition, you must treat him like normal and pray for the same. 
A parent's energy is something that affects their children most, so when you pray, you must know in your heart that it's working. It might not be visible instantly, but you will see a miraculous change in the long term. 
It's always better to write your own prayer script from your heart. However, You can use the given Prayer for Drug Addicted Child, and I am pretty sure you will feel connected.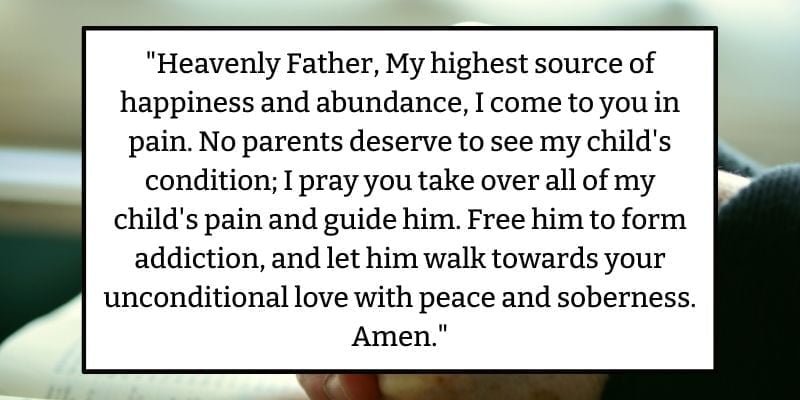 "Heavenly Father, My highest source of happiness and abundance, I come to you in pain. No parents deserve to see my child's condition; I pray you take over all of my child's pain and guide him. Free him to form addiction, and let him walk towards your unconditional love with peace and soberness. Amen."
Also Read about Soulful Short Prayers For New Beginnings in Life 
Charging Life Drug Addiction Prayer
"Dear Lord, I ask for forgiveness me, my family, or my child did in the past and asking you to close the past door so that we can move forward peacefully. Let your divine guiding light take my child to the destination He is meant to be and protect him form any harm. Amen."
It's more challenging to quit consuming any addictive substance and protect yourself from cravings. If your child, family member, or loved one is going through that phase, try to be their strength. 
Showing them your support and praying for their strength are the best ways to help someone overcome cravings and stay sober. It's not that simple and easy, but nothing is impossible if you believe in your prayers, as I mentioned above. 
Here is a powerful short Prayer for Drug Addicted Child to stay sober and have the courage to not touch it again in life. 
"Heavenly Father, I pray you to Heal the wounded part of his mind and heart. Fill it with your love, compassion, and care, and guide him to walk towards the brighter side of life. I pray you to stay with him like his shadow until he become able to take care for himself Lord, Amen."
Prayer for A Drug-Addicted Family Member
"Heavenly Father, My heart is humbly grateful for all the blessings you have provided me, including such a lovely family. Today, I bow in front of you and pray to you, please help my son get rid of his addiction. Its so painfully to see him trapped into wrong addiction which is destroying him. You are only my hope Lord, help him to be sober. Amen."
Having someone in the home who is losing his grip on his own life is disturbing and heartbreaking. Family is the only members who care for the most, and no matter how much time your prayers take, it manifests. 
Chanting a short Prayer for Drug Addicted Child like a ritual on a daily basis can work like wonder. If you are reading this article, you have your faith in prayers, use it three times a day, morning, afternoon, and evening for a few days and see the results. 
"Dear Lord God, I pray you take away all the pain, suffering, trauma, and struggle my child is feeling inside him. Let him be at peace and realize the addiction he is trapped into. Guide him and protect him Lord, Let your mercy and my prayer be with him, strengthen him and care him. Amen."
FAQS
1- How do I pray for my addicted daughter?
Either you are the mother or the father, I can understand your pain. Before I share a small but powerful prayer, let me share one tiny thought. While you are praying for a change, make sure to not react to Her but stay silent and kind towards her. Let God control her.
"Dear God, I pray you to please take care, guide and protect my daughter from the harmful substance she is trapped in. I give my daughter in your hand Lord, do the magic, I believe you do. Amen."
Also Read about Powerful Catholic Prayer For Alcoholic Loved One
Final Words: It's challenging and heartbreaking to see your child walking in the wrong direction. What is more painful is that you feel helpless but no to worry much when God is there to take away all of your burdens. 
All it costs to receive his blessing is one Prayer for Drug Addicted Child daily for a few days systematically. I am sure your prayer will manifest, and your child will become the man of your house you have dreamt of. 
If you found this article helpful and guiding, share it with others and let them benefit from it. 
Also, don't forget to bookmark this page for a more informative and helpful article like "Prayer for Drug Addicted Child" for instant access in the future. 
Stay Healthy, Stay Blessed.