Eating disorders, be it not eating or overeating, is another way of showing that either you don't like yourself or something isn't in healthy alignment. Not to mention, It requires treatment; sometimes, using Prayers for Eating Disorders enhances healing faster.
Mental health directly affects a person's daily routine, most importantly, diet. Behind eating disorders, there is something suppressed deep in mind.
Often people don't recognize this issue easily or don't feel like consulting a doctor or counselor. It is always recommended to visit and consult someone regarding mental well-being.
In this article for BigBrainCoach, I will share some powerful Prayers for Eating Disorders and Bible Verses about Eating disorders. So, First, let's explore messages I got about Eating disorders from Bible Study.
Bible Verses About Eating Disorders
Psalm 139:14 "I will praise You because I have been remarkably and wonderfully made. Your works are wonderful, and I know this very well."
Eating disorders are another self-harm sign, and it needs attention. Above bible verse can help the reader with problems understand their value in the eye of God.
Romans 14:17 "For the kingdom of God is not a matter of eating and drinking, but of righteousness, peace and joy in the Holy Spirit."
If the problem comes from not liking themselves or not fitting into society, know that God has made you unique, and so be you. Here is a Biblical Prayers for Eating Disorders to remind and help you.
Also Read: Powerful Prayer for Relationships Strengthening
Prayer for Child With Eating Disorder
"Heavenly Father, It's becoming harder to make my child eat and stay healthy. Today I thank you for blessing me with the child and filling our home with Joy. I pray you to let my child be healthy and eat food properly. Please clear all the reasons behind not eating food and let the grow in your protection. Amen."
Children with eating disorders are hard to manage as parents get worried easily, affecting the child-parent relationship. When your child is going through internal conflict, you must stay calm and send good vibes to them.
The energy that affects children most is the parent's perspective towards the child. Even if your child is sick, consider your child as a perfectly healthy child while taking a little extra care.
You may use any Prayers for Eating Disorders I have shared in this article and let God take care of the rest.
"Dear God, Today I pray to you for my child who is not consuming enough food as normal children. Sometimes I get too worried and pessimistic about the situation. I am putting my child's health in your hand and pray you to please eliminate any challenges my child is going through in His head or heart. Let there be changes in his health and habits Lord, Amen."
Catholic Prayers for Those With Eating Disorders
2 Chronicles 20:17 "Heavenly Father, Having you beside me makes me stronger, and I do not have to fight this battle alone. Although I sometimes struggle with binge eating disorder, I will stand firm and see the deliverance that You will give me. I am not afraid or discouraged by what I suffer. I know that although I feel defeated, I am never alone because You are always with me. Thank You, Father, for my deliverance, Amen."
Eating disorders are often connected to psychological conflicts, and it takes time to heal fully. It's crucial to accept help if things are out of control and affecting overall well-being.
I believe sometimes it's the result of past Karm as well. Therefore using some Prayers for Eating Disorders and involving God in the circumstances help change the situation faster.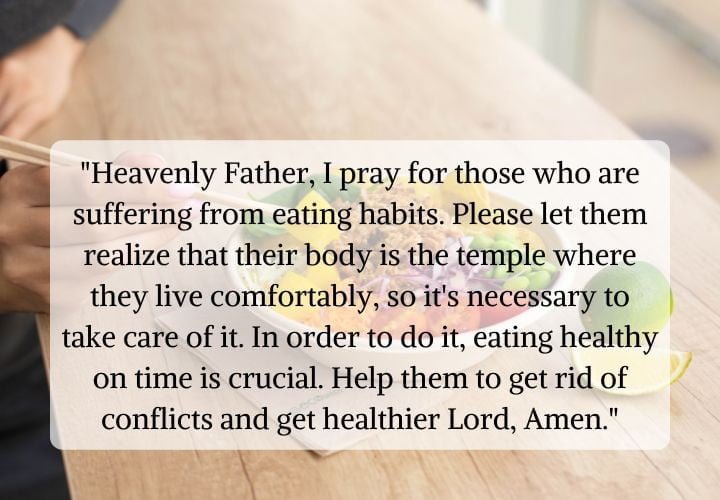 "Heavenly Father, I pray for those who are suffering from eating habits. Please let them realize that their body is the temple where they live comfortably, so it's necessary to take care of it. In order to do it, eating healthy on time is crucial. Help them to get rid of conflicts and get healthier Lord, Amen."
Also Read: 9 + Powerful Catholic Prayers For Mental Illness
Catholic Prayers for Overeating
"Heavenly Father, Help me stop my body's craving and the thought of eating junk and healthy food. I am becoming helpless and ignorance to my awareness of taking care of my body. Help me eliminate unhealthy and unwanted eating's Lord, Amen."
Whether overeating or undereating, not having balanced food is an issue, and most people are suffering these days. Unfortunately, some of us know the facts yet find it helpless to stop eating.
When you don't know the cause, using Short Prayers for Eating Disorders is the best way to eliminate challenges. Let God clear the path to better health and make your life easy if it's out of your control.
"Heavenly Father, I find myself powerless to control my eating habit, which is causing obesity. I pray you to please guide, help, heal, and strengthen me to take care of my mind and body. Please forgive my sins and help me take care of my body in the best ways. Amen."
FAQS
1- What is holy anorexia?
The syndrom "Holy Anorexia" was popular amond spiritual people during the middle age of time. It was also known as Anorexia mirabilis or inedia prodigiosa. The term simply meant lack of appetite.
Lack of appetite is a common issue with those who are deeply exploring the spiritual world. It's one of the very common symptoms of spiritual awakening.
2- Which mantra is powerful for health?
In Hinduism, there are mantras used for various life issues or manifestations. There are significant Gods who are popular for blessing significant wishes. The mantra for Good health is called the "MahaMrityunjay Mantra."
The MahaMrityunjay Mantra is used to please Lord Shiva who is creator and destroyer as well. Praying to Him means asking Him to take you beyond physical challenges or health Issues and bless you with a longer and easier life.
Final Words: I am confident that one of these Short Prayers for Eating Disorders will feel connected to you and help you eliminate this issue. Keep praying, and let God care for you until you become stronger again.
If you find this article helpful, guiding and informative, share it on your social media and make others aware. Also, don't forget to bookmark this page for more articles like "Short Prayers for Eating Disorders" for instant access in the future.
Stay Healthy, Stay Blessed