Mental illness is far more damaging than any physical illness because it's something that triggers the person's spirit. Treatment along with some Prayers For Mental Illness can help the person be better in less time.
Mental illness has become the trending disease across the world, which is painful and something that needs to be taken care of. In anyone around is going through some challenges, help them, show empathy, and let them know they are valuable.
Let us help together spread positivity, kindness, and healing energy upon the planet so that our kind can live better and contribute to a reasonable cause.
In this article for BigBrainCoach, I will share some powerful Prayers For Mental Illness and other challenges related to psychological issues. Before we jump to the prayer for mental strength, let's see what does Bible say about Mental illness.
Scripture Prayers for Mental Illness
Jeremiah 29:11 "For I know the plans I have for you, declares the Lord, plans for welfare and not for evil, to give you a future and a hope."
Let your loved ones who are not in a normal state of mind know How much God loves them. Read them to powerful quotes, take a print, and stick it to their bedside wall.
God has blessed us all with unique capabilities, and all we need to do is trust him and follow his path. The person with mental illness has forgotten their true powers; let's remind them by empowering them and saying Prayers For Mental Illness.
2 Timothy 1:7 "For the Spirit God gave us does not make us timid but gives us power, love, and self-discipline."
Also Read about Bible Verses To Help With Addiction and Temptation
Prayers for Mental Illness Healing
"O Good Lord, The greatest Healer of all, I pray you to let your children become strong and free of mental Illness. Heal their inner wound, remind their strength, and don't let the disease consume all their strength. Answer my prayer Lord, Amen."
Often mental illnesses result from inner conflicts, pain, or bad events, and if it's not treated in time, they can be dangerous. The good part of modern days is Therapists available in every area.
Most importantly, there are holy places, meditation centers, and spiritual people ready to help each other. Mental illness becomes easy to treat when communication is done. Along with all the other activities, Prayers For Mental Illness will support healing the person fast.
"Heavenly Father, You are the strength of all the humanity, and your children are a bundle of many sins. I pray you forgive their mistakes causing mental illness and strengthen them; give them a chance to serve you and be mentally and physically healthy. In the name of Jesus, Amen."
Catholic Prayer for Mental Health Healing
"Holy Father, I pray you to forgive our sin, provide us strength and wisdom to become mentally and emotionally stable. Have mercy upon us, mentally hurt and unstable ones, and provide us with good health. Let every cell in our body align with good health and your path Lord, Amen."
Whenever I experience panic attacks, nothing works, but prayers do. The atmosphere around us is painful and disturbing these days. If someone is emotionally weak and mentally unstable, it can trigger and get worse.
It's crucial to protect emotional health and surround light and a healthy atmosphere. Keep using Prayers for a loved one with mental illness along with the treatment going on.
Write your own script related to issues in detail or use any of the shared Prayers For Mental Illness and Let God do the rest.
"Heavenly Father, Thank you for the family you have blessed me with. I love them, care for them and do everything to keep this family Healthy and Fit. However, I am feeling helpless and tired of the person I love the most going through mental pain. Please accept my prayers and heal their inner wound and let them be normal Lord. Amen."
Short Prayer for Mental Strength
"Dear God, I pray you to let every new cell of the person reading this text grow stronger and heal any previous damage. Eliminate all the mental stress, emotional trauma, any weaknesses and let them be mentally, emotionally and physically strong. Through Christ. Amen."
Pain or disease only takes over those who are emotionally weak. It's crucial to become mentally and emotionally strong. The best way to do this is to read Bible daily, learn a healing technique and keep yourself away from stress.
If you are looking for some Prayers for a loved one who with mental Illness, become their strength by reading for them. Also, here is a Prayers For Mental Illness that will help your loved ones to heal themselves.
"Father in heaven, Accept my prayer and heal the family member who has a mental illness. Let your healing vibes reach them, calm their mind, and guide them to recognize you and heal themselves. Protect them from any harmful thing in future Lord, Please shower your love, care and bring happiness in my family again. In the name of Jesus, Amen."
Also Read about  Powerful Prayers for Drug Addicted Child
Prayer for Mentally Ill Spouse
"Dear Lord, I am grateful for sending a life partner I would never Imagine. Life with him has been good until He is showing mental illness. I pray you to please take away all of his worries, stress, and everything that's causing him disturbance. Let him become a loving spouse, father and man again Lord, Amen."
It's an unimaginable pain to see the person you love the most going out of the regular life track. However, praying for their mental health and supporting them emotionally can help you bring your life back.
Be there with him, Take good care of his physical health and use one of the shared Prayers For Mental Illness here. Prayers with a pure heart and emotional support can help him heal faster.
"Heavenly Father, Our only strength, Please help me bring my family back, healthy and supportive. I am tired of seeing my spouse behaving unusual, and everyone laughing at him. Please accept my prayers, heal him, guide him and strengthen Him Lord. Amen."
Prayer for Mentally Ill Son
"Dear God, The happiness you have blessed me with in the past has been incredible, and I am forever grateful to you for that. The greatest pain I am experiencing is seeing my son losing his mental Health, Lord. I always considered you my elder son and Loved you, Today I am asking you to take care of your younger son and guide him to be the best of Him. Amen."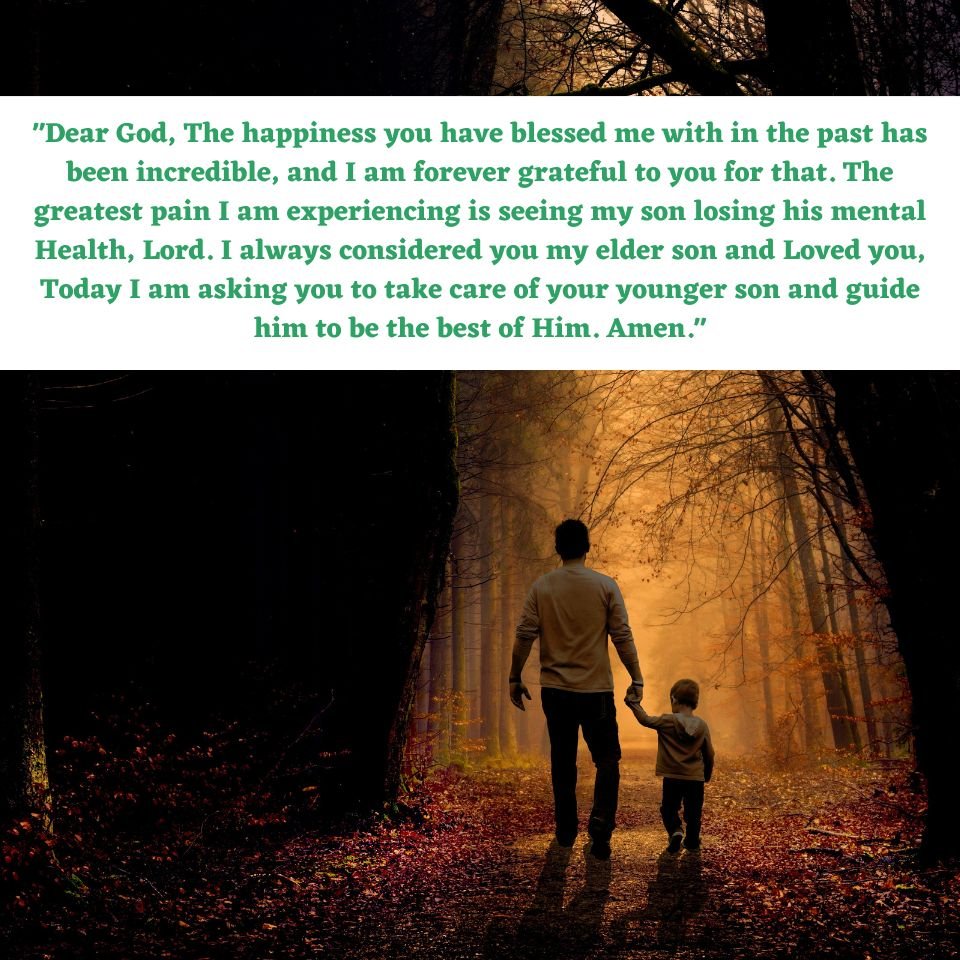 God always claims that you can develop any relationship with him, Lover, sister, Brother, Son, Mother, or Father. I always believe He can be the one we see him as.
I believe He will answer a mother's prayer for mental Illness for her younger son. Let him God be your family Member in the best way you want him to be.
You may use any of these Prayers For Mental Illness and Demand Him to help your son get well. If you can claim to Love him Most, He gives you the authority to demand anything.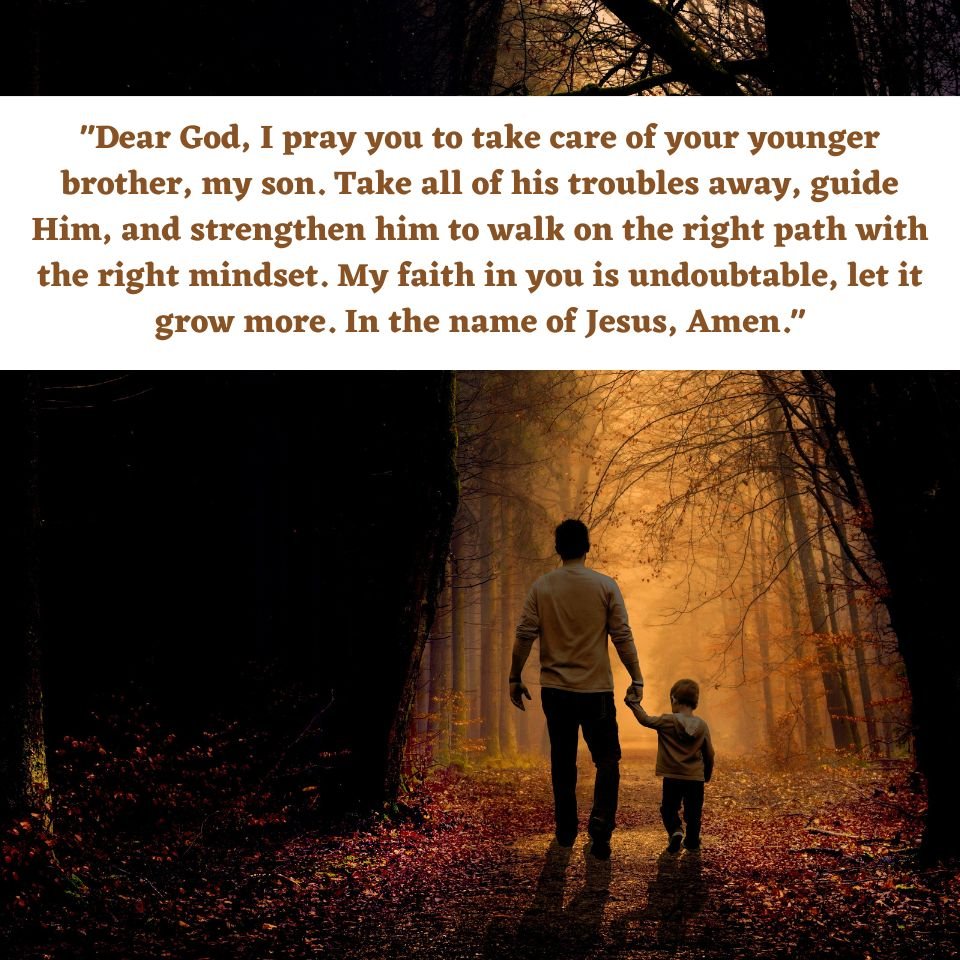 "Dear God, I pray you to take care of your younger brother, my son. Take all of his troubles away, guide Him, and strengthen him to walk on the right path with the right mindset. My faith in you is undoubtable, let it grow more. In the name of Jesus, Amen."
Also Read about Powerful Prayers to Stop Divorce and Restore Marriage
FAQS
1- What is the hardest mental illness to live with?
The mental disorder known as Borderline personality disorder is one of the most painful situation. In this type of mental illness, individuals struggle with overflowing emotions.
It's challenging to cope with the fluctuation and volatile emotions that can make a person tired and lose hope for living such a painful life. Emotions that's out of control and fluctuating are most damaging to mental health.
Final Words: Mental illness is terribly challenging to heal when someone seems weaker, so using some Prayers For Mental Illness supports. My prayers are for those who are suffering from any such issue.
As a family member or loved one, you can help them recover by praying and showing your support. If the condition seems serious, I would recommend taking the help of other authorities.
If you found this article helpful, share it with others and guide them to help others recover from mental illness. Sharing Good information and praying for others are the most significant cause someone can do.
Also, don't forget to bookmark this page for more helpful content like "Prayers For Mental Illness" for instant access in the future.
Stay Healthy, Stay Blessed