New parents sometimes worry about new responsibilities and struggle to balance life and care for their health and baby. You may help them manage things absolutely in fantastic ways by saying a few Prayers For New Parents.
If you are a new parent or someone in a close relationship with a newborn baby, these prayers and guided ways will help you manage things better. Babies need care, but mothers need a little extra care as well.
Most importantly, the parents must manage their time and emotional health. a small neglection can lead to significant challenges. Therefore, you and I can ensure to care for them by praying for them.
Before we go through the various Prayers For New Parents and Infants, let's see what God says about it.
Bible Verses to Pray for Newborn Baby
Numbers 6:24-26 "Yahweh bless you and keep you. Yahweh, make His face shine on you and be gracious to you. Yahweh lifts up His face toward you, And give you peace."
Every New Born baby is a precious gift from God to the parents; praying for the infant's health and thanking God is a way to ensure your child's healthy well-being.
Prayer is a way to communicate with God, and it's the best way to share all of your happiness and challenges. Therefore all the Prayers For New Parents and infants count.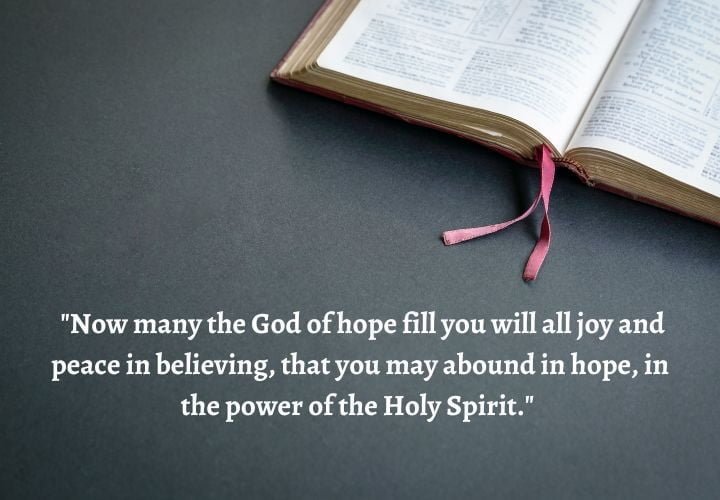 Romans 15:13 "Now many the God of hope fill you will all joy and peace in believing, that you may abound in hope, in the power of the Holy Spirit."
Also Read about Powerful Prayer for Relationships Strengthening
Catholic Prayer for Newborn Baby and Mother
"Heavenly Father, I pray you to keep this baby and mother healthy and fit. Keep them protected from negative energy and any pain; shower your healing and positive energy to keep them happy. Amen."
Newborn babies and mothers both go through a very sensitive time for the first few months, and they need extra love, care, and protection as well.
Keeping them in your prayers is the best way to allow God to care for them. Your care also helps them heal the mother faster and take care of the child in better ways.
You may choose anyone of these Prayers For New Parents or infants and use it for a few months to support them.
"Dear God, Shower all of your love and protection upon this mother and baby and heal them faster. Let them feel protected and loved in every way. Amen."
Prayer for Baby Protection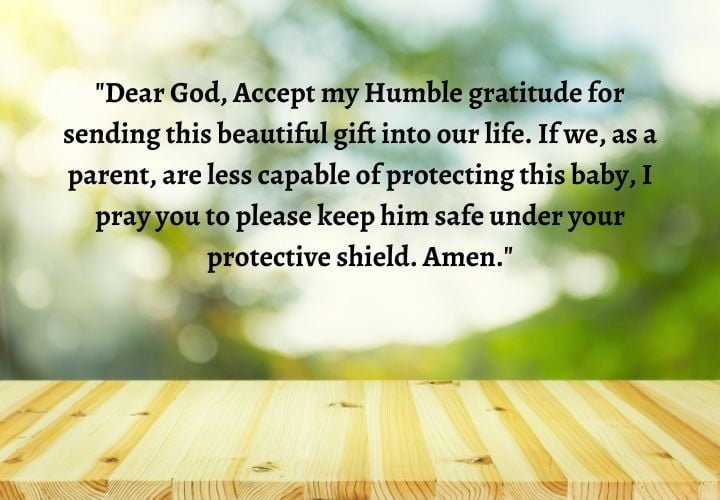 "Dear God, Accept my Humble gratitude for sending this beautiful gift into our life. If we, as a parent, are less capable of protecting this baby, I pray you to please keep him safe under your protective shield. Amen."
It's natural to worry about your newly born baby in such an atmosphere where a lot of sad news runs. If you have faith in Lord, which I am sure you have, you don't need to worry much as He always takes exceptional care of his children.
Most importantly, He never forgets those special children who remember Him daily in the prayers. The shared Prayers For New Parents and newborn babies can guide you to ask God to keep your baby and strengthen you both.
"Father in the heaven, Thank you for doubling our joy by sending an angel of happiness into our life. Despite all the care and protection, we constantly worry about our baby. Please, Lord, let our baby be healthy and safe under your safeguard. Amen."
Blessings and Prayers for New Parents
"Heavenly Father, I pray you shower your divine blessing upon the newborn baby and the parents. Strengthen, guide, and provide the wisdom to play the best role in this new responsibility. Let them enjoy this new life with their child abundantly. Amen."
A couple who have just become parents might face new challenges as they got a massive responsibility for a baby. As much as a child brings joy, they need a lot of attention as well.
It might become stressful and draining for new parents, so let's help them by praying for them. I have shared a lot of Prayers For New Parents and babies here; pick anyone and send them your good vibes.
2 Corinthians 12:9-10 "Heavenly Father, I thank You for the pleasure of life a newborn baby carries. We pray for your divine strength over these new parents. Father, they are not used to sleepless nights and deprived sleep, so I pray you to be their strength and portion in their weakness. I declare that Your grace will be sufficient for the parents, for Your strength is made perfect in weakness; when they are weak, they are strong, in Your Name Amen."
Also Read about Powerful Daily Prayers for Your Wife
Congratulations Prayer for New Born Baby
"Dear Heavenly Father,
We come before you today with hearts full of joy and gratitude, as we celebrate the arrival of this precious new life into the world. We thank you for the safe delivery and the gift of this beautiful baby.
As We lift up this newborn child to you, Lord, and Accept our prayer for your abundant blessings to be upon them. Please Be around them with your love and protection, Guiding them through every step of life journey. Lord grant them good health, strength, and happiness.
Lord, we ask for your blessings upon this child's future. May they grow in knowledge, wisdom, and character. May they develop their unique talents and abilities and use them for the greater good. May they experience the joy of learning, the power of compassion, and the beauty of a life lived in service to others.
We commit this child into your hands, Lord, knowing that you have a plan and purpose for their life. We trust in your unfailing love and grace. May this child come to know you personally and experience your presence throughout their life's journey.
We offer this prayer with grateful hearts, filled with hope and anticipation for all the wonderful things that lie ahead. In Jesus' name, we pray. Amen."
FAQS
1- How do you thank God for a newborn?
Here is a short Thanksgiving prayer for becoming a new parent. Ask God to be there for your child and guide you to become the best parent.
"Thank God for a newborn baby girl/ Boy for filling our life with joy and excitement. We are happy to be more responsible and give your child the best of the best. Please keep showering your love, blessing, and protection upon our family. Amen."
Final Words: Children are the most extraordinary responsibilities to anyone as they have to develop better citizens of this world. We can strengthen and support them by saying Prayers For New Parents and their newborn babies.
If you found this article helpful and worth sharing, share it with those who can contribute to our social cause.
Also, Do not forget to bookmark this page for more articles like "Prayers For New Parents " for instant access in the future.
Stay Healthy, Stay Blessed