Patience is one of the required human essences to become successful in any area of Life. There are many different ways to enhance it. One of my favorite ways is a Catholic Prayer For Patience.
If you are confused between practicing meditation for the Patience or prayer for Patience, read my earlier article about Prayer vs. Meditation for more clarity.
Whether you are a businessperson, husband, wife, mother, or someone who deals with people, you must have a certain level of Patience. If you will give a small amount of your time and think about it, you will find that Patience is the key to touch another person instantly.
We live in a society form with different cultures, colors, languages, religions, and customs. Let's be honest; this is what makes our planet beautiful. Isn't it?
Unfortunately, modern society lacks this quality and has become more aggressive, which is sadly one reason for unhappiness. Patience can be developed by adopting many simple habits such as feeding a pet, watching birds, or reading books.
In this article of Bigbraincoach, you will get powerful and effective Catholic Prayer For Patience to transform you within a week.
Catholic Prayer For Patience And Strength
"Holy Father, My Life, I believe, is a gift you presented to me; I value it the most. However, I am losing control and becoming something I am not liking. Grant me wisdom in my mind, More love in my heart, and Patience in my action to become more Patience. Amen."
Just like Jesus had the courage, Patience, and strength to tolerate all the suffering and burdens of others, we must desire to have it too. The secret behind his Patience and power was his "Love For Us."
Whatever area of your Life you are looking to develop, put your faith in the hand of the Lord and offer the prayer written twice a day below.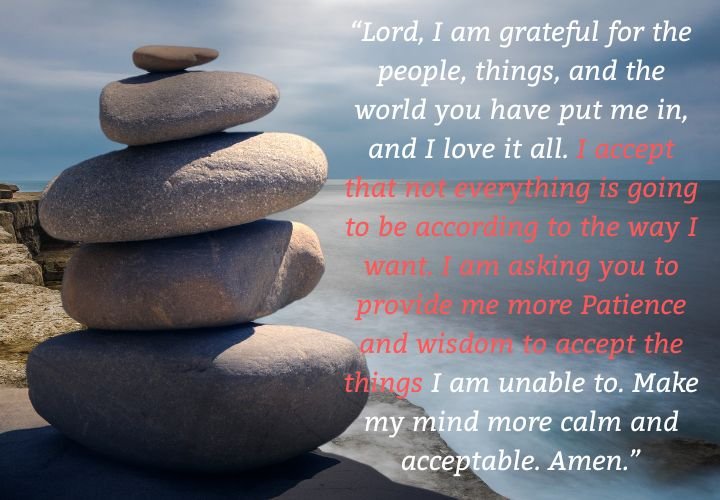 "Lord, I am grateful for the people, things, and the world you have put me in, and I love it all. I accept that not everything is going to be according to the way I want. I am asking you to provide me more Patience and wisdom to accept the things I am unable to. Make my mind more calm and acceptable. Amen."
Also Read about Inner Strength Fitness Tips
Catholic Prayer For Patience In The Workplace
"Dear God, I am your faithful servant, and my intention to serve is from the bottom of my heart. Sometimes when I lose my mind, I feel guilty. Please provide me enough strength and Patience to be calmer in my workplace. Amen."
A workplace is a place where we spend our most of the time and emotions daily. The pressure of work and behavior of boss or other co-workers may drain you instantly. Such people not only drain energy but make us lose our Patience which directly affects our work quality.
We all have the purpose of serving our best, but impatience can is harmful. Praying In the morning is one of the best ways to gain more calm, helping to be patient for the entire day. Here is some powerful Catholic Prayer For Patience In The Workplace.
"Father, Please keep everyone in my workplace peaceful and loving. I work hard with my wholehearted, but people and situations trouble me a lot. Please Lord, Let everything work in my favor and grant me more Patience in my mind. Amen."
Catholic Prayer For Patience With Child
"Lord, My heart is full of gratitude for blessing me with this pure heart, baby, but I am finding it hard to take care of him/her. Please give me strength and Patience to be a better parent and take care of my child in the best way. Amen."
Being a parent or teacher is a job that requires one essential skill, Patience. Children are pure but taking care of or teaching them a slow process.
If you are a parent and want to build a better, trustful, and strong connection with your child, you need to stay calm. In school, as a teacher, you need a lot of amount of Patience so that a child can trust you.
Here is some Catholic Prayer For Patience that will help you be at your best With your Child.
"Dear Father, I feel extra blessed to teach this tiny soul, but sometimes I lose my calm and get frustrated. Please provide me more wisdom, strength, Patience to be a better teacher. Please help me to become a better, wiser, and calmer individual. Amen."
Catholic Prayer For Patience While Waiting
"Father, I am a determined believer in your timing, but currently, It's becoming hard to wait any longer. My faith is still in your timing; Please help me be more patient and provide me the strength to wait a little longer. Amen."
Waiting is a real thing that we all don't like to encounter. It not only makes us impatient but sometimes makes us doubt our own faith. Whether you are waiting for some good news, success in business, or someone to enter your Life, I can understand it's challenging.
"Dear God, I am tired of being lonely and feeling insecure, unworthy, and guilty. Please remove all the negative feelings my heart is full of. Make me purer, faithful, worthy for someone I am waiting for. Also, Send that someone special whom you have chosen for me to spend my Life with. Amen."
Waiting is a way God is giving you time to rethink what you are waiting for. Humans are still far away from the intellect God possesses; he knows what's good for us and what's not. If you are tired of waiting, these Catholic Prayer For Patience While Waiting will help you grow your belief and release doubts.
"Lord, My faith in you is unshakable and always will be. I have been working hard and waiting for success in my business, but the wait is getting longer. Forgive me for becoming impatient; I feel responsible for the misery my Life is going through. Lord God, Please let me see all the success my hard work, and happiness my family deserves to come to me. Amen."
Also Read about Miracle Prayer for Strength and Healing 
Catholic Prayer For Patience And Gentleness
"Dear God, Loving and caring for others is my true nature which I have been living since I got my senses. Life and people are getting unpredictable these days, and I am losing my true self. Please provide me more strength and wisdom to stay myself and pour my gentleness and Pure love on others. Amen."
Harsh words, even if you don't intend to hurt, affect others immensely. Some people punish themselves for other's behavior; it's also not worth it. In both the situation, being rude, brutal or insensitive is worthless. While being gentle with others is important, being kind to yourself is highly essential.
When Life gets hard, and it feels challenging to deal with the situation or people, surrender yourself to the almighty and ask for guidance.
Below is some catholic prayer for Patience and gentleness, which will awaken the kindness sleeping within you.
"Holy Father, I am requesting you to grant me more tenderness, Patience, and wisdom to handle a difficult situation. My heart is full of love and kindness, but it seems it's not enough. Please guide me to stay close to you and stay true to myself while solving Life's puzzles. Amen."
Prayer for Mothers Patience With A Child Who Won't Sleep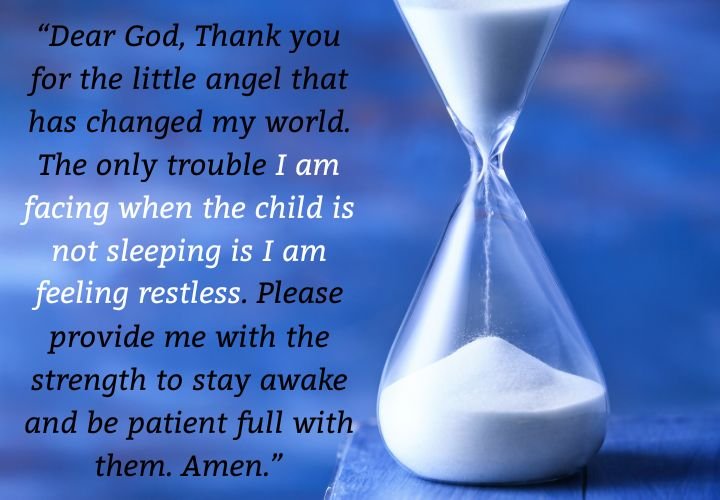 "Dear God, Thank you for the little angel that has changed my world. The only trouble I am facing when the child is not sleeping is I am feeling restless. Please provide me with the strength to stay awake and be patient full with them. Amen."
Mothers often get tired when it comes to handling a restless infant. It takes a lot of patience to grow a child that many mothers find hard to do. Praying for strength and patience is the best way to raise a child successfully.
Use this prayer for patience and good health, and habit for your child. It will help your child to stay calm and play, also will keep you energetic.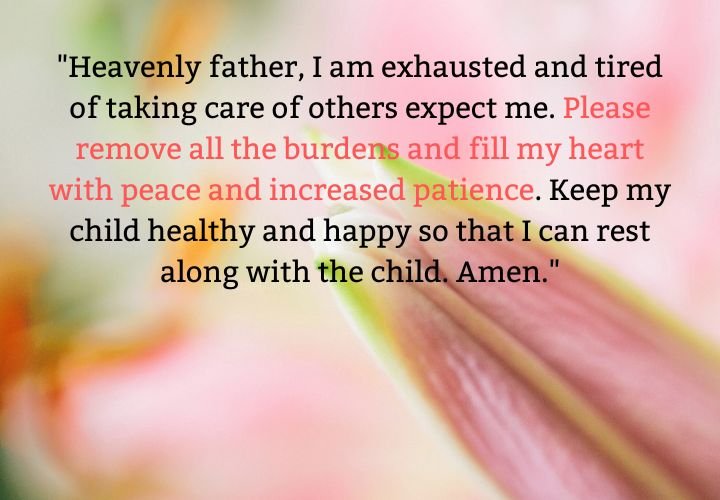 "Heavenly father, I am exhausted and tired of taking care of others expect me. Please remove all the burdens and fill my heart with peace and increased patience. Keep my child healthy and happy so that I can rest along with the child. Amen."
Also Read about Powerful Prayers For New Parents and Baby
Prayer for the Child Who Needs Patience
"Dear God, I am sure you have a better plan for my child [Name], And I am forever grateful for that. Sometimes I lose my temper by seeing them impatient and vulnerable. Please Guide him with your wisdom and make him calmer and thoughtful. Amen."
Children sometimes become overactive or impatient, which is harmful to them in many ways. The parent of such children always seems worried hopeless towards their children.
Asking God to help you and calm your child will eliminate your anxiety. You may use this prayer to calm your child and be patient with him.
Jewish Prayer for Patience
"When my child is awake, overactive, and I am tired, Provide me strength and patience."
Jewish prayers either praise, Thank give or ask for help in the critical area. In a different situation, ask God to grant you wisdom to deal with it for strength and patience.
You may also use these shot Jewish prayers for patience and strength. These prayers are easy to learn and practice in shot time anywhere, anytime.
"When I am frightened, exhausted and irritated, teach me Lord and provide me patience."
"When I am lost and tired of walking, Guide me, Lord, by showing the right path and hover over me to make me feel protected.
Catholic Prayer For Protection
"Dear God, You have been my savior since I got introduced to you. My faith in you kept growing with time, and it will remain the same. I ask you to keep my family and me under your protection shield so that we stay safe. Amen."
We often lose our Patience, and later we realize why we lost our calm. It uses to happen with me constantly, which made me more aware of my behavior. After becoming more sensitive to energy, I realized, Evil energy force sometimes blocks our true nature and makes us react.
Believe me; It's your responsibility; in more precise words, It's essential these days to protect yourself from such evil spirits. If you are experiencing any negative energy around you, read my earlier article about Prayer To Remove Evil Spirits From Your Home.
Here is another Catholic Prayer For Protection.
"Lord, Help me grow my strength and faith in you. Your presence in my Life gives me more sense of security and worth. Please keep us protected and bless us with your gentle touch of love and care. Amen."
FAQS
1- Who is the patron saint of Patience?
Saint Monica is popularly known as the patron saint of Patience. She has gone through a lot of challenges presented by her husband. Her Patience was unshakable as she kept her faith in God.
2- How do I pray for Patience?
Well, Firstly, you need to accept that Patience is your true soul nature. Sometimes outer world shakes so much the inner self that you forget your true nature and react accordingly.
So, while praying for Patience and strength, ask God to remind you about yourself when you don't remember.
Fina Words: I have used this Catholic Prayer For Patience, strength, and protection since 2009, and it's vigorously reshaped my Life. I suggest you believe and surrender yourself to God and experience miraculous.
Don't forget to share your experience of prayers with us in the comment box. If you found this article helpful, share it others and help them to gain strength. 
Also don't forget to bookmark this page for more articles like Catholic Prayer For Patience for instant access in the future. 
Stay Healthy Stay Blessed