Daily Prayers for Your Wife | Prayer for Wife | Morning Prayer for My Wife
"Undoubtedly, Marriages are made in Heaven." However, the modern lifestyle has a significant effect on this relationship. If you love, care, and want your partner for a lifetime, These Daily Prayers for Your Wife will help you remove the fear you are holding.
Often, due to work pressure, one of the members constantly seems busy and tired these days. Unfortunately, this relationship lacks its essential ingredient, faith, Love, and affection.
The uncertainty and unhealthy lifestyle already force us to fear losing someone. One of the easy ways to eliminate all the fears and enhance the bonding with your partner is to pray.
This article will share various daily prayers for your wife, her happiness, safety, and health. Before we jump to the prayers, let's see What does the Bible says about praying for a wife?
Bible Verses About Praying for a Wife
Genesis 2:18 "Then the Lord God said, "It is not good that the man should be alone; I will make him a helper fit for him."
Some people are still conservative in their thoughts and think praying for a partner is dependent and unworthy. If you have even one per cent doubt about asking God for a partner, Know that God Himself sends someone for you.
Asking God to help you attract the right person to marry is the most righteous way to ready yourself to share your life. Marriage is a holy way to decide to live a purposeful life and share it with your companion.
You may use any of the shared Prayers for Your Wife or your future wife and honor your life while walking in the direction Lord has shown us.
Proverbs 18:22 "He who finds a wife finds a good thing and obtains favor from the Lord."
Also Read about St Valentine Prayer Images for Love, Marriage and Gratitude
 Powerful Daily Prayers for Your Wife
Good Morning Prayers for Your Wife
"Heavenly Father, I pray you to keep my Love, my wife safe, happy, healthy and shining today and every day. Let her day be as exciting and supportive as she desires. Let, my Love, make her feel how precious she is to me. Amen."
Morning prayers are the most powerful and effective way to design your day or send good vibes to your loved ones. Asking God to guide your day, provide positive energy and be with your loved ones make you feel stress-free for the entire day.
It's not hidden that the person we love the most worries them the most. The reason behind this unfortunate mindset is that we are too much attached to them and have less faith in God.
Today, make sure to let your mind and heart surrender your Love to God, who ultimately send this person to you. Use one of these Good Morning Prayers for Your Wife and Let God take care of her so that you can serve your duties freely.
"Dear God, Sometimes I forget your mercy and Love towards my wife and me, and I worry for her safety and happiness, which makes me valuable. Today, I pray you keep reminding me of your Love for us and take care of my wife when I am not around her. Let her day be surprising, exciting and full of delightful moments. Amen."
Birthday Wishes and Prayers for Your Wife
"Hey, my Love, the source of my happiness and life, I wish you more joy, Love and peace than you deserve. On this day, I pray God to provide you with all the worldly luxury, Love, care, and His grace. Accept my wishes, Love and Have an electrifying day today. A very Happy Birthday, wife."
Birthdays become more worthy and special when you surprise your life partner with your time and make her realize her worth in your life. This Birthday let her know how precious and essential she is for you.
The best thing you can present to your life partner is your loyalty, care and prayer for her happiness in heart and peace in mind. You may use one of my favorite Birthday Wishes and Prayers for Your Wife I have shared in this article.
"Heavenly Father, Let the person who is reading this prayer know that She is as essential for me as my breath. Yes, My Love, you make my life more exciting and worth living for. Accept my prayers and wishes to have many more years to celebrate your presence in my life. Happy Birthday, Love."
Healing Prayers for Your Wife
"Heavenly Father, Thank you for all the blessings, including a beautiful and kind woman. Lord, She seems in pain that she isn't confessing; I pray you to please heal her pain and let her be happy again and healthy again. Amen."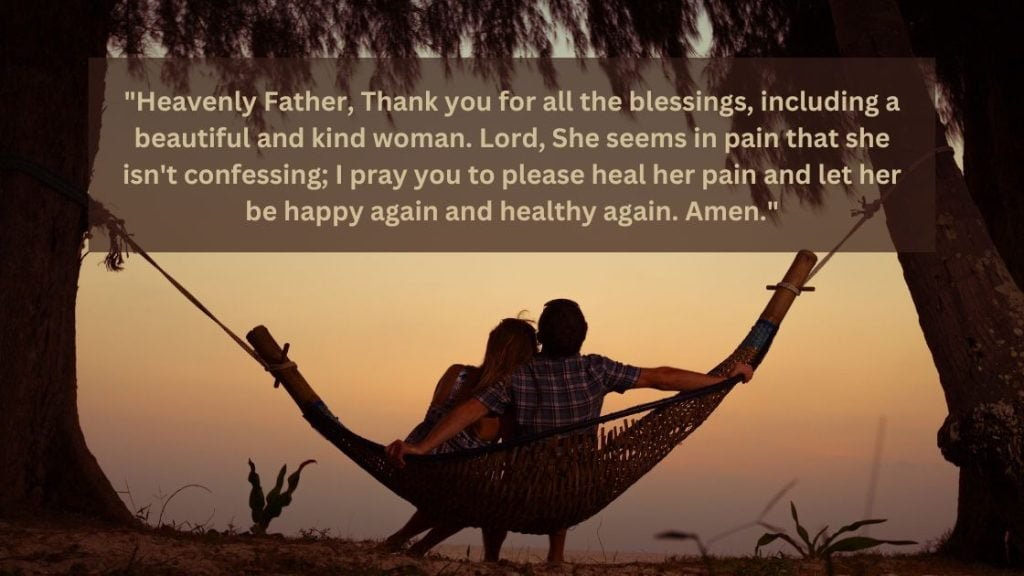 The woman that takes care of your family members and the vibration of your home might feel tired and unhealthy sometimes. Do you know, The house seems like a beautiful home because she put her core energy into it.
It's your responsibility to know when she is unwell or hurting inside. Often females like silent care and protection. Use your Prayers for Your Wife, her well being and her immunity.
"Heavenly God, I pray you for the health and happiness of my wife. Thank you for keeping her safe and healthy. Let her feel as vibrant as she has always been, and let her feel the best for the rest of her life. Amen."
Daily Prayers for Your Wife
"Dear God, Today, I pray you to shower all of your blessing, Love and care upon my family, especially onto my wife. I ask you to let her have all the happiness she deserve and the care she need. Amen."
Your wife, who is the four pillars of your home, deserves to have everything the world has. Make your life in so much order that she, too, get enough time for self-care.
In order to keep your home vibrant and peaceful, she stays at home clean and decorates it. She did everything to make you feel at home and relaxed. Use one of the Prayers for Your Wife to bless her every day and have the energy to do all the essentials.
"Dear God, I am thankful for the lady, A present, I call her my wife. She is the most beautiful blessing I have received from you. Sometimes, I fail to keep her safe and healthy so I pray you to protect her and her happiness forever. Amen."
Also Read about Ways to Find Soulmate Through Meditation in 30 Days
Good Night Prayers for Your Wife
"Dear God, Thank you for the beautiful day that allowed her to do the things she wanted to do. I ray you to let her sleep peacefully and keep her away from any nightmares. Hover over her and let her be in your protection shield till the morning. Amen."
After a tiring day, your lady deserves a peaceful sleep so that she can regain the energy for tomorrow. Before going to bed, take time to Prayers for Your Wife and other loved ones.
Your prayer is her strength, and it keeps her motivated to do more, to care more for you. A husband prayer for a wife is also a way to tie the bond stronger and love unconditionally.
"Heavenly Father, As the night comes, and my lady wants to rest, let her sleep stress-free and peacefully. I pray you to be around her, shower your relaxing energy and allow her to sleep under your protection. Amen."
Written Prayers for When Your Wife Hurts You With Images
"Dear God, I love my life partner more than anything in this entire world, but her doubt in me hurts me like hell. I want her to trust me, love me, care for me as she did earlier. Please make things right and beautiful between us again, Lord. Amen"
The time is challenging in the modern days that mess with the most romantic relationship, marriages. Partners are hurting each other and trying to find peace somewhere else.
It's crucial to keep your marriage and relationship protected and healthy; you must keep praying. Prayer always works no matter how bad your relationship is or how hard she hurts you.
Use one of these Prayers for Your Wife and her mental state to be healthy, loving, caring again.
"Dear God, I pray you to bless our marriage and my partner's behavior right towards me. Make her realize the value of our relationship and how much I love her. Bless her with all the happiness and let our relationship become better today onwards. Amen."
Thankful Prayer for My Wife
"Dear God, I pray you to Thank you for the beautiful and caring life partner who makes my life colorful and worth living. Let her know that I am blessed to have you as my Love and wish to fill her world with all the happiness. Amen."
Gratitude is the ultimate way to have more you desire and wish to have forever. Letting your woman know that you are happy to have her make will make her feel more worthy and blessed.
Sending gratitude cards messages and using silent Prayers for Your Wife will make your relationship more romantic and powerful. Using short catholic prayers for your wife and her happiness will do a miracle in a long time.
"Heavenly Father, Thank you for filling my life with amazing people, especially a life partner worth dying for. I am thankful to her for accepting me as I am and inspiring me to be a better man. Please shoer your energy to empower our relationship Lord, Amen."
FAQS
1- How should I pray for a wife?
Wife, the only person who dared to decide her rest of the life with you, no matter what life brings. She deserves to be in your prayers, in your good wishes and of course on top of your priority list.
Not to mention, wives are the real backbone of the family so asking God to give them perfect health, happiness and peace is the greatest thing you can ask for. Ask God to keep her heart filled with love, Her health in perfect shape and guide you to keep her happy.
2- How do I bless my wife?
Make a cozy place to spend time with her, let her feel comfortable and at complete peace with you. Use some loving caring words that melt her heart and make her extra blessed to have you.
"Honey, My life is perfect because I have you by my side which is my true sense of inspiration. I love you so much that I want you for the rest of my life being in your arms like right Now. I pray that God Always keeps you healthy, happy and beside me guiding us to be the perfect, loving and happy couple for lifetime. You are the most precious Gift God can bless me with."
Final Words: Being a wife, a mother and an individual who loves her family, I know exactly what a woman wants from Her husband. She always desires your love, care, attention and gifts (Don't forget to surprise her occasionally) from you no matter how independent she is.
Often people pray for health, wealth, happiness and neglect to pray for their life partner which is the real cause behind struggling marriages these days. I hope these prayers will bring extra joy, peace and togetherness in your life.
If you found this article guiding and worth reading, do let me know in the comment box and share with some of your friends who might need it. Also, Don't forget to bookmark the page for more healthy articles like "Prayers for Your Wife" for instant access in future.
Stay Healthy, Stay Blessed