If you believe in God, you indeed believe in the devil and angels. Your prayers become more effective and powerful if you mention the specific Name directly. For example, Prayers to The Holy Spirit for guidance or protection immediately get answered.
When you pray consciously, invite angles or the holy spirit to be around you and answer your prayers, Your aura shines. The holy spirit can give you a sense of their presence if you are centered to feel it.
For years, experimenting with different prayers has been my experiment, and I find it very compelling and Life-changing. I suggest everyone to use different prayers for various occasions.
In this article of BigBrainCoach, I will share some powerful Prayers to The Holy Spirit for protection, guidance, and healing.
Also Read about Prayers Before The Rosary Queen of The Holy Rosary
Prayer to The Holy Spirit for Healing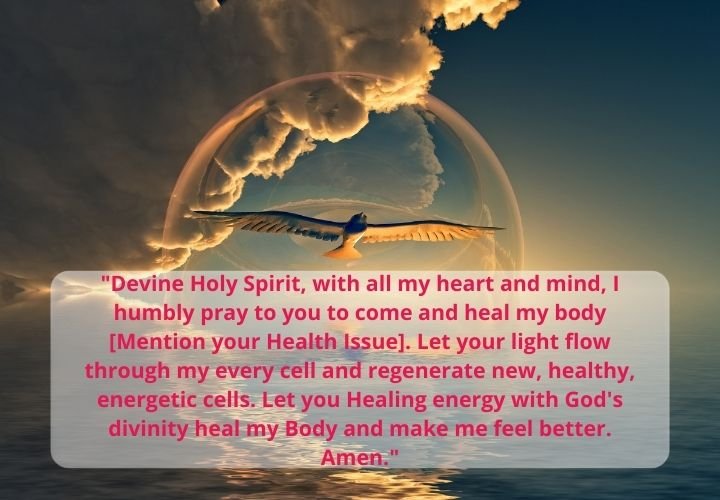 "Devine Holy Spirit, I pray you to come and fill my heart and mind with your love, compassion, and healing energy. Heal my heart and mind, renew my Body and enlighten my spirit to stay connected to you and The heavenly Father. Amen."
When Feeling low because of any disease, stress, or any other circumstances, activate your spirit and Heal yourself. There is nothing wrong with using Medicines when situations are out of control.
However, if you can have faith and learn to connect to the Holy Spirit and Pray to heal your body regularly, You will never need to use medication. Yes, It might seem unbelievable to you, but it's possible.
Here are other Catholic Prayers to The Holy Spirit for healing you may save in your device and regularly use to experiment with it.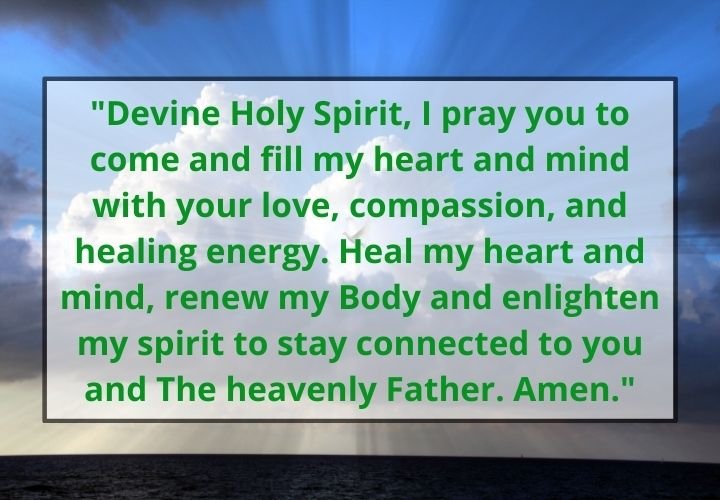 "Devine Holy Spirit, with all my heart and mind, I humbly pray to you to come and heal my body [Mention your Health Issue]. Let your light flow through my every cell and regenerate new, healthy, energetic cells. Let you Healing energy with God's divinity heal my Body and make me feel better. Amen."
Short Prayers to The Holy Spirit for Protection
"Holy Spirit, You have been my silent guardian angel keeping me safe from unsafe events and people. I am grateful for your unconditional love, care, and concern for me. I Humbly request you to keep protecting my children, family, and me. Let us stay in your umbrella of protection always. In the Name of Jesus, Amen."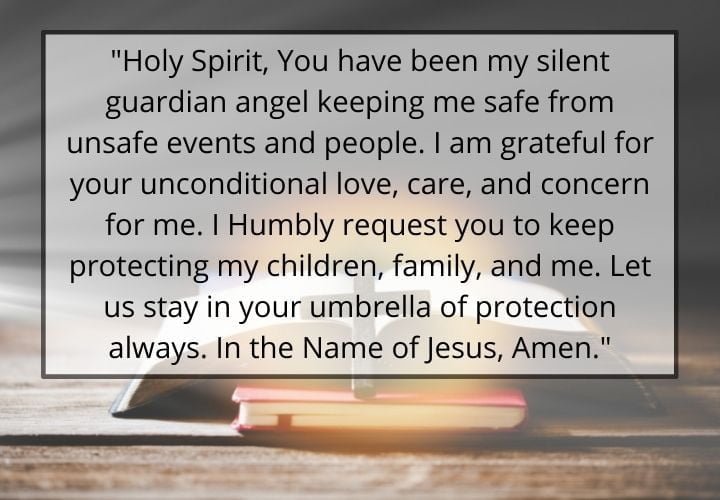 If you stay conscious and observe closely, there might be many events and people you have been safe of. It would be best if you could develop a habit of saying Thanks to God for his unknown mercy.
Being grateful and asking God for His protection and His holy spirit to be around you is like getting a confirmation certificate of being watched by Him.
Invite God in your home every morning and use these short Prayers to The Holy Spirit to protect the entire day. Not to mention, say Thank you before going to bed every night.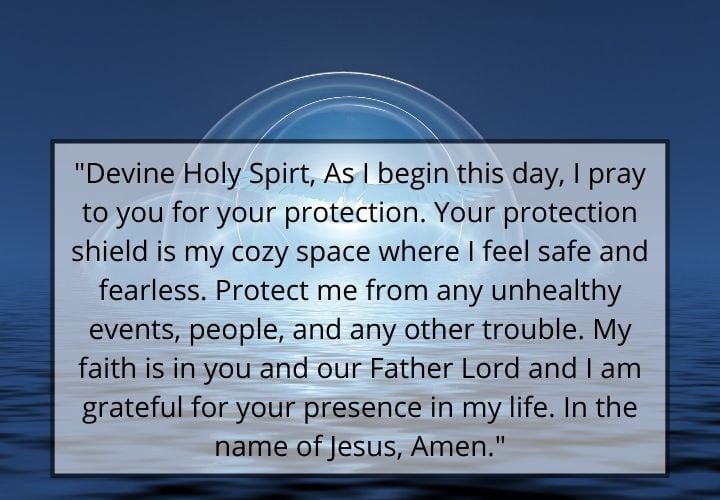 "Devine Holy Spirit, As I begin this day, I pray to you for your protection. Your protection shield is my cozy space where I feel safe and fearless. Protect me from any unhealthy events, people, and any other trouble. My faith is in you and our Father Lord and I am grateful for your presence in my life. In the name of Jesus, Amen."
Also Read about Powerful Prayers to The Universe for Healing 
Powerful Prayer to The Holy Spirit for Guidance
"The divine Holy Spirit, You are the source of Truth, love, and purity; I am grateful for you. Today, As I begin my day, I pray to you to guide me to make the right decision. Teach me to understand right or wrong when walking on the Godly Path. Walk me to the path of divinity and Truth. In the Name of Jesus, Amen."
No matter how wise you might think about yourself, we are human and meant to make mistakes. However, in The connection to Holy Spirit, God always protects and guides us if we ask for it.
In my experience, God always guides and protects me when I feel lost, confused, or fearful. The only criteria to receive His love, guidance, and protection is to develop a solid and essential relationship with Him.
If you ever feel less confident or in fear, Invite The Holy Spirit to ask for help, one of the Prayers to The Holy Spirit is to connect to God, and it's done.
"O holy spirit, the Giver of all the goodness I ask for, I pray you to enhance my faith in you and God. Let my faith be bigger than the fear holding me back and making me weak. Please guide me through my journey to the Lord God and live a life full of integrity and the Love of God. In the name of Jesus, Amen."
Also Read about Most Powerful Money Prayers That Work Instantly
FAQS
1- How do you begin to pray in the Holy Spirit?
There are many ways to begin praying, especially the way you feel comfortable and have faith in. You may start by.
1) praying God's Word

2) listening to God and praying

3) partnering in prayer with Christ your Intercessor

4) praying the God-given desires of your heart

5) praying with divine love.
All you need to pay attention is do you feel your prayers are coming to your core with full convictions? If yes, your prayers will be answered.
2- How do I ask the Holy Spirit for help?
Asking the Holy Spirit for any help means surrendering your problem to the spirit. Make sure you want strength, presence and guidance or you want the Holy Spirit to solve your problems.
Make your prayer script very clear and stay surrendered with full conviction to receive the help or blessings.
Final Words: Prayers only require your hundred percent faith in your words and the source you are praying to. Use these short Prayers to The Holy Spirit for healing, protection, and guidance and experience the miracle.
Life is all about experimenting with the unseen but the holiness present in this universe. Most importantly, prayers connect you to your core and bring the best out of you.
If you found These prayers and information valuable and informative, share them it others and guide them to benefit from them. Sharing helpful information with others is the best way of caring.
Also, Don't forget to bookmark this page for more prayers like "Powerful Prayers to The Holy Spirit" for instant access in the future.
Stay Healthy, Stay Blessed