Life seems to be getting harder and pain seems to be increasing day by day. If you are going through adverse phases and need some light, these Bible Verses for Comfort and Strength will show you different sides of life.
To those who are going through loss of their finances, someone loved, something that was near and dear, it's hell challenging to overcome. Especially in the time when everyone is looking for someone who can provide some comfort.
Reading scripture, listening to something from the mouth of spiritual gurus have been my comforting way since a decade. From my countless experiences, I can say, it's one of those powerful comforting tools that can make you feel whole, loved and strengthened again.
I am sharing some of the most magical and inspiring Bible Verses for Comfort and Strength, that can shift your mental state instantly.
Bible Verses About Hope in Hard Times
Genesis 3:14-15 "God has always had victory over evil."
Losing hope of feeling alone, unloved for weeks is a sign of something negative around you. My spiritual experiences say that sometimes, negative energy around you affects you so much that you get blind and lose the grip over yourself.
If you are feeling the same, remembering God can clear the fog, protect you from sadness, negative feelings and inspire you to stand tall. Know that God is the only one whom, nothing or no one can defeat and He himself is on your side.
Also, hard times, I believe, come to us to awaken our wisdom to walk towards God and reunite with him while living on this planet. Therefore, be it challenging times, painful events, or other darkness, Reading these Bible Verses for Comfort and Strength will guide you in the right direction.
Romans 5:3-5 "Our pain has a purpose".
Also Read: 11+ Powerful Catholic Prayers for Helping Others in Need
Bible Verses for Healing and Strength
Psalm 41:3 "The Lord sustains them on their sickbed and restores them from their bed of illness."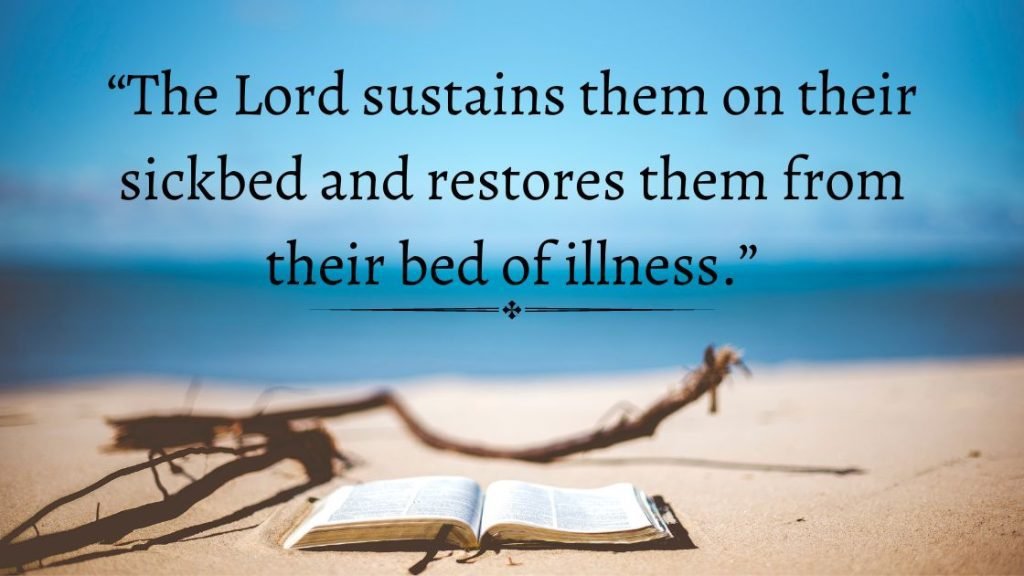 I believe we come into this world with one of the greatest and powerful gifts of God which is our body. It's our responsibility to treasure this gift, feed good food, and do the required exercises.
If along with our efforts we get sick or lose our strength, God Himself heals us by being by our side. If you believe in this truth, no pain, no disease have power to break you because nothing is bigger than God.
Through my hard days, these Bible Verses for Comfort and Strength not only strengthened me but strengthened my bond with the Divine. Therefore, I strongly suggest you do the same, spend some extra time with God, read scriptures, develop your faith and let everything God decide.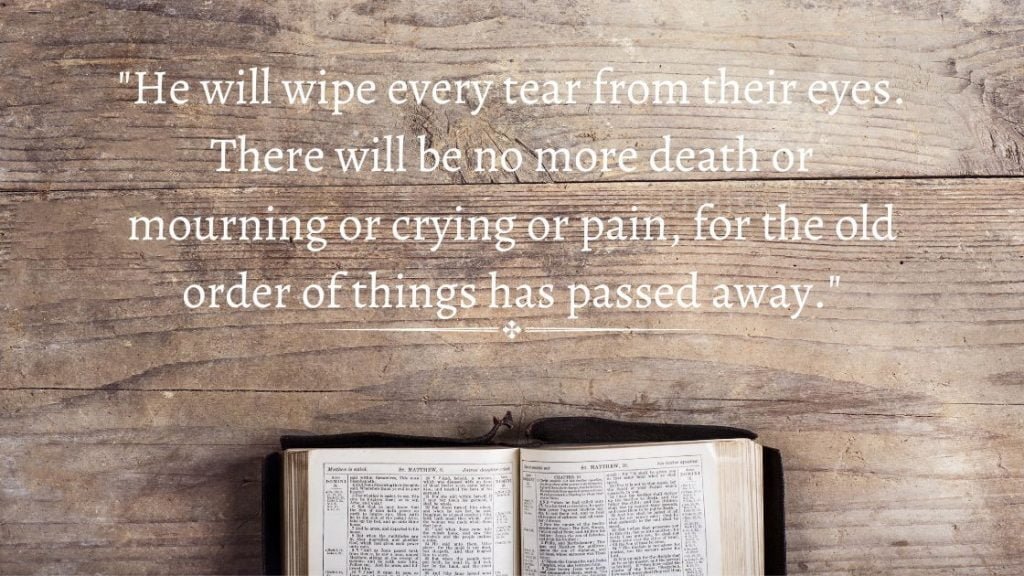 Revelation 21:4 "He will wipe every tear from their eyes. There will be no more death or mourning or crying or pain, for the old order of things has passed away."
Also Read: 7 Prayers To Calm Your Fears And Anxiety
Comforting Bible Verses for Death of A Loved One
Psalm 73:26 "My flesh and my heart may fail, but God is the strength of my heart and portion forever."
The worst pain one can ever feel is losing someone close, dear and valuable to them. Yes it's like your soul tearing apart but you must keep walking as life is meant to be moving on constantly.
Praying for your loved one to be at peace, get another life in the better ways in every shape gives a sense of peace. Recently I lost my younger brother and it's killing like hell, but my mind knows I need to be strong for my parents and sister in Law.
Using prayers and various Bible Verses for Comfort and Strength during this difficult time helped me heal, become stronger and do the things that need to be done on time. This is life, and it has to be in the same way to everyone so it's crucial to know the right path to heal yourself during difficult moments.
Matthew 5:4 "Blessed are those who mourn, for they will be comforted."
Final Words: If you will explore my blog, I always mention that Life is another word for challenges, in various ways to various people. Being a little closer to God gives enough strength to cope with everything we encounter.
Reading the holy Gita and some powerful Bible Verses for Comfort and Strength is the real secret to be in peace and have courage to breathe. It's hard, it's breaking my soul, it's making me feel guilty, but the only thing keeping me going is "Pray for them and yourself".
No matter what you are experiencing right now, read some powerful scriptures from God and feel blessed to be alive. If you found this article helping, strengthening and inspiring, share it with the needy ones.
Also, don't forget to bookmark this page for more helpful, inspiring and guiding articles for instant future in the future.
Stay Healthy, Stay Blessed