Fasting and Prayer Verses | Fasting and Prayer Scriptures | What is The Purpose of Fasting | How to Fast and Pray for a Breakthrough
From time to time, science has provided us with evidence proving that fasting has a significant positive effect on our physical body. Spiritually, it's been claimed that fasting is a way to reach closer to divine God. 
While fasting, your body and mind cleanse, so consuming something good scriptures helps in many ways. This article is for you if you are looking for some helpful, effective Fasting and Prayer Verses. 
Along with science, every religion has different fasting rules, even though some suggest a specific day for a particular reason. According to the Bible, Fasting is an effective way to achieve specific goals and feel closer to the divine Father. 
Before we go to the various Fasting and Prayer Verses, let's see what the holy Bible says about fasting. 
Bible Verses on Fasting
Exodus 34:28 "Moses was there with the Lord forty days and forty nights without eating bread or drinking water. And he wrote on the tablets the words of the covenant—the Ten Commandments."
Fasting with purpose not only fulfills your heartily desire but develops your faith in sacrificing and showing your devotion towards Him. I believe it's one of the most extraordinary acts that one can perform to enhance their faith. 
Additionally, fasting helps cut the cord with the wrong attachment that pulls you back and harms your core. If your past still haunts you, fast a few days and experience the change. After reading all these Fasting and Prayer Verses, I am confident that you will do intentional fasting and naturally enhance your life. 
Isaiah 58:6 "Is not this the kind of fasting I have chosen:
to lose the chains of injustice
    and untie the cords of the yoke,
to set the oppressed free
    and break every yoke?
Matthew 4:2 "After fasting forty days and forty nights, he [Jesus] was hungry."
Also Read about Bible Scripture for Breakups and Healing Energy
Fasting Scriptures for Breakthrough
Matthew 17:21 "Howbeit this kind goeth not out but by prayer and fasting."
Sometimes, only prayer alone can not help if you are going through demanding challenges, and fasting helps overcome them. Some people believe that God never says to fast, but the truth is that sacrificing something for something definitely works. 
Fasting has a place in every religion, every ancient scripture, and most importantly, science agrees with it. So, when you desire something to achieve in life, it takes a tremendous sacrifice, and what can be greater than the food that keeps you alive? 
These shared Fasting and Prayer Verses will definitely inspire you to fast and grow your life in every area. 
Ezra 8:21 "Then I proclaimed a fast there, at the river of Ahava, that we might afflict ourselves before our God, to seek of him a right way for us, and for our little ones, and for all our substance."
Also Read about Powerful Prayers During Fasting Catholic
Scriptures on Fasting and Praying KJV
Matthew 4:4 "But he answered and said, It is written, Man shall not live by bread alone, but by every word that proceedeth out of the mouth of God."
Let me confess that my intention behind every fasting is above scripture. Also, the one mentioned down below. Living for bread, shelter, and cloth was in ancient times. It's time to sacrifice them because now the burden of modernity is hurting the spirit.
1 Corinthians 7:5 "Defraud ye not one the other, except it, be with consent for a time, that ye may give yourselves to fasting and prayer; and come together again, that Satan tempts you not for your incontinency."
Fasting helps you release all the material burden you carry unknowingly, and it humbles your spirit. Not to mention, Being humble is the most incredible way to live a life God always wants us to choose. 
If you are reading this article about Fasting and Prayer Verses, either coincidentally or selectively, believe that this is what your soul was searching for.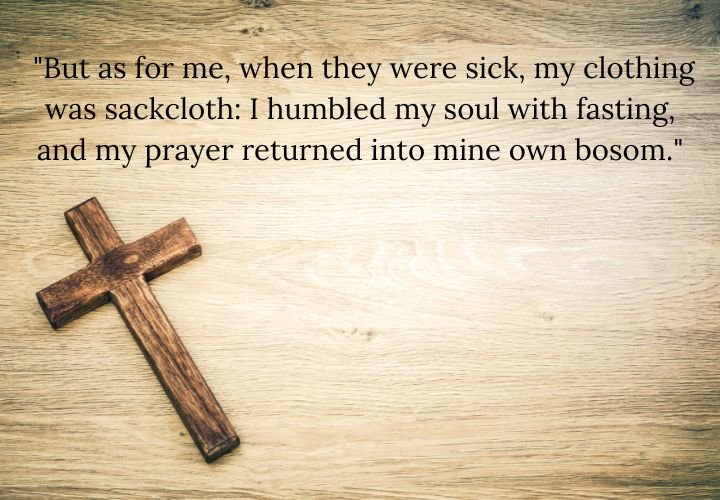 Psalm 35:13 "But as for me, when they were sick, my clothing was sackcloth: I humbled my soul with fasting, and my prayer returned into mine own bosom."
Benefits of Fasting and Prayer Scriptures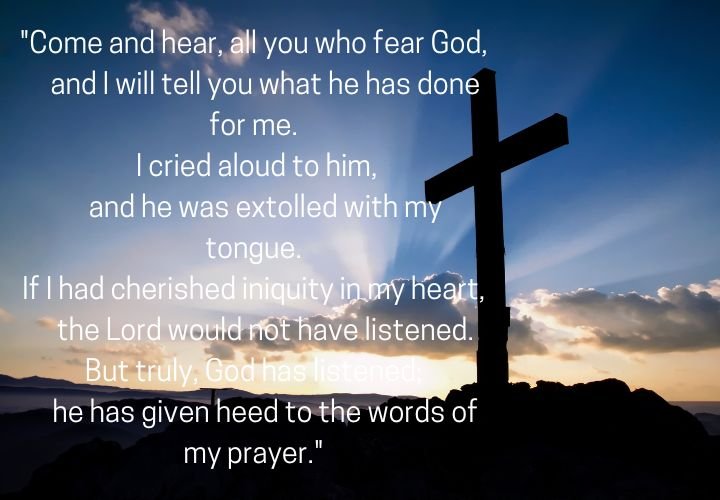 Psalm 66:16-20: "Come and hear, all you who fear God,
    and I will tell you what he has done for me.
 I cried aloud to him,
    and he was extolled with my tongue.
If I had cherished iniquity in my heart,
    the Lord would not have listened.
But truly, God has listened;
    he has given heed to the words of my prayer."
The above scripture explains how God can take away all your worries, stress, and challenges if you dare to sacrifice your meal for Him. Yes, He doesn't eat or drink but your intention is a silent prayer that richest to God instantly. 
Even if you are not much convinced about it, have an intention to experiment with Fasting and Prayer Verses for once and decide. 
Fasting and Praying for Healing Scriptures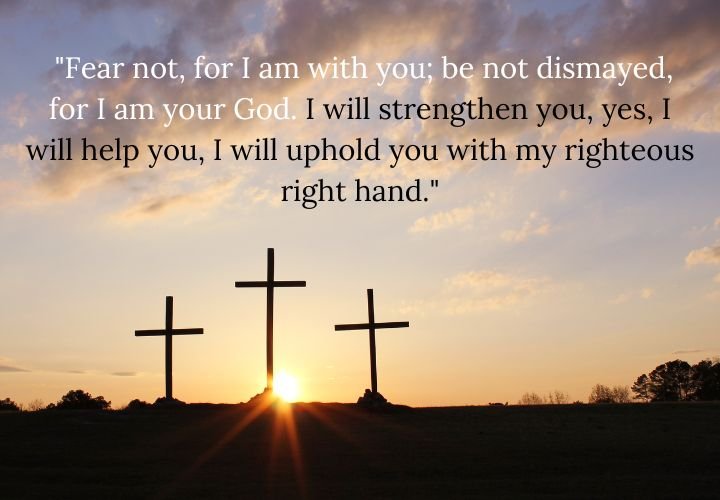 Isaiah 41:10 "Fear not, for I am with you; be not dismayed, for I am your God. I will strengthen you, yes, I will help you, I will uphold you with my righteous right hand."
Fasting is the most powerful way to heal physically, mentally, and emotionally. When you think about taking care of your spirit by taking yourself closer to God, He takes care of all your wounds. 
Matthew 11:28 "Come to me, all you who are weary and burdened, and I will give you rest."
Here is something, especially for those who are worried about health loss from fasting. 
Jeremiah 30:17 "But I will restore you to health and heal your wounds," declares the LORD…"
FAQS
1- What is the power of fasting and prayer?
Prayer is one of the most pure and effective ways to connect to God, ask for help and develop a relationship with God. Fasting is an additional tool that enhances the power of your prayer.
If I have to explain in terms of energy, A lot of energy gets used in digesting food, so when you fast and pray, all of your energy gets used in your prayers. Therefore, the most effective prayers are done during fasting days.
In addition, fasting enhances your self control, and focus.
2- What is the reward of fasting?
Fasting has multiple, in fact uncountable benefits in both ways, physically and spiritually. I don't feel the need to say that fasting helps enhance your physical health by controlling your digestive system, the core of physical health.
As I mentioned above, your prayer during fasting days becomes more powerful as you add all of your emotions and energy into it. Therefore, I believe the greatest gifts you receive from God is during your fasting session.
Final Words: Prayers become more affecting and powerful when it's done during fasting. I am hoping that these Fasting and Prayer Verses have proven my faith to you and inspire you to fast wherever you feel lost or stormy. 
Let your faith and sacrifices lead you closer to Lord God and push you to inspire others by your actions. 
If you liked my thoughts about the topic and feel like sharing them with others, take your social media spread among others. 
Also, don't forget to bookmark this page for more articles like "Fasting and Prayer Verses" for instant access in the future. 
Stay Healthy, Stay Blessed