Looking for some simple and effective short Catholic Prayer to Help You Sleep? If you are tired of nights that don't allow you to sleep peacefully, we have brought you a powerful prayer to Help You Sleep. It will help you sleep instantly and even wake you up in the morning in time, with a fresh new mood.
The human mind has been running so fast this decade that it's the real challenge to stop while sleeping. A running mind can't provide the peace and rest we, as humans, search for.
In order to have a peaceful and abundant life, it's crucial to take control of your thoughts running into your mind. Those who have learned to control it have achieved a life they once desired.
Meditation and Yoga Nidra are a few most powerful techniques to control your thoughts and have a sound sleep in the night.
This article will share a few Short Prayers to Help You Sleep Like a child if you have never practiced.
Before we go to the list of prayers, Let's see what the Bible says about sleepless nights and understand the meaning behind the verses
Bible Verses to Help You Sleep
Proverbs 3:24 " When you lie down, you will not be afraid; when you lie down, your sleep will be sweet."
If you believe in his Existence, you must also believe in His miracles. When you try to take full control of life by yourself, you invite insomnia or stress.
God says, even when you lie down to rest in the night, remember me, ask me to let your night be worth resting. Guess what happens next; you will experience the refreshing night you have never had before.
I can strongly say this because I have been in your shoes earlier and have lived it. This article will share the Prayer to Help You Sleep peacefully and quickly.
Matthew 11:28 " Come to me, all you who are weary and burdened, and I will give you rest."
Also Read about Tips 4 Better Sleep Without Using Any External Tools
Prayer to Jesus to Help You Sleep
"Dear Jesus, I am grateful for the fruitful day you guided me to live today. As I rest, I pray you to release all the stress and worries I have experienced. Stop my thinking mind and allow it to rest and prepare for the better tomorrow. Amen."
I have seen many keep saying "Jesus" repeatedly but never fetched his teaching in behavior. So, I think that's not the correct meaning of believing.
Believing means complete surrender, undoubtedly. The day you will learn to do that, no circumstances, words, people will affect your mental health. Here is a good night Prayer to Help You Sleep and leave all the worries to Jesus.
"Dear Jesus, I pray you to strengthen me to follow your words accurately. Forgive me if I disobey anything; please bless me to stay stress-free. Tonight, let me sleep sound and feel refreshed in the morning. Amen."
Powerful Night Prayer for Protection
"Heavenly Father, Please eliminate my feeling of insecurity about my tomorrow. I put my hundred percent faith in you and pray you to eliminate all the adverse feelings stealing my peace. Let me sleep with a feeling of better and stress-free tomorrow. Amen."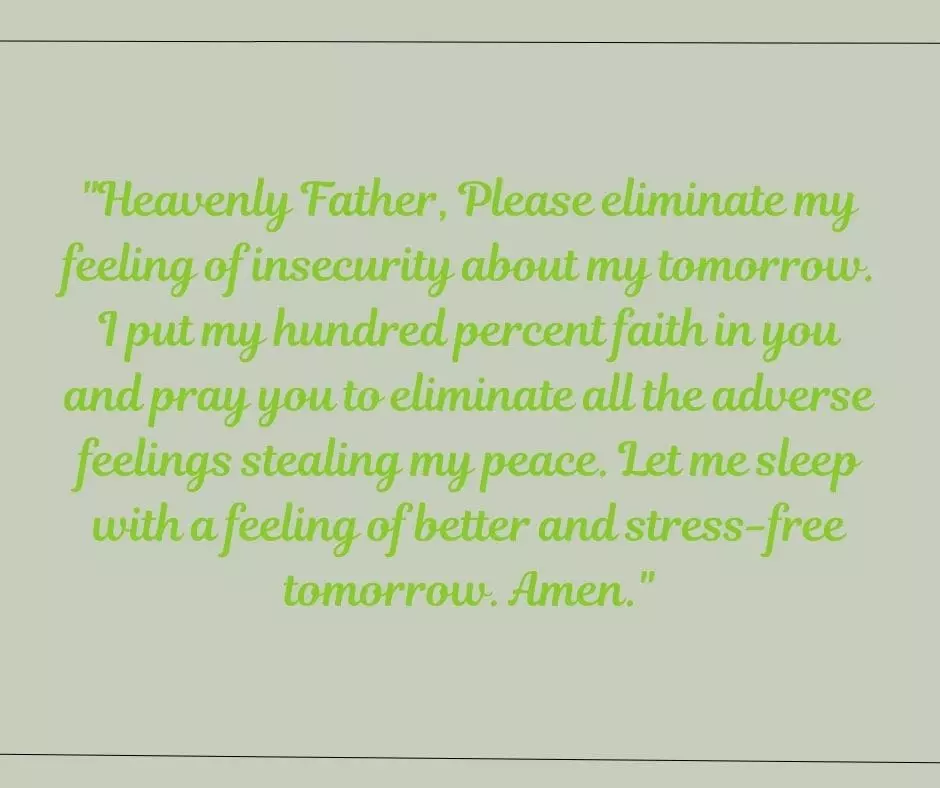 Be it mental, physical, spiritual or financial securities, most people on this planet worry about what tomorrow will bring. Everybody requires a safeguard in some areas of their life.
If insecurity, the need for protection is your cause behind sleepless nights, you may use this Prayer to Help You Sleep better tonight. Make sure to add your actual worry in this script and use it before bed.
"Heavenly Father, I pray you to make my mind stop worrying about tomorrow and live in the moment. Tonight, when I sleep, Hover over me and Let your protection shield be around. Amen."
Also Read about 7 Prayers To Calm Your Fears And Anxiety
Prayer for Sleep and Anxiety
"Heavenly Father, Please eliminate the reason behind my anxiety and strengthen me to tackle my life challenges fearlessly. Let tonight be most relaxing and rejuvenating for my mind and soul. Amen."
Anxiety is nothing less than a slow poison for human souls. There are many ways to reduce stress and get rid of anxiety troubles, and however, Prayers are one of the efficacious among others.
The problem with the human mind is defocus and multitasking. Multitasking, not about physical work but mental wondering.
Learning to stop it from wandering and focus on one thing at a time helps reduce anxiety. Ask God to help you focus on one thing at a time; you may use this Catholic Prayer to Help You Sleep better and be stress-free.
"Dear Jesus, Hear my Prayer and help me control my mind and stay concentrated. Tonight, let it relax, rejuvenate and tomorrow onwards, think about only what's important in the present moment. Amen."
Prayer for Sleep and Healing
"Heavenly Father, Let your divine healing light run through my nerves tonight and heal my mind, body, soul. Let my spirit heal under your protection, and my body rest peacefully. Amen."
The night is the best and most valuable time for your mind and spirit because it is a time when it heals. We never consciously heal the damaged part, but it does organically when you sleep.
Use this Catholic Prayer to Help You Sleep peacefully and heal your body. Prayer has the power to do a miracle result against pain, stress, anxiety and help you better sleep.
"Dear God, Help and guide me to take care of myself better than before. Let your healing energy heal my body and accelerate my productivity. Let me sleep peacefully tonight and every night. Amen."
FAQS
1- What can I pray to fall asleep?
"Dear God, Be around me, protection, showering your love and blessings upon me. Wake me tomorrow with your bright light guiding me throughout the day. Amen."
2- Can I ask God to help me sleep?
I am not so sure about using medications, therapies, and other tools, but Prayers, I challenge you to try once and let me know the results in the comment box.
Make sure to believe in miracles before you decide to try prayers to get a night of better sleep and heal yourself.
3- Which saint helps with sleep?
Insomnia results from stress, anxiety, depression, and other mental weaknesses. Prayer to Saint Dymphna is worth trying for before trying anything to have a night of better sleep.
Saint Dymphna is a patron saint who eliminates all the mental stress and makes you sleep better and heal better.
4- Does Prayer help you sleep?
Prayer helped me achieve anything I ever wished for, including better sleep during a challenging time. I suggest everyone make a prayer for themselves, adding their words, feeling and saying it every morning and night.
Final Words: I hope you will use a Catholic Prayer to Help You Sleep and heal your mind every night. Unlike me, there are people around the planet praying for those who find trouble sleeping.
Use your social media to spread awareness if you like this article and think it's worth sharing with others.
Also, Don't forget to bookmark the page to get instant access in future to more helpful articles like "Catholic Prayer to Help You Sleep."
Stay healthy, Stay Blessed.