Children are the most priceless Blessing a parent expects from God. However, when the child goes missing, it's the worst pain parents experience in a lifetime. Offering Prayer for missing child gives hope to parents and protection to the children out there waiting to return home.
Increasing crime and mental health difficulties are causing many global concerns, such as baby-snatching. When I open the newspaper or News channel, It breaks my heart to see the number of occurrences of missing children.
Parents who are blessed to hold their children around arms may not feel the exact feeling of those who have lost theirs. However, Praying for the missing children for their safety and returning homes forces the universe/God to act ASAP.
It is crucial to know the correct method to offer Prayer For Missing Child, as your prayers and vibes will bring the child home safely. So let's see how to pray effectively and contribute to Global Cause wholeheartedly.
Related: 7 Mystical Signs, God is Watching Over You 
Powerful Prayer For Missing Child
"Dear God, Please protect The most beautiful Blessing you gave us, MY child, as He/ She is missing. Please let him not feel alone and scare, Guide him to return home healthy and safe. Amen."
As a parent, you hold yourself together and wait for your child to come back with a beaming face and open arms. Then, rest all your worries to your divine source of happiness, and let your Faith do the rest.
"Father, My sole savior, being away from my child, is breaking me slowly and taking away all my hope to see him/her again. Please enlighten me as you always did and let my Faith increase in your mercy. Protect my baby lord, let no harm happen until he/she comes home back. Amen."
As a neighbor, relative or random reader, your wholehearted offering Prayer For Missing Child will make the miracle happen to the parents.
"Lord, My heart is crying for those parents whose arms are craving to hold their children. Please Provide them strength and let their children come back to them safely. Amen."
Prayer For The Return Of A Missing Child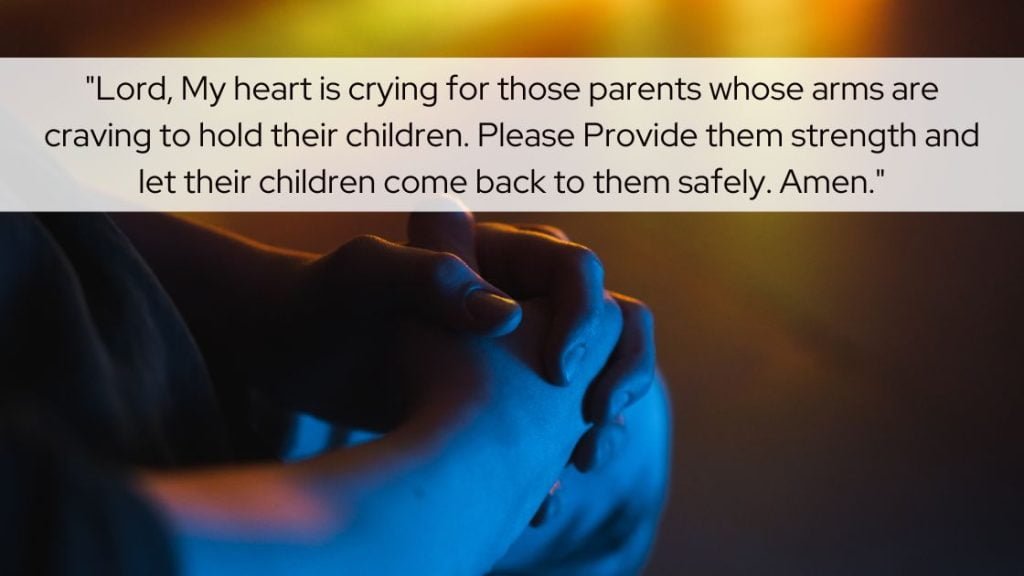 "Lord God, My child, is lost and He/ She is afraid of the unknown. Please accept my purest Prayer and guide my child back home. You have been my savior since I started praying. Please forgive my sins, If I had done any but show your mercy upon my innocent child and bring him/her home lord. Amen."
Whether someone misguided the child or he/she lost the way, being away from home is never a pleasurable moment for him/her. So when I recommend a parent not to feel pain while praying, I simply want them to send their children positive, guiding and strong energy so that they can find a way back home.
Parents are the ones with whom a child is connected for a lifetime, and their energy, good or bad, affects them most. So while the child is lost, you must send him/ her the type of energy they require at this point.
Here is a powerful, Powerful Prayer For missing Child, asking God to bring him/her back home.
"Dear God, I am forever grateful to you for blessing my children. However, my child is missing, and I am hurting as he/she is innocent and dependent upon us. He/ She is your child before me; hover over him/ Her and let no evil happen. Protect him/ Her mentally, physically, spiritually and bring him back home. Amen."
Also Read about Prayer To Guide and Protect from Evils
Prayer For Someone Who Is Kidnapped
"Dear God, My enemy took my child and asking for ransom that I am unable to give. Please accept my Prayer and show mercy on us; bring my child home, my savior. I have nowhere to go and ask, but you are only my home. Therefore, I surrender my child's safety to you. My Faith is in you, don't let it down. Amen."
People who are committing a crime by baby-snatching children are undoubtedly mentally sick or lost their life path. However, babies are a part of parent's hearts and using them to hurt their parents or for benefits is the greatest sin.
While praying for Abducted children and their safety, don't forget to ask God to guide the kidnapper's path and show them a little light to the right path.
Here is few powerful Scripted Prayer For Missing Child you may use.
"Lord, I am kneeling in front of you because my child is abducted, and I am afraid about his safety. My Faith has always been on you, and I know you will forgive my mistakes if I did any unintentionally. Please protect my child from any harm and bring him/her back home. Guide the person who took him/ her and show him mercy to walk on the right path. Amen."
Prayer to St Anthony | Catholic Prayer For Missing Child
" O loving and blessed St. Anthony, who has always been kind and helpful to those who are in pain. Please help me ease my pain of distance from my child and ask God to send him/her back in arms again. Amen."
Saint Anthony is The patron Saint for missing children and things. Praying to him and asking his power to bring the child home is another way.
Praying to various Saints and seeking their guidance has been an effective way of manifestation. These saints have been the closest soul to God, so praying to them will always benefit them.
Here is Some Prayer For Missing Child dedicated to St. Anthony. 
"O kind St. Anthony, the protecting angel, God found you worthy and provided you with the capability to become Shield for missing children and bring them home. Please Guide my missing child to home and protect him/her from any evil. Let My Faith in you grow, and my child comes back home soon. Amen."
Also Read about Powerful Prayer For Hopeless Situations
Prayer For The Safety Of A Loved One
"Father, I am forever grateful for all you have given to me and my loved ones. Sometimes, I do forget to show my gratitude, but I Have always in my heart. Today, when I am worried about my Loved one's protection, become their Shield Lord; you are the only one to whom I can ask. Amen."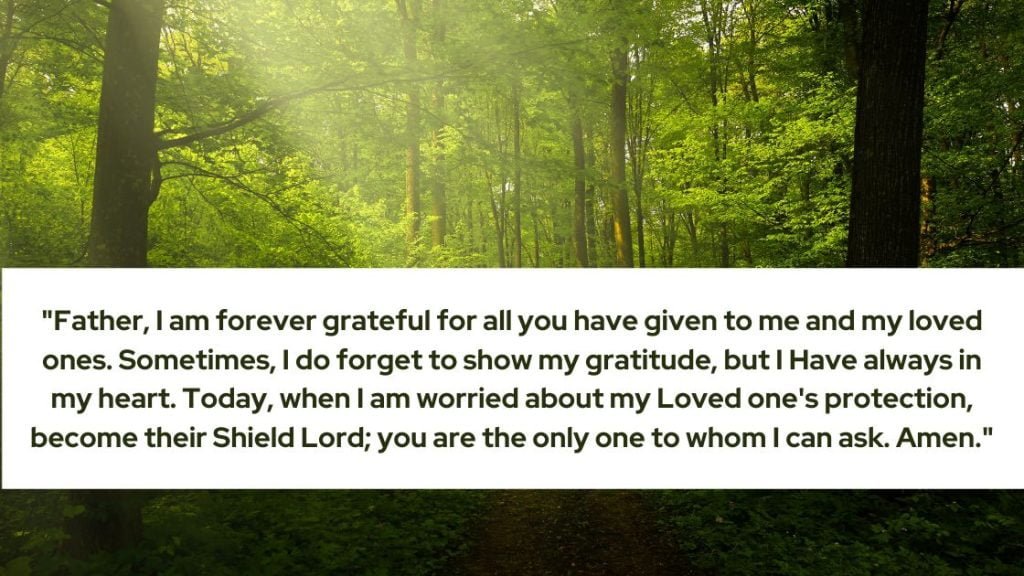 If you have been living healthy and safe for a long time, You are extra blessed to get God, protection every day. Whether you accept it or not, He is always protecting, guiding and watching over you.
When you are afraid to protect your loved ones, all you have to do is Praise Lord for all of the Blessing He provided without asking.
Being grateful and surrender is the most effortless way to receive more. So here is A prayer for a missing child and his protection.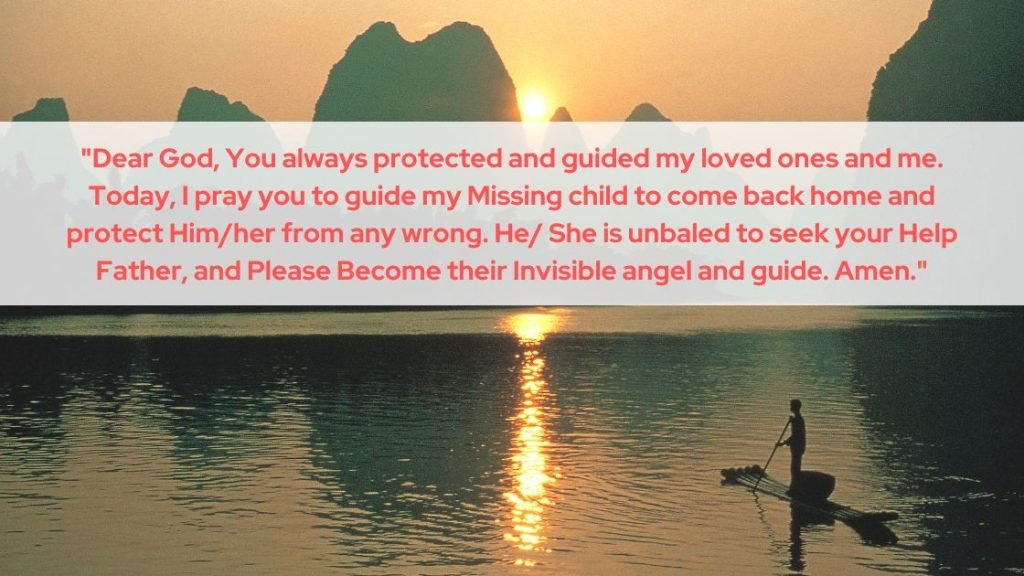 "Dear God, You always protected and guided my loved ones and me. Today, I pray you to guide my Missing child to come back home and protect Him/her from any wrong. He/ She is unbaled to seek your Help Father, and Please Become their Invisible angel and guide. Amen."
Scripture For Missing Child |

Prayer For Missing Child
Child abducting has been since ancient time, but it was rare. However, modern days are becoming more and more insecure and less trustworthy. Unfortunately, no one provides that level of loyalty that can give a ray of security.
Losing a child is like losing your hope, future and happiness. Yet, the only hope that has been consistently around is – God and his love for you.
These bible verses for the missing person will guide you to put your heartfelt words together and offer them to your savior, God.
Let's see What does God say about losing a child?
Jesus said, "Let the little children come to me, and do not hinder them, for the kingdom of heaven belongs to such as these." —Matthew 19:14 (NIV)
Here is another Prayer For Missing Child , also showing your Belief in the divine Protector.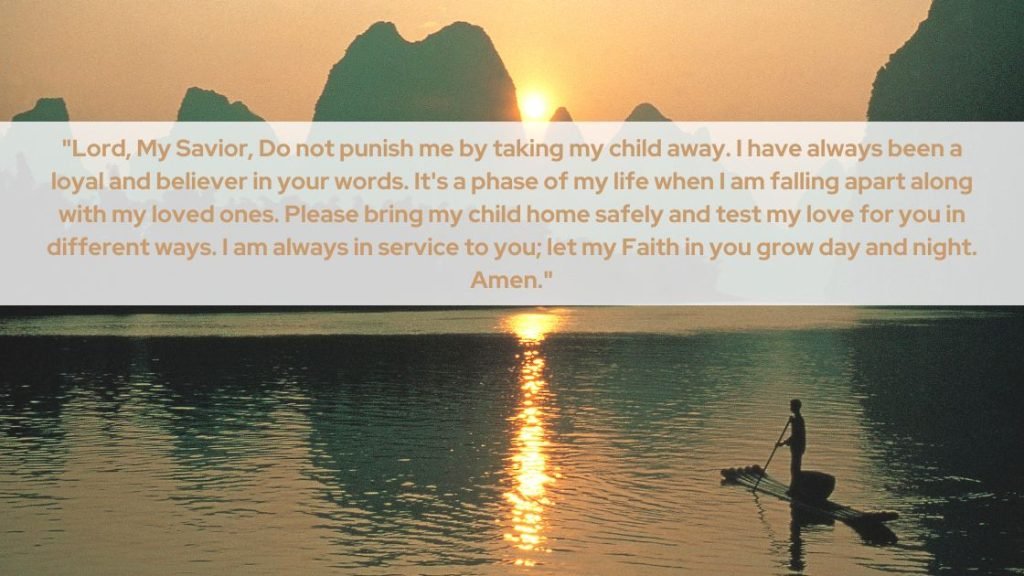 "Lord, My Savior, Do not punish me by taking my child away. I have always been a loyal and believer in your words. It's a phase of my life when I am falling apart along with my loved ones. Please bring my child home safely and test my love for you in different ways. I am always in service to you; let my Faith in you grow day and night. Amen."
FAQS
1- How do you pray for a missing child?
If you are a parent who is in pain and desire your child to be in your arms soon, remember not to mix your Painful emotions while praying. Prayer is most powerful when it is mixed with love, Faith and surrendered.
It's hard to do that, but Faith in Lord will provide you with the power to surrender your child, happiness, and pain to him.
If you are a relative, neighbor, or someone who purely intends to reduce the crime of child kidnapping, You are the one the child and parents need the most.
Your contribution/Prayer for missing child will help the child stay strong, and parents increase Faith that their child will be home soon.
One must Include some powerful Prayer For Missing Child and for parents in regular spiritual activities. 
Final Words: I am sure by using the above Prayer for missing child you will help those parents get their children back who are hurting badly. Yes, We can not help everyone by being around them, but we always choose to send them our Prayer and good wishes.
Your good wishes and prayers are more precious than being around them and grieving in their pain.
Stay Safe, Stay Blessed