Disputes in marriages are not just painful but it breaks so many relations in the line. If you are going through that pain and want to stop it, you may use some powerful Prayers to Stop Divorce and let God help you.
I believe marriages are made in heaven but sometimes, partners disagree with this term. Unfortunately, if you are the one who believes in your sacred marriage and your partner doesn't it hurts to hell.
You, reading this article means, you are in your marriage who are trying hard enough to save your marriage. Sometimes, when you don't have any ways to make the person understand, God is the only way to survive.
In this article, I will share some Prayers to Stop Divorce that you may use in your daily rituals and leave rest up to God. Before Prayers Let's see what God says about divorce?
Also Read: Powerful Prayer to Guardian Angel for Help
Bible Verses to Stop Divorce
1 Peter 5:6, "Humble yourselves, therefore, under the mighty hand of God so that at the proper time he may exalt you."
When things seem out of your control, surrendering to God can give you peace and do the things right, I believe. While writing this article, I am going through a phase where I don't know what's right and what's wrong.
I always involve God everywhere, but I think currently, I am losing Hope in God. However, my deepest core believes I am never separated from God, so while suggesting you to let God do the rest to you, I am going to do the same.
Colossians 3:14, "Beyond all these things put on love, which is the perfect bond of unity."
15 Powerful Prayers to Stop Divorce and Restore Marriage
Miracle Prayer to Restore Marriage
"Lord, the time and phase I am going through, seems endless, stressful and painful. I always believed in my marriage and gave my 100 percent to it. Seems like my marriage is falling apart Lord, I pray you to do something that erases this painfully season and make my marriage as loving and exciting as it I desire. Amen."
Being in a marriage and feeling lonely is a sign that something is not right, but the most painful part is you have got a partner who is not so expressive. It's like consuming slow poison everyday until you stop breathing.
Yes, I am going through such emotional breakdown, and feeling weak inside my core. In such circumstances, what can be worse than losing your brother and not having anyone to console you, or be there for you.
I am honestly, losing hope and don't have any idea what's going to happen next so I am using these simple Prayers to Stop Divorce and restore my marriage.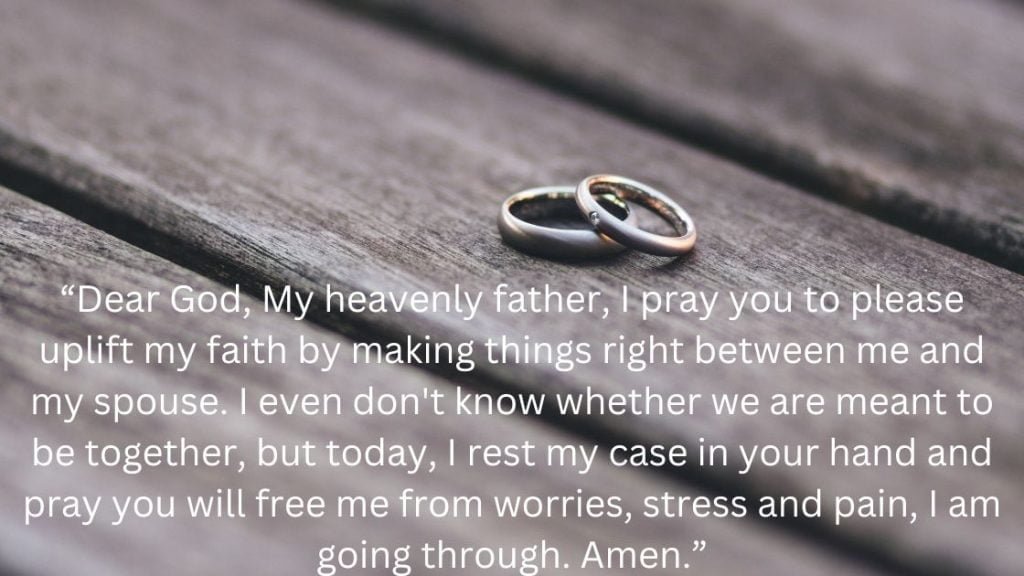 "Dear God, My heavenly father, I pray you to please uplift my faith by making things right between me and my spouse. I even don't know whether we are meant to be together, but today, I rest my case in your hand and pray you will free me from worries, stress and pain, I am going through. Amen."
Also Read: Powerful Catholic Prayer for Healing and Strength
Catholic Prayer to Save Marriage From Divorce
"Father in heaven, Please have mercy and help me recover my life, my income source and my marriage as well. Lord, I am losing everything and do not have any one who can help me and be on my side. I have always kept my faith in you Lord, please let your guiding light be on my side and save my life including my marriage Lord. Amen."
I do believe that sometimes, evil eyes can harm your happiness and I have that sense that something like that is happening in my life right now. If you are the one who is thinking the same, please make it a daily habit to pray to God and invite him to solve your issues.
No matter how much pain you are experiencing, believe me I am going through the same, let's hang in there until God lifts us up and does something miraculous. I am putting all my heart, mind and faith in Him by using Prayers to Stop Divorce and restore marriage.
"Lord, I need a miracle to save my marriage and clear all the clutters affecting my home and happiness altogether. I always felt I am capable by having you on my side but Now I am during my weakest days Lord, Please heal, uplift and save my marriage. Amen."
Final Words: I think the most crucial relationship is marriage as it gives a feeling of belonging to someone. Conflicts in marriage do not only hit your heart but can take away all the peace and happiness.
I am using these Prayers to Stop Divorce and restore marriage and hoping the same for you. I will update my situation once something changes. Let's hope for the best and enhance our faith in the Lord.
Stay Healthy, Stay Blessed