Fasting is one of the most effective and popular ways to cleanse your inner self. Fasting and prayers are equally popular in Hinduism and Christianity as well. The Three day fasting and prayer for a breakthrough are mentioned in the holy book, Bible too.
If you have fasted and prayed but haven't experienced the breakthrough, know that something was missing in your rituals. Make sure to add all the 3 Days Fasting Prayer Points when expecting miracle in life.
In this article, I will share my experience with fasting in short and guide you to get miraculous results with 3 days spiritual fast. I will explain in the simplest way to understand what is fasting, what is prayer, and how to pray while fasting.
It's crucial to understand the basics of fasting rules and the effects of prayers during these days. You will also discover the deeper meaning of 3 days of fasting, praying and learn how to do it effectively.
Before we explore the three day fasting and prayer for a breakthrough, let's understand the fasting meaning and what is a three-day fast.
Meaning of Fasting, and What is a Three-Day Fast
Fasting in the spiritual world is a way to release negativity and harmful substances from aura, mind, and soul. In scientific ways, fasting helps cleanse your system keeps you fit.
Every spiritual being believes in fasting as it makes us feel closer to God. In fact, every religion has a set of days to perform fast and spend days remembering God.
In Christianity, three days of fasting is popularly known for life, restoration, and new opportunities. It's a solid way to cleanse, release, restore and enhance belief in God.
When King and Haman had issued an order to eliminate all the Jews from the Nation, Easther was asked to go to the kind ask for his mercy. The time was tough, and it was hard to visit the King in that situation, so Easther asked the nation to fast and pray for strength.
Three day fasting and prayer was a collective effort to provide Easther enough courage to visit King and ask to change his decision. The effort didn't go to waste, and God answered their prayer.
During these three days, people gather in masses and offer prayer for God's mercy, strength, and wisdom. In order to understand the truth behind three day fasting and prayer, let's know what the right way to pray?
Also Read about 9 Reasons Why Prayer is Important
Now let's see what does the Bible says about three day fasting?
Bible Verses About Three Day Fasting and Prayer
Nehemiah 1:4 ESV "As soon as I heard these words, I sat down and wept and mourned for days, and I continued fasting and praying before the God of heaven."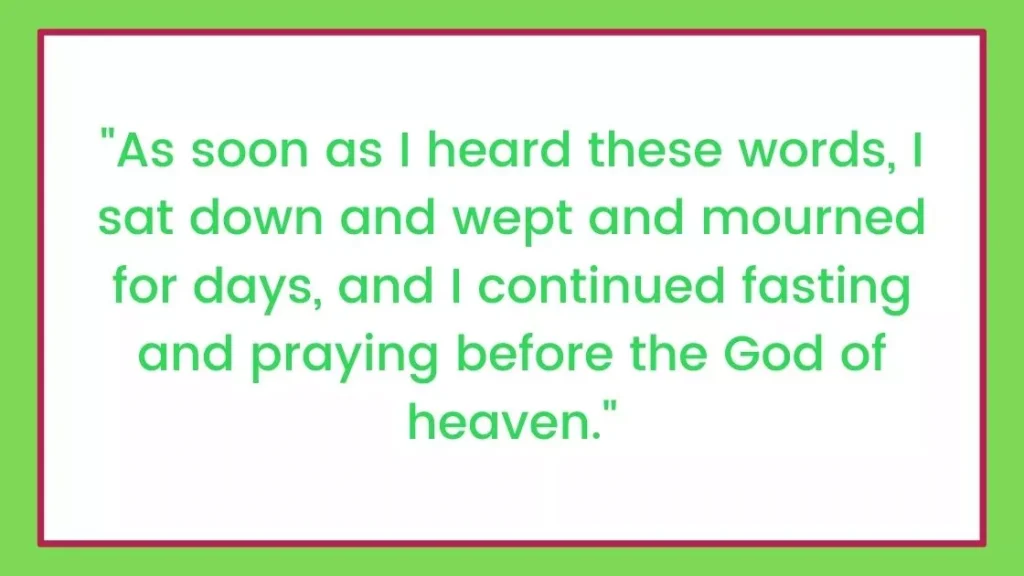 When you are tired, hurt, or even happy, Bible says that you must remember God with clear consciousness. Leaving your favorite food is a way to express your love for the holy spirit.
Sacrifices have been a popular way to value the mercy of God, and fasting is a highly pure way to show your devotion. When you sacrifice your source of life force energy, God takes over everything you ever desire.
Psalm 69:10 ESV "When I wept and humbled my soul with fasting, it became my reproach."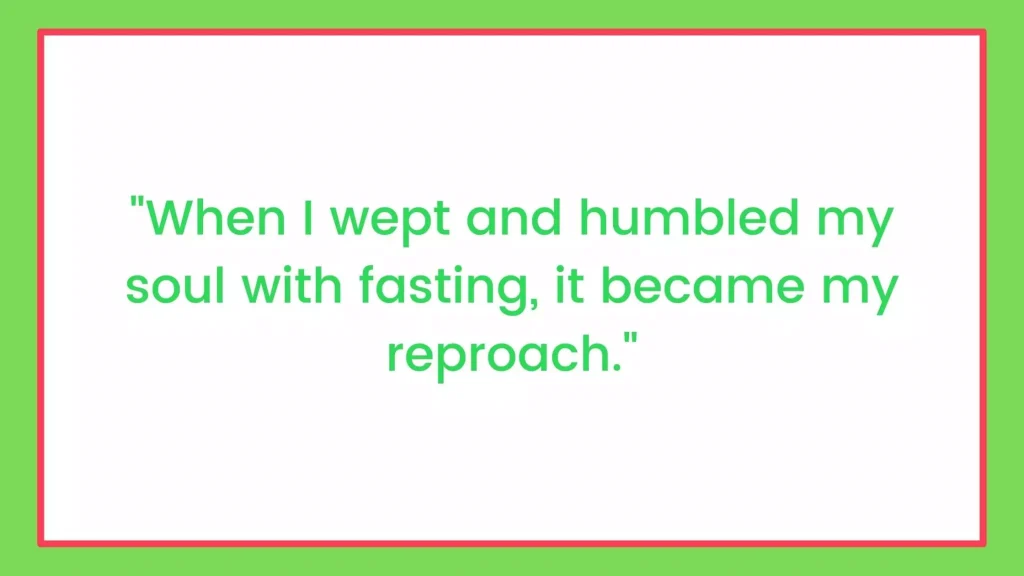 Fasting allows your mind to slow down and your heart to lead your way. However, fasting alone doesn't do everything. Consuming the correct information, such as reading the Bible during fasting, enhances the power of fasting.
Let's see what you must do or things to avoid when fasting and praying.
In order to make your three day fasting and prayer more effective for your soul, here are a few essential things to keep in mind.
Also Read about Powerful Bible Verses About Optimism
Things to do or Things to Avoid When Fasting and Praying
Be clear in your purpose of fasting before you start. Your sacrifices become a powerful tool to fulfill your purpose if you are clear in your intention.

Make up your mind to spend as much time as you can spend in the remembrance of God. An empty stomach helps enhance your focus and go closer to God's higher power.

Make sure not to neglect your physical well-being while fasting. If you are going through any health challenges, include your intake ingredients accordingly.

During fasting, try to listen more instead of talking, as speaking drains your energy while listening increases it.

Don't do overeating before and after fasting sessions as it can harm your digestive system and affect your fasting results.

Fasting or praying is a very personal thing between you and God. Make sure you don't include anyone else in your prayers if you have any intention for yourself.
Prayer Points for A Three Day Fasting And Prayer
Day 1 – 1/27/21
Government Leaders
Church Leaders
Racial Tension
First Responders
Military
Day 2 – 1/28/21
The Sick
COVID 19
Marriages
Children
Teachers
Day 3 – 1/29/21
Personal Revival
Personal Relationships
Personal Growth
Personal Direction
Also Read  about What is Prayer, and How to Pray Effectively
FAQS
1- Who in the Bible fasted for 3 days?
According to the Book of Esther, Esther and the Jewish community fasted for three days and three nights. Esther initiated this fast to ask God for strength to go near the King and suggest changing his decision.
2- How do I prepare myself for fasting and prayer?
Fasting is always about remembering God, not consciously scheduling your day or doing regular work. Of course, you have to do the duties you have been assigned.
However, many things such as buying groceries, clothes, and fast-related essential items can be done a week prior. In order to prepare yourself for three days of fasting and prayer, pre-decide your schedule changes so that you don't have to rush at the last minute.
3- What are three biblical reasons to fast?
There are many reasons to fast, but the three main reasons are Biblical mandates, spiritual disciplines, and health benefits.
Besides these three reasons, closeness to God, spiritual liberation, direction, waiting for Jesus to return is intentions behind fasting.
4- How long should I fast for God?
Well, this answer depends upon your mental and physical fitness. However, If you are a fit person and eliminate food and water both, you must not fast for 24 to 36 hours.
Many believe in eliminating food items but include liquid things to have energy for their professional works. If you are one of them, you can fast more than other people.
Fasting eliminates all the negativity from mind and body so, make regular fasting in your lifestyle to feel closer to God and have a fit body.
4- How many days does the Bible say to fast?
According to many Sources, Jesus lived without food for forty days and prayed in order to protect his people. Therefore, according to The Holy Bible, we must fast for at least forty days.
Final Words: three day fasting and prayer have changed my perspective towards life like a miracle. Follow the above tips and go closer towards the savior if you want the same results.
If you found this article helpful and worth spreading, do like, comment, and share it on your social media. Let others benefit from this information and inspire me to share my thoughts frequently.
Stay Healthy, stay blessed