Did you know, your struggles can be overcome with a few brave sacrifices. Your path to an enriched lifestyle involves a simple plan: a ritual that involves a 3-day fasting prayer. Here's the reasoning for why this will aid you in life.
When you decide to sacrifice something essential, God rewards you abundantly. Sacrifices have been taken place for centuries in every religion and community.
Sacrifice your source of energy that allows you to work and do your every day to do things makes you stronger than everything. Eating fruits and eliminating heavy items raises your energy level.
This article will cover the true meaning of Fasting and how to do 3 days dry Fasting and Prayer.
Before we go to the 3 days fasting prayer points, let's what does the bible say about fasting for employment breakthrough. 
Also Read about 7 Keys to Effective Prayer. 
Bible Verses for Employment Breakthrough
Philippians 4:19 (NIV): "And my God will meet all your needs according to the riches of his glory in Christ Jesus."
The scriptures serve as an uplifting reminder to those who are grappling to secure employment. Always remember, by God's grace, no one is left to go to bed hungry. Therefore, you shall also be bestowed with His loving kindness.
Proverbs 3:5-6 (NIV): "Trust in the LORD with all your heart and lean not on your own understanding; in all your ways submit to him, and he will make your paths straight."
While looking for 3 days fasting prayer points for breakthrough, you don't accidently read this bible verse. Believe me, I , by heart, know the feeling of struggling to live a comfortable life. However, surrendering myself to Him, made me stronger and guided me to do the right things.
Jeremiah 29:11 (NIV): "For I know the plans I have for you," declares the LORD, "plans to prosper you and not to harm you, plans to give you hope and a future."
The efficacy of Prayer is astounding, especially when fuelled with clear intentions and a well-framed selection of words. Regularly utilising these 3-day fasting prayer points at a set time each day is extraordinarily powerful.
Also Read about  6 Tips For Three Day Fasting and Prayer for Breakthrough
Now let's see what three days of fasting prayer points for a job are?
3 Days Fasting Prayer Points for A Job and Breakthrough
John 15:7," If ye abide in me, and my words abide in you, ye shall ask what ye will, and it shall be done unto you."
As you read above Verse, everything is possible under His will, and everyone can fulfill their desire who will ask. Fasting to cleanse yourself and cut all the evil connections prepares you for a better future and brings miracles to your life.
Presented below are the structured prayer points for a 3-day fasting specifically designed for you to secure a job and to break through barriers.
#1 Anything coming between my job offer, I will cut all the ties to that and invite a real breakthrough in my carrier in Jesus's name.
#2 The spirit, blocking my Job confirmation, dies or goes away from me and never returns in Jesus's name.
#3 The call of my permanent and deserving Job offer is on the way, in the name of Jesus.
#4 I already perform better in my current Job and getting prepared for upcoming events in the name of Jesus.
#5 The holy spirit is working and settling everything in my favor to make my journey clear and smooth in the name of Jesus.
#6 Evil spirits around me, getting powerless as my faith is more extensive than fear and God is powerful than them, In the name of Jesus.
#7 Whether I am fully prepared or not, This month is the breakthrough month of my life in the name of Jesus.
#8 This month, my name is shining on the best employee of the year, in the name of Jesus.
#9 All my enemies are gaining better insights about me and changing their opinion in my favor, in the name of Jesus.
Also Read about  11 Inspiring Bible Verses About Thanksgiving 
Prayer for Divine Favor and Connection
Psalm 72:12-13: "For he shall deliver the needy when he crieth; the poor also, and him that hath no helper. He shall spare the poor and needy and save the needy's souls."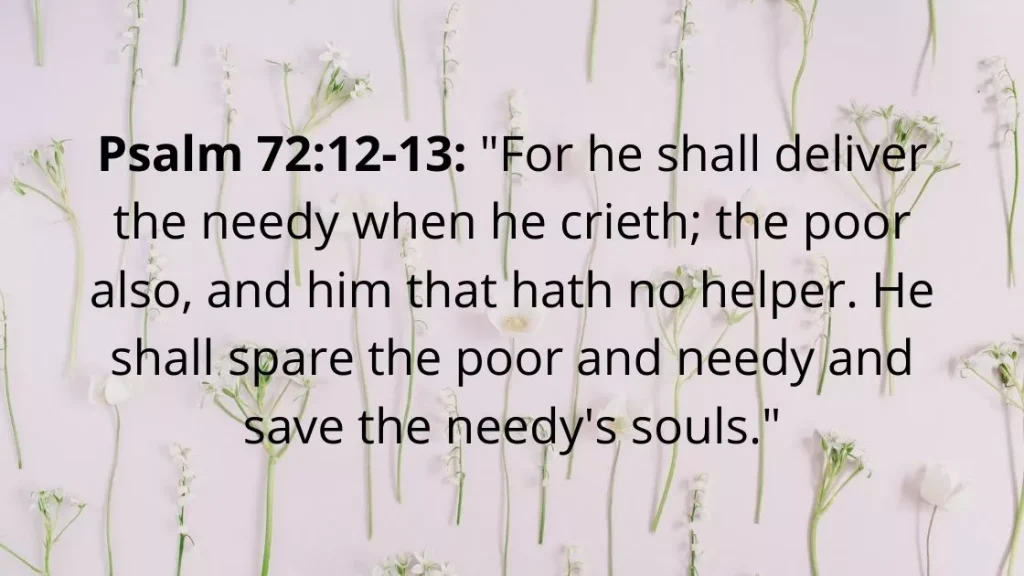 God is the only savior you must try to ask for help. The world is a business platform where people trade everything. You may use the above-mentioned 3 days fasting prayer points to fulfill any of your desires.
No matter how hard and desperately you pray, Prayer only gets answered when you pray with a whole heart. In order to let your prayer work, you must develop a stronger connection with the divine soul.
Meditation and prayers are the best way to develop a stronger connection and go closer to God.
"Dear God, I thank you from the bottom of my heart for all the glory and blessing you have showered upon me. I feel stronger, wiser, and safe; please allow me to feel more close to you, Lord, to decide my future actions more wisely. Amen"
Frequently Asked Questions
So, how does one conduct a fast and pray effectively to aid in securing employment?
Here are some practical steps you may follow for better results while fasting for a job or employment breakthrough.
Have a very clear intention in your mind about the position, the salary and the comfort you want in your heart. Having clarity in your mind about your goals and dreams helps you move in the right direction and get the most suitable job for you.

The second important thing you need to decide is what type of fasting you are going to practice for the upcoming three days. Types such as water fast, partial or eating fruits and vegetables. Select the best one that suits your health in the best way.

Before beginning your journey for the 3 days of fasting prayer for breakthrough, prepare yourself spiritually. Everything that needs to be gone or need to be included in your life spiritually, make a list of them. So that you can use the right prayer for your manifestation.

Any spiritual activity, even prayers, works in the most effective ways if it's done at the same time daily. Think and decide the time that you can follow everyday comfortably. Make sure you don-t disturb it or no one can disturb you during your prayers time.

Once you have done all other preparations such as place and time, as God for the guidance, wisdom and strength to complete your journey peacefully. Instead of allowing your mind to wander, Seek His guidance so that you can remain calm and focused.

Prepare your prayer script including everything you wish to have in your job and as for God's favor. Begin your prayer with peace, hope and excitement in your heart as God always rewards His children who are faithful in Him.

Lead with the intention of total surrender and trust in the process and in God as well. Know in your heart that He is the Supreme father who does everything for the best for you.

Have some affirmations ready for expressing your gratitude for the entire day and fasting journey. Thank Him in advance as if your prayer has been answered already.

Let your commitment for fasting and praying remain in line even if you don't see any sign immediately. God's plan works in the most surprising way so wait for His timing.

Grab the opportunity if it comes around you and select the best suited one for you. Connect with other people, let them know about your search, it might open doors for you.
How to do 3 Days of Dry Fasting and Prayer for Job?
Dry Fasting for multiple days, either 3 or 7, isn't easy, also not impossible. I believe, if you are want to fast for multiple days, it's God's wish. Often your spiritual wills are from Him only.
If the Holy Spirit has blessed you with these insights, consider yourself ready for your heart's desire and draw closer to God. Yet, remember to take into account certain factors before commencing your three-day fasting.
Fix a time and follow that schedule, such as 6 am to 6 pm do dry Fasting, no food, not even liquid. I would like to suggest that you resume your fast by eating something vegetables, fruits.
Don't forget to fix the time of your Prayer and meditation during your Fasting.
You may use the 3 days fasting prayer points that I will share in this article or make your own, according to your need.
If you want a complete 3 days fasting and prayer plan, you may download it by clicking on the link here. 3 Days Fasting and Prayer Plan PDF
What is Fasting and How to Fast for God?
Fasting, in simple terms, is a way to allow to rest your digestive system. It's a time when you decide not to eat anything heavy or drink for a particular period.
In spiritual and religious terms, Fasting is a way to scarify your essentials and spend quality time with God. The time your body takes to digest the food and convert it into energy, that time you spend with God.
Fasting helps you to concentrate and makes you feel lighter in every sense. The true meaning of religion is to cleanse your system and raise your energy level.
Prayer is a way to open your heart in front of God and confess your love or sins. It's the easiest way to talk to God for real so that you feel connected to the divine.
Prayer is a dedicated time when you sit and talk to God and share everything you want. It's also an ultimate act when you mix your emotions and present them in front of God.
Final Words: I am sure if you can feel the urge to sacrifice everything to get something, your action gets rewarded.
I'd love to hear about your experiences! In the comments below, do share if these 3-day fasting prayer points facilitated your journey. Have you been enlightened in your mission?
If you find this article helpful and worth reading, share it with your friends, family, and on social media as well.
Do not forget to bookmark this page and get instant access to such as "3 days fasting prayer points" guide article in the future.
Stay Healthy, Stay Blessed