Prayer for Engaged Couple | Congratulations for Engagement Wishes |  Bible Verses for Engagement
If you are looking for some loving and powerful Prayer for Engaged Couple you have reached the correct place. The best time to bless someone is when they start a new life with someone.
When two people decide to spend their life with each other, they do need our prayers, blessings, and good wishes for a beautiful journey. Life becomes more exciting when people like relatives, friends and well wishers shower their love upon them.
Engagement means committing yourself in a relationship to love, care, adjust and prepare yourself for a new journey. IN this article of BigBrainCoach, I will share some Prayer for Engaged Couple you may share with your friends and family.
Also Read about Godly Good Morning Quotes and Images
Bible Verses for Engaged Couples
1 Corinthians 13:13 "And now these three remain: faith, hope and love. But the greatest of these is love."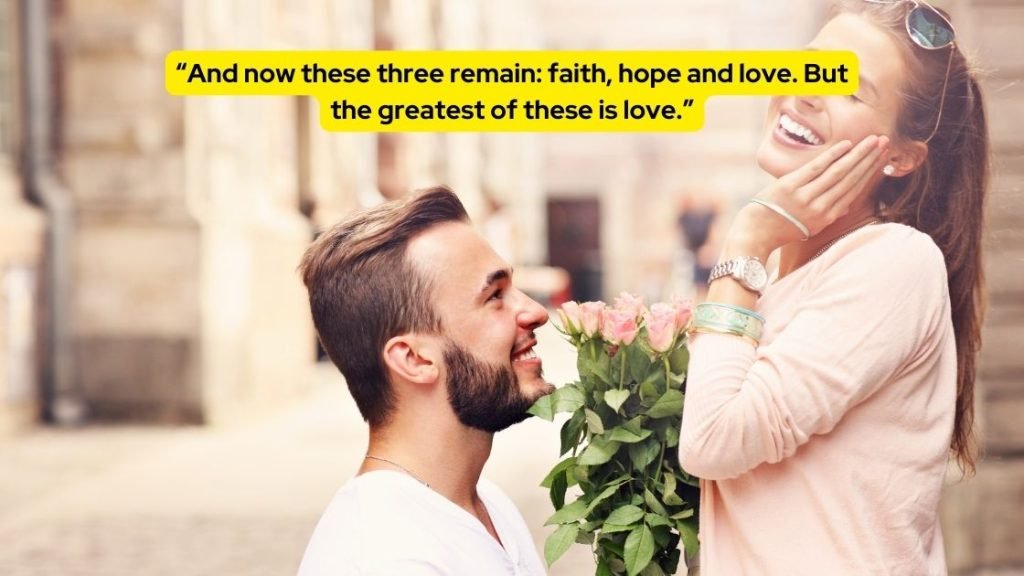 When two people take one step towards faith and sharing their love with each other, God is always with them. Therefore it's crucial to Let him bless them.
1 John 4:16 "And so we know and rely on the love God has for us. God is love. Whoever lives in love lives in God, and God in them."
Those who allow God to be with them, those relationships are unbreakable, no matter what life throws upon them.
Ecclesiastes 4:12 "Though one may be overpowered, two can defend themselves. A cord of three strands is not quickly broken."
Sending a Prayer for Engaged Couple means you are reminding them to let God tie their bond and keep them together happily for the rest of their life.
Mark 10:9 "Therefore what God has joined together, let no one separate."
Prayer for Engaged Couples Catholic
"Dear God, I pray to you to bless this beautiful couple with your love and light to stay with them forever. Let this new journey become one of the most beautiful experiences for both of them, Amen."
"Heavenly Father, Bless this couple to create a stronger bond and love together on this new path they have decided to walk on. Bless them with more patience, love, respect and care for each other. Amen."
"Father in Heaven, Today I sit in front of you praying for this newly engaged couple's happiness. As they decided to spend their time and life together, let this journey become the most exciting and faithful decision. Amen."
"Dear God, Bless this newly engaged couple with love, harmony, strength, inspiration and hope for a beautiful life in future. Clear their path and make it as beautiful as they have imagined for themselves. Amen."
Also Read about 7 Keys to Effective Prayer
Engagement Congratulations Quotes
"Hey you both, May you experience the best moment of life on this new journey of togetherness."
"Hey beautiful, May God bless you both with all the happiness, peace, luxury and togetherness for lifetime."
"Congratulations to both of you for your new adventure, May you have the most exciting and beautiful one!"
FAQS
1- How do you say blessing for engagement?
"May God bless your togetherness in the most divine way for now and forever. Congratulations to both of you for this new journey."
Using their name as personal Identity is crucial for everyone and let your wishes come directly from your core, in your own words. You may also use a simple Prayer for Engaged Couple before leaving them as prayers are the greatest blessing.
2- What are the 5 rules of engagement?
Getting engaged, committing yourself to someone means sharing valuable time with your own life. If you can have some rules for your relationship, especially for the one that's going to be your closest one.
The 5 rules for engagement are be real, make it social, celebrate your togetherness, Be straight and Transparent with each other. Of course don't forget to make each other feel special from time to time, it will add extra fun in life.
Final Words: You or someone you know who have just decided to share their life with someone and enter into a new life, send them a Prayer for Engaged Couple. Make them feel they are getting more blessings and good wishes for their future life.
If you found this article a good read then share with others as well. Also, don't forget to bookmark this page for more informative articles like "Prayer for Engaged Couple" for instant access in future.
Stay Healthy, Stay Blessed