We, human beings, get shaped in our early childhood, either at home or in school. Most of the children learn new things in school, so Preschool Prayers and other activities significantly impact their future.
If those days were well trained, tenderly cared and guided, the child becomes a perfectly well-behaved and mature person. That's the age when a child learns basic manners such as praying, showing gratitude and respecting elders, etc.
Despite all the available amenities, such as books, notes and many ExamLabs, children still suffer during exam time. Saying a single prayer can help them ease their mind and perform better.
In this article of bigbraincoach, I will share various Preschool Prayers that can be used in school or at home as well.
Also Read about Powerful Children's Morning Prayers to Guidance 
Prayer for Kindergarten Students Images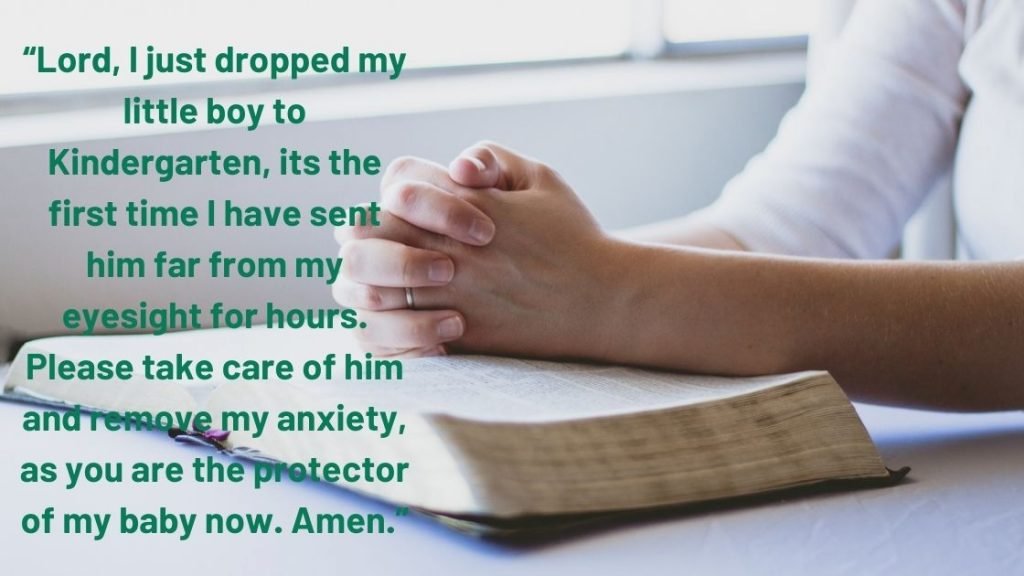 "Lord, I just dropped my little boy to Kindergarten, its the first time I have sent him far from my eyesight for hours. Please take care of him and remove my anxiety, as you are the protector of my baby now. Amen."
Admitting your child to Kindergarten is the first time you prepare yourself to leave a child for an extended period. Do you feel anxious about how they will adjust among others?
This anxiety doesn't help your child meet new fellow with warmness or adjust easily. However, your prayer will definitely guide and help them to get along in a new environment.
Here are few short Preschool Prayers for Kindergarten Students a parent must offer.
"Heavenly Father, It is the first day of My baby girl [Name] going to Kindergarten. I know She finds it hard to get along with other children and follow the rules. I pray to you to guide my child and grant her your wisdom to understand the rule and follow it. Amen."
Preschool Prayer Before Class
"Heavenly Father, Thank you for this beautiful morning and another day. Thank you for providing us with all the opportunities to learn new things and expand our wisdom. Thank you for all the protection you have done to us and allow us to see a new day, a new chapter, and a new world around us. Bless our day and grant us the understanding so that we could learn better to become a better tomorrow. Amen."
As a parent or a school authority, you can teach the child the best manner to offer his every action to God. If the action is done in the feeling of surrender, it becomes a ritual.
If a child learns such a deep meaning of prayer, He will never fail in life. A small prayer can before the class begins can be a seed of great faith in the future.
Here is a few Preschool Prayer Before Class children may offer and show their gratitude.
"Dear God, Thank you for protecting our school and us to provide us with everything we need. We are super excited to read, write and practice new learning, Be with us and guide us, Lord. Let us be a better students in our school and better child to our parents. Amen."
Preschool Prayers Before Meals Images
"Lord, Thank you for this delicious Food and the people who have provided this to me. Bless those who cooked it with their love and purity; bless the Food I will eat today. Thank you, Lord, Amen."
Food grasps the thought of the person who cooks it. The body is the other subconscious mind which operates according to the Food we consume. Therefore, Teach the children, before eating any meal, to offer the Food to Holy Father.
Let him blessed the Food so that it becomes more pure and healthy.
"Lord, we thank you for the Food around the table. Blessed this Food and make it more suitable for us to digest well and provide us all the energy we need. Thank you again, dear God. Amen."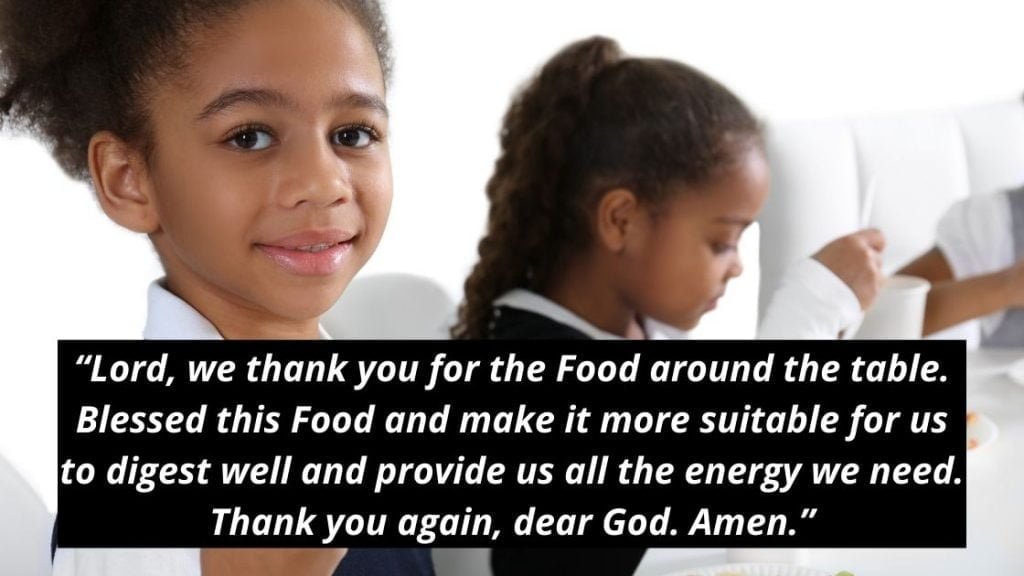 "A B C D E F G
Thank you, Lord,
For serving me Food.
Amen."
Preschool Snack Time Prayers Images
"Thank you, God, for the sweets and snack,
Thank you for watching over me and Being my back. Amen."
Snack time is the time when children are about to leave school premises and go to their families. They necessitate carrying the good memories they breathed for the day.
Therefore, removing unnecessary things and taking the best part of the day will inspire them to come back tomorrow cheerfully. Let them offer these preschool prayers before snack time.
"Dear God, Thank you for the good friends who are sharing the tasty snacks and memorable moments around the table. Let this meal bond greater friendship and fill our life with joy. Amen."
"Thank you, God, for the fresh fruits and testy nuts,
Take care of our school when it gets shut. Amen."
Preschool Prayers For Teachers Images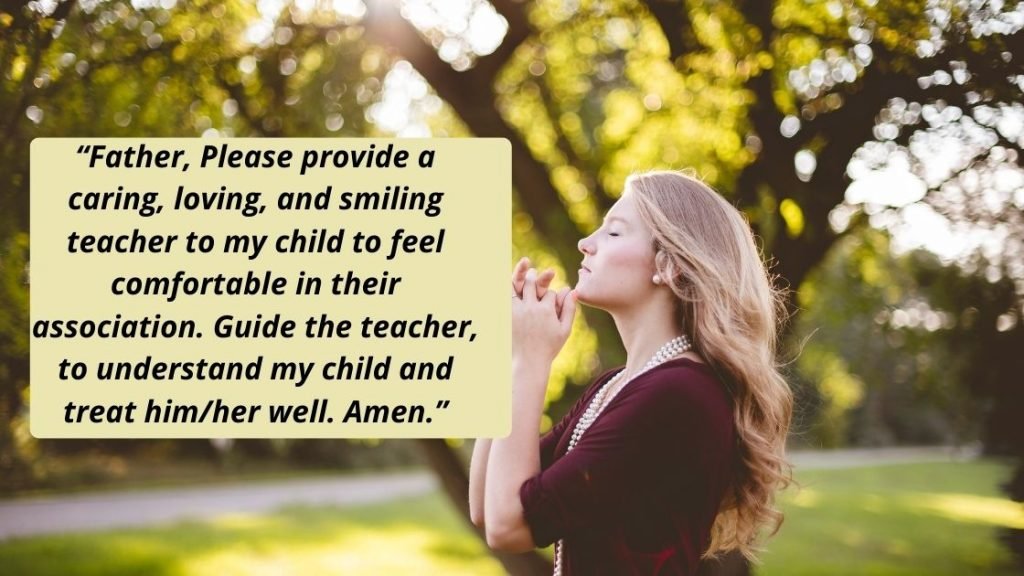 "Father, Please provide a caring, loving, and smiling teacher to my child to feel comfortable in their association. Guide the teacher, to understand my child and treat him/her well. Amen."
Teachers play very crucial roles in preschool children's life. Before handing the child to them, every parent gets concerned about the teacher's personality.
It's best to pray to God and ask Him to provide a loving, caring, and polite teacher for your child. Here are some Preschool Prayers For Teachers who is going to take care of your child daily.
"Dear God, I am thankful for the teacher who cares and loves my child the way she does her child. Bless her with an abundant life today and forever. Amen."
Also Read about Good Night Blessings Prayers, Quotes Images
Preschool Prayers For Kids Images
"Thank You, God, for a Fun-filled day and exciting things,
Thank you for keeping me safe and loving me extra. Amen."
Teaching kids to pray, always stay humble and grateful is more than teaching them behaviors. These small habits are going to make them unique and special adults.
"Dear God, I am sorry for sometimes feeling sad, being angry, and losing control. I am sorry for sometimes not following your words. God shower your blessings upon me and make me a better child and future citizen. Amen."
Showing children their mistakes and convincing them to accept every side of them make them more adaptive and open-minded. Acknowledging the true nature of self opens a new door to invite a better change.
It all starts from early childhood, so including all these through prayers for preschool is a great way to develop them in the right direction.
Preschool Snack Prayer Images
"With the folded hand and lowered heads, We Thank You Lord for the food, drink and friends. Amen."
Teaching children to pray together with friends and teachers is a way to build a better society in future. Today, it isn't easy to make a grown-up follow the principles.
The tiny, little children are unshaped, ready to be shaped the way you want. As a parent and teacher, it's an opportunity to raise a child who will make you proud in future.
Teach them to connect to God, Thank God and worship him by using these Preschool Prayers.
"To The God who gives me food every day,
And showers His love in every way.
In Everything, I say and do,
I promise to show my love for you."
FAQS
1- Why is prayer important in preschool?
Prayer is a way to increase faith in higher power operating this world. IN addition, it teaches kids grounding, humanity, empathy and compassion. With all these good qualities, a child grows as a better human being.
When children adopt praying habits at a young age, their rest of the life becomes easier and peaceful.
Final Words: Using the above Preschool Prayers, authorities help teachers, even parents, shape the child well and in the right direction. Do share with others if you find this article helpful and worthy.
If you are a teacher and liked this article, share it on your social media. Help others to be a part of creating better future citizens.
Also, don't forget to bookmark this page for more articles like "Preschool Prayers" for instant access in future.
Stay Healthy, Stay Blessed