Friday is a special day and Friday morning gathering has a special meaning for various reasons. If you are looking for some short and powerful Friday Morning Prayer for and blessing for family, this article is for you.
Friday, especially to our Muslim brothers and sisters, is a special day. It is said that if you attend Friday morning gathering and say a prayer with others, it's equal to an entire year's worship.
Friday, for other communities, is a day that brings hope for a peaceful, relaxing and enjoyable weekend. Therefore, it doesn't matter what religion you follow or wha
t community you belong to, Friday is a day you must give thanks for one week and pray for a better tomorrow.
In the article I will share some powerful Friday Morning Prayers and blessings for self and others as well.
Friday Morning Prayers and Blessings
"Dear God, I thank you for this gift called today. As I begin this day, I pray you to bless me and my day to be easy and fruitful as you have planned for me. Shower your love, guidance, wisdom and strength upon me so that I can do my best. Let my day be productive, Lord, Amen."
Friday is a day that silently announces you have a fun weekend. There is no doubt that everyone, who works in corporate, waits for Friday. Be it the spiritual world or material world, Friday is an important day for everyone.
"Dear God, Today, this morning, I pray for you to provide me protection for the harmful people and circumstances that hit my confidence. Bless me to feel your presence around me when I am in need and stay peaceful throughout the day. Let this day be fun filled and pleasing to you Lord, Amen."
Saying a simple and powerful Friday Morning Prayer message to self or sending it to someone you care for can be inspiring. Here is something you might use for yourself and for those you want to have a good day for them.
"Father in Heaven, As I begin this holy day, I pray you to lift my spirit and guide me to complete everything which is essential. Guide me to move forward wisely and be a light to others who might need it. Let the shield of your love and care surround me while I spend my day performing my duties. Amen."
Also Read: Powerful Sunday Morning Prayers and Bible Verses
Powerful Friday Morning Prayer for Protection
"God, As I begin this new day, I pray for you to strengthen me so that I can eliminate everything that is negative and harmful for my growth. Please protect me from people, events and things that are harmful to my career, mind, body and spirit. Let your protection shield stay upon me throughout the day Lord, Amen."
Protection, especially these days, has become crucial for everyone, especially those who are spiritual and sensitive to energy. If you are one of those sensitive ones, you need to guard yourself.
Today's world has become more unsafe than ever. If not any person, there are evil spirits and other negative entities roaming around that harm. IN order to protect yourself and your family members, use some powerful Friday Morning Prayer and give your safety in the hand of the Lord.
"Father in Heaven, On this Friday Morning I humbly pray to you for your kind protection for me and my family. For those who are living apart and away from us from any reason, guide them and protect them from anything that can damage their health and strength. Let your angel stay around me, my son and my husband so that we can stay fearless, In the name of Jesus, Amen."
Friday Morning Prayer for Family and Friends
"Dear God, In this beautiful morning, I pray to you to bless my friends and family with love, care and your safety for the rest of their lives. Bless them with good health, wealth and abundance Lord, Fill their hearts with love and mind with positivity. Amen."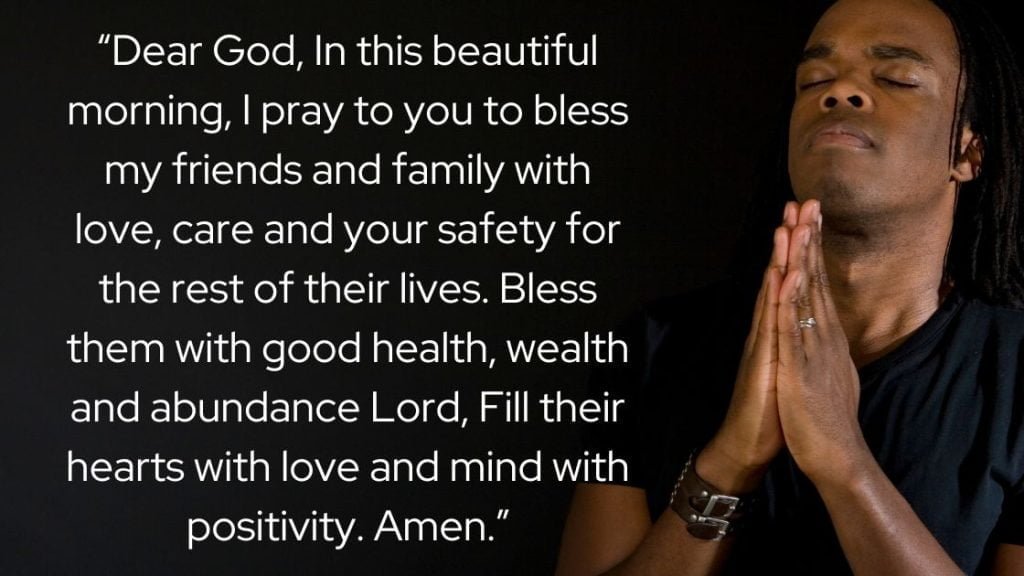 Family members and chosen family members we call them friends are those colors who create a beautiful rainbow of our life. When praying, make on Friday morning, don't forget to include them in your prayer and ask for their health and wellness.
Prayers can change the equation of your relations, no matter how bad an experience you had in the past, you can turn into heaven. As you read earlier, one powerful Friday Morning Prayer can give you the result for lifetime. Therefore make most use of this time and prayers.
"Dear God, Today, as I pray on Friday morning, I ask you to shower your love, protection and care upon those who are a part of my life and make it more beautiful. Let them know that they are loved and protected by You, Strengthen our bonds, bless them with better health and success and abundant life Lord, Amen."
Also Read: Simple and Powerful Bedtime Prayers for Adults
Powerful Friday Morning Prayer for Him
"Dear God, on this Friday morning, accept my prayer for the most important man in my life. I pray you to bless him with your love, guidance, and protection throughout the day. Provide him the strength and wisdom to overcome any obstacles that he may face. Let him feel your presence in all that he does, and may he have a productive and successful day. Amen."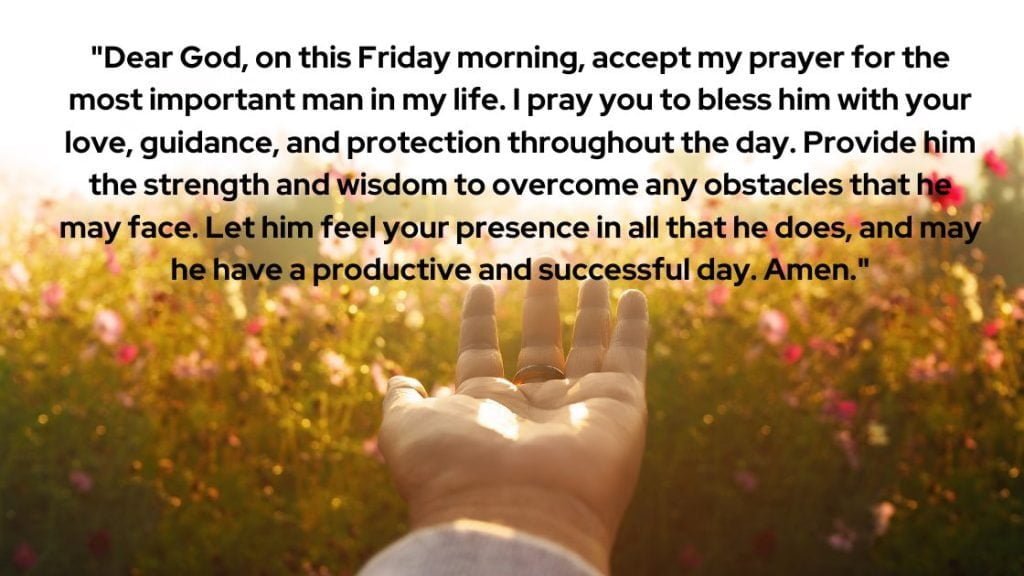 Having someone who promises to love, care and protect for a lifetime is a blessing. If you have someone special, give a few minutes of the holy morning and let God take care of him.
Using a powerful Friday Morning Prayer will assure his safety, growth and make you feel more relaxed. More importantly, he needs to be in your prayers so that you both can make the rest of your life more happy, peaceful and beautiful.
"Lord, on this Friday morning, I come to you in prayer for the man that holds a special place in my heart. May he be filled with your peace and joy today, and may his heart be uplifted by your love. I ask that you grant him the strength and wisdom to tackle any challenges that may come his way, and may he find success in all his endeavors. Amen."
Also Read: Powerful Prayer for Repentance and Forgiveness
Inspirational Friday Morning Prayers
"Heavenly Father, On ethos blessed morning, I pray you to fill my heart with enthusiasm and mind with strength and clarity. Help me be strong enough to let go of everything that doesn't serve any good to me and my family. Bless me with clarity and help me focus on the important things in my life. Amen."
Life is becoming more and more challenging these days due to competition and lack of clarity and mental strength. Everyone including me and you are searching for the magical tool that can help us boost our business and have everything that the world has to offer us.
What can be more powerful and inspiring than Prayers? While visiting holy places and offering short Friday morning prayer, ask God to strengthen and guide you and others to bless with mental strength and desired success.
"Father in heaven, Today, on this morning, I humbly express my gratitude for making me so worthy to dream and achieve what my heart desires. I pray you to bless me with more clarity, courage and strength to face whatever comes in my way to success. Grant me with enough wisdom to understand the right and wrong so that I can stay focused and give my best in life. Amen."
Final Words: Morning itself is a time when God himself comes to you to fulfill your wish. In addition, the holy Friday makes more sense to offer your prayers for those you love and care for and want to protect God.
Using some of the powerful Friday Morning Prayers for yourself, your friends and family members can also make you be more patient, happy and successful in whatever you do in life.
If you found this article guiding, helpful and informative, like, comment and share with those who might find it helpful. Also, don't forget to bookmark this page for more informative articles like "Friday Morning Prayer" for instant access in the future.
Stay Healthy, Stay Blessed