"Kindness" is the most charming characteristic of humankind that can make us win the world. Lack of kindness creates chaos and separates one from the other. Including prayer for kindness in your daily action will help you to vibrate higher and attract better people.
In this article of BigBrainCoach, I will share some powerful prayers to add to your daily prayer schedule and contribute to world peace.
Prayer for Kindness to Others
"Dear God, Grant us so much Love and compassion so that we could treat each other with Love and compassion. Bless us with so much wisdom, Love, and brotherhood so that we could think and act kindly. Amen."
Mother earth, including every living soul, is suffering because of a lack of empathy. As humans and the best creator, we have the responsibility to lessen the suffering by spreading Love and togetherness.
In order to do that, there are many organizations out there working towards spreading peace and Love. Become a part of them, or the best way to share your contribution is to use this prayer for kindness and spread humanity.
"Heavenly Father, Accept my request and Grant me knowledge, insight, and correctness to use kindness to eliminate bitterness, bigotry, insensitivity, and all the other disorders that run in the human race. Use me, Guide me, Lord, to adopt Your kindness and to be a stimulus for change. Amen."
Also Read about Powerful Prayers For Caregivers Of Cancer Patients
Prayer for Kindness to Self
"Lord, please bear my pain and remove all the bitterness I have been carrying for years. I am willing to be as soft as you are to me, so Make me your source of Love and compassion. Please help me to treat myself as I treat others, with Love and compassion. Amen."
The trouble with the world these days is, everyone is expecting other people to treat them well when they treat themselves harshly. In order to give or receive Love, kindness, and compassion, it's crucial to love yourself and treat yourself with Love.
It's crucial to spend some time alone every day and understand what you love doing, how you want to be treated, and treat yourself in the same manner. You may use this prayer for kindness to develop the habit of caring for yourself.
"Dear God, the source of Love, fill my life with the moments of Awe and let me live the moment every second. Please forgive me for my sins and show me how to love and care for myself to be a part of a better world. Amen."
Prayer for Soul of Kindness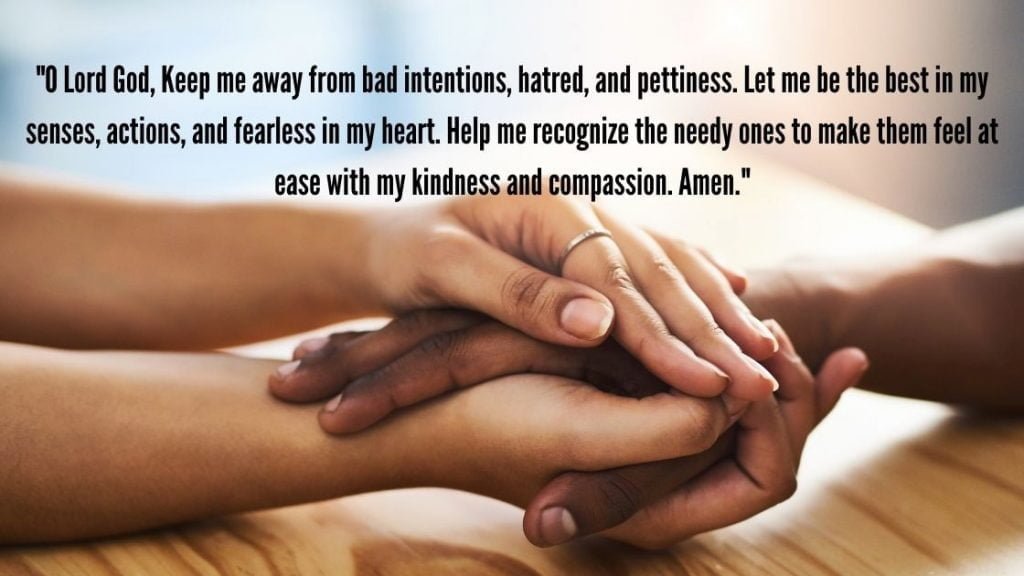 "O Lord God, Keep me away from bad intentions, hatred, and pettiness. Let me be the best in my senses, actions, and fearless in my heart. Help me recognize the needy ones to make them feel at ease with my kindness and compassion. Amen."
In order to stay aware, it's crucial to remind yourself of the type of person you desire to become. Aiming to become the best version of you must be on your everyday to-do list.
Also, Its truth that kind and generous people suffer a lot because they don't hurt others. Therefore It's essential to keep yourself inspired and fell protected. The best way to do so is to use this prayer for kindness before you begin the day.
"Heavenly Father, Please protect people who are committed to spreading Love, kindness, and togetherness. Grant me and others the wisdom and strength to not get tired or hurt others in any situation but feel your shower of Love. Allow us to stay closer to you and continue working towards our goal. Amen."
Also Read about Biblical Meaning of Waking Up At 3:33
Prayer for Random Acts of Kindness
"Dear God, please fill my heart with compassion and inspire me towards random acts of kindness. Grant me the wisdom to understand right and wrong so that I could do justice with my life. Let me create a space around me where people can find harmony, and we treat each other with compassion and kindness. Amen."
The random of kindness, I believe, is the highest value Karma. The Karma that everyone must do and collect the blessings of unknown. By doing so, we help needy people and get closer to God as He loves those who follow His ethics.
If you are also tired of encountering rude, cruel, and dishonest people around you, use this prayer for kindness to change them silently. As prayer is a demand, God always fulfils it instantly.
"Dear God, grant me the grace and compassion to understand those who are violent and cruel towards others. Fill their hearts with kindness and Love towards them so that we, together, can create a world you sent us in. Amen."
Prayer for Kindness in The World
"O Lord of Kindness, You made us a lovely and compassionate child by teaching your principles. However, many of your children are lost their way and spreading violence and hatred in society. Please Guide them, Lord; show them the right path by filling their hearts with kindness and brotherhood. Let the world become a better place again. Amen."
It's really challenging these days to trust the unknown and understand the difference between good or bad. Often it's confusing to recognize right among wrong.
However, I believe the faith we carry in our hearts is all needed to sense the difference. I alone can not change the world, but we can make history and change the world together. Use this prayer for kindness to gain the strength and wisdom to make this world a better place.
"Dear God, Please look into the hearts of those who are lacking Love, kindness and compassion. Cleanse their hearts and soul and fill them with kindness. I pray to you to create more peacemakers so that everyone can feel safe. Amen."
Also Read about Powerful Teenager Prayer To Guide and Protect them
Thank You, Prayer for Kindness
"Dear God, I have no words to thank you for all the blessings and kindness. My life seems heaven as I can feel the shower of Love and kindness upon us. Thank you for protecting my family, loving and guiding us to stay in your shelter forever. Amen."
Happy people are always happy because of the sense of God's presence in their life. As the quote says, "Happiness attracts more happy moments" Thanking God for everything invites more blessing in life.
Use this Prayer for kindness; reflecting your grateful hearts will make you more abundant and blessed. As the world needs more kind and loving people, you will lure more kindness towards you.
"Heavenly Father, I am thankful for keeping people around me safe, happy and compassionate. Kindle bless me with more capacity to spread Love and kindness towards the world. As I grow under your shield, let others vibrate on the same level. Amen."
Also Read about Powerful Catholic Prayer for Healing and Strength
Morning Prayer for Kindness
"O Lord, As I start the new day with your name and blessing, grant me wisdom and strength to act kindly and let others feel loved and respected. Bless my day, Lord, so that I can represent your Love and kindness in the name of You. Amen."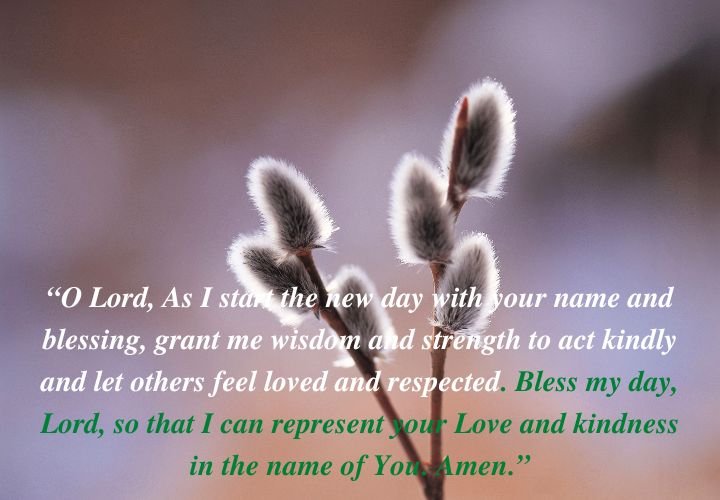 "Well, begin has a better end" So, make a habit to start your day with a grateful heart filled with passion for making it better. Prayer is the most powerful act to start the day with.
As you intend to thank God for all the kindness and his blessing, use this Prayer for kindness and start your day with more energized thoughts.
"Dear God, Thank you for your kindness and blessing me with one more shiny day and filling my heart with excitement for the future. Be my Guard for the day and guide me to spread kindness by random acts. Strengthen me, Lord, so that I can ignore the drama around me and stay on my track. Amen."
FAQS
1- How do you pray to be kind to yourself?
In order to spread kindness and express your compassion to others, you must be kind and compassionate to yourself. If you don't know how to be kind to yourself for real, here is a short prayer you must say every morning and prior to bed.
"Dear God, I am blessed to feel the love and kindness I have been getting from you. Please Help me to feel the same all the time. Guide me to love myself unconditionally and be kind to myself so that I can spread the same around the world. Amen."
2- What are 3 acts of kindness?
The first and most powerful and effective act of kindness is having Good wishes and prayers for everyone you think of. Second, be kind and compassionate to yourself so that you can spread it around you.
For me the third act of kindness is to be available for those who need you in their challenging times. It will provide you peace and strength to pass their hard times.
Final Words: The world, our brothers and sisters, are expecting a miracle to happen, and the world become a better and safer place for all of us. Spreading Peace, Love and brotherhood by sharing a prayer for kindness can be one of the generous acts of the day.
If you liked the prayers, do like the article, share it on your social media. Also, don't forget to bookmark the blog for easier and quicker access.
Stay kind, Stay Blessed.