Powerful Protection Prayer for My Son | Prayers for Healing for My Son | A Mother's Prayer for Her Son | Prayer for My Son's Health
Are you a parent who feels worried about your children's well being, Welcome to parenthood. For whatever reason if you feel very worried about your children, this article, including some powerful "Protection Prayer for My Son" is especially for you.
In the time when everything seems uncertain, worrying about your child's health and happiness is the main concern. Not to mention, it's one of the reasons parents are getting sick and relationships are falling apart as there are a lot of negative vibes such as worry.
Unlike other parents, if you worry too much about your children's well-being, read it carefully and try to understand the message. In this article of BigBrainCoach I will share some of the script I used for Protection Prayer for My Son.
Powerful Protection Prayer for My Son
"Dear God, Today I pray to you to protect my only son, the most precious gift from you. Keep him away from harmful substances, people and situations. Guide him to live his full potential and protect him Lord. Amen."
In a world where no one knows when and how circumstances may go wrong in many ways. If you are worried about your son's friend circle, work life or simply his protection, ask God to be with him.
Your worry isn't a healthy energy for your son, so you just ask God to protect him by using a short Protection Prayer for My Son. Focus on your life and let God take care of your child as you asked.
"Heavenly Father, my source of power and protection, Please take away all my worries for my son. Please be with him, guide and protect him, my faith is in you Lord, let your mercy be upon Him always. Amen."
Also Read about 8+ Powerful Prayers For Pregnancy Sickness
Bible Verse About Protection Prayer for My Son
Psalm 91:11-12: "For He will command His angels concerning you to guard you in all your ways. They will lift you up in their hands, so that you will not strike your foot against a stone."
People often pray but keep their worry habit consistent, which is a disaster. The prayer that doesn't work is because of this lack of faith. When you give your worry to God, you must forget about that and move on with your life as God works only for those who have full faith in Him.
If you can pray to Him, know that He is working to manifest your prayers.
Short Prayers for Healing for My Son
"Dear God, My heart breaks every time I see my son in pain, suffering. Lord, He is your child too, please take away all of his pain and heal him Lord. Let him feel happiness and healing in the presence of you. Amen."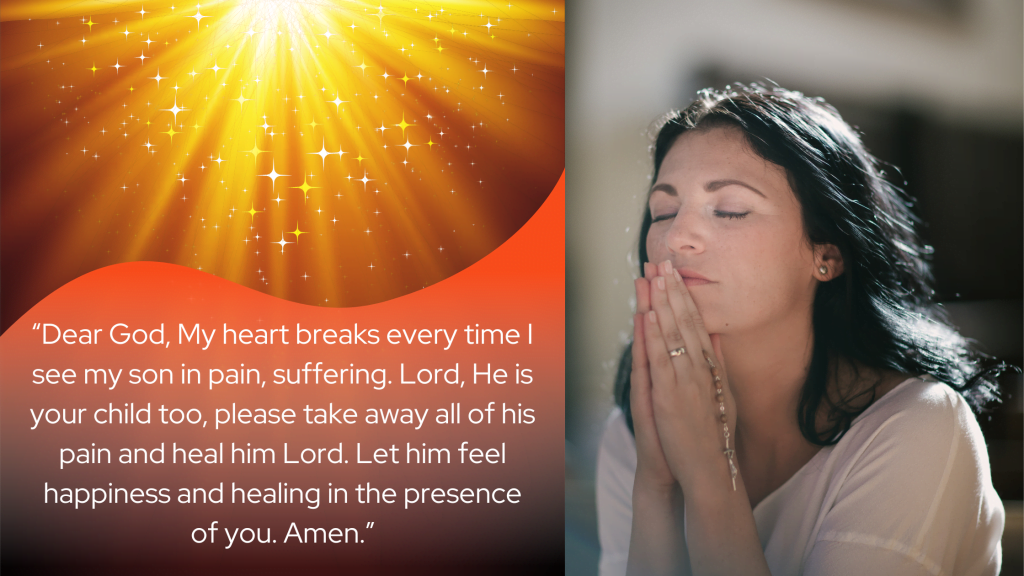 No parents want to see their children suffering however, worrying won't help heal. In order to let God help and heal your son, let your faith do miracles to you. Ask God to and surrender your child to God, He will your son in the most mystical ways.
Using a simple and short Protection Prayer for My Son has been working for me. Every time I ask God to take care of my son, He safely returns to Home. just have complete faith in God, your son will be healed and healthy soon.
"Lord, please let my son get well soon and become healthier than before. I have faith in you and your power God. Please sit around him, heal his disease and make him feel better mentally physically and emotionally. Amen."
Guardian Angel Prayer for Protection of My Son
"Dear Guardian Angel, Please watch over my son by being by His side all the time. Surround him with your heavenly and blissful presence. Guide his steps and keep him away from harm and lead towards love, joy, and success. Protect his heart, Cleanse His mind, and guide spirit as he walks through life's adventures journey."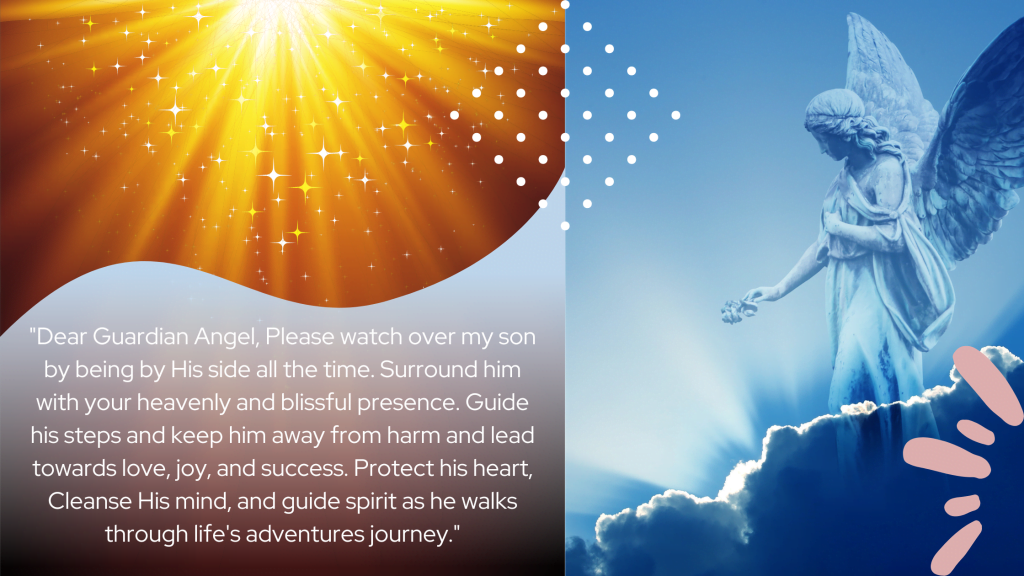 We all know there is a guardian angel around us waiting for us to command, pray and ask for help. While looking for Protection Prayer for My Son, don't forget to pray to that angel who has been by your side of you and your all the family members.
Also Read about Prayer for Engaged Couple
A Mother's Blessing to Son | Protection Prayer for My Son
When it comes to children's well being, a Mother's Blessing is a supernatural gift for them. While saying a Protection Prayer for My Son I bever forget to bless my child as I have that power to strengthen Him.
"My dear Son, May God's light fall upon you and enlighten your path. May God's love encompass you and hover over you protecting you from all harm. With every beat of my heart, I ask God for protection to keep you safe, surrounded by positivity and healthy people."
Buddhist Metta Prayer Protection Prayer for My Son
"May My son be safe, healthy and protected. May my son be happy. May my son be healthy. May my son live with ease."
FAQS
1- How do I ask God to protect my son?
As I always say, When you involve God in your life, make sure to be convinced that He is there, working for you. Don't get involved in His work as you don't know the way he works.
All you need to know that He does what's best for His children, including you. Therefore, when you pray to protect your son, know that Your Son is His son as well so detach after prayer and let Him do the rest.
2- How do you bless your child?
While blessing your child, let your conscience stay pure and in the state where your blessings are coming directly from God. You may send white light to Him and give your blessings.
Or draw a cross on their forehead and say a short prayer such as:
"May God bless you and keep you safe and healthy, in the name of the Father, and of the Son, and of the Holy Spirit. Amen."
Final Words: As parents it's our responsibility to pray and bless them regularly instead of worry for their behavior or health. The most effective energy to children is parents energy so make sure you create positive and healthy thoughts.
A simple and short Protection Prayer for My Son has been doing words for my son so I have full faith it will do the same for you. I found this article guiding, sharing with other parents and guiding him in the right direction.
Also, don't forget to bookmark this page for more guiding and informative articles like "Protection Prayer for My Son" for instant access in the future.
Stay Healthy, Stay Blessed