If you want to develop your spirituality and are looking for an answer to How to Read the Bible Effectively, you have reached the right article. In this article I will share a few steps that helped me deepen my wisdom and will do the same to you.
Today, life has become more challenging than ever before and everyone is struggling to find the right answer. However, those who are aware of the truth that the holy book Bible has all the answers, still live peacefully.
If you study the bible in the right way, with a plan you can transform your life using specific verses in your regular routine life. Reading the bible regularly is very rewarding so challenge yourself to follow all the tips shared in this article.
I am confident that you will take spirituality to the next level in the coming days. Let's talk about the answer to How to Read the Bible Effectively.
Ways to Read the Bible Effectively
1- Choose The Translation That Works for You
Reading anything, even our holy book, requires a little interest which typically depends upon the language and presentation. The Bible is available in many translations and different approaches, before starting, check out which one connects to you most.
If you start with the one who makes sense to you, is more accessible language wise, you will take less time to understand the message. First and foremost answer to How to Read the Bible Effectively , choose the right translation for yourself.
There are many who describe the message in very old, traditional but effective ways. However, there are some which are more connected to modern times and attract young people more. Choose according to your choice and level of your understanding. You may later switch to another one.
Also Read about  Inspiring Bible Verses About Faith and Trust in God
2- Start with the New Testament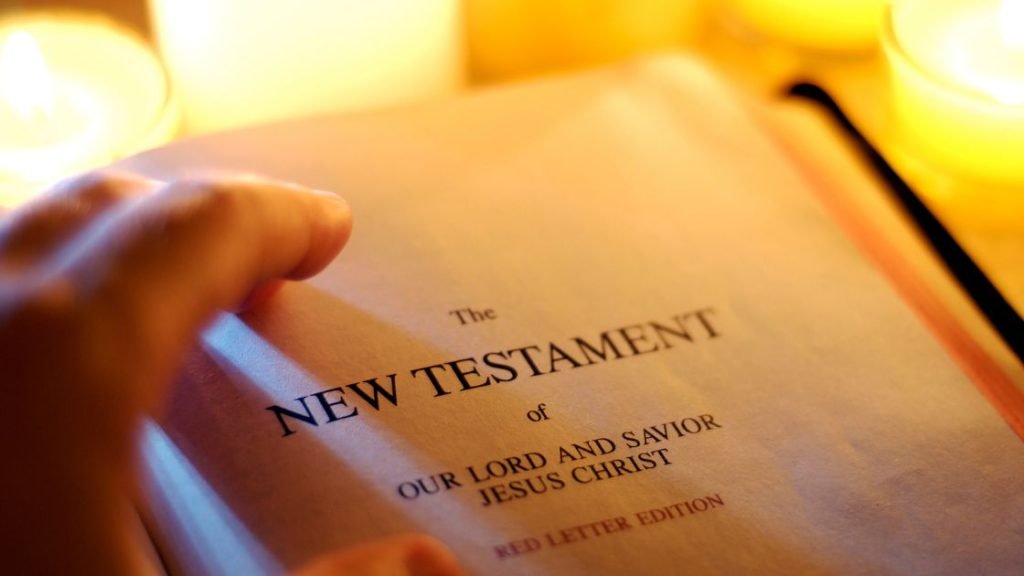 I always suggest to new readers to start with a new testament as the introduction connects the modern world. It's crucial to connect the dots while studying scripture as it makes the teaching more effective and easily digestible.
The new testament is more accessible to new readers and explains Jesus in an easy way along with information about the early Christian church. If you understand the early part of the Bible easily, it's interesting to keep going and get the other part of it.
Therefore Beginning with the new testament is How to Read the Bible Effectively for beginners. There are many helpful points that can help you solve many puzzles and deepen your understanding Chirstanity.
Also Read about Best Books on Catholicism
3- Use a Study Guide or Commentary
The best way to understand more profoundly, listen to some other preachers and connect the dots. When you start studying scriptures, your mind begins to open to higher information that sometimes needs approval from higher authority.
It's not always needed, but if you want to make your study more profound, listen to others and see if your analysis is correct. Analyzing your own understanding makes you intelligent, and enhances your level of reading.
Sometimes, it helps clear some of the text you might have been struggling to understand. IN other words, it saves your time while deepening your understanding. Using a guide, or commentary is also a way to How to Read the Bible Effectively.
4- Take Notes as You Read
One of the best ways to deepen your spirituality more profoundly is to write down your experiences and thoughts. It's a way to remember because sometimes, the mind forgets if you keep reading more.
Pouring your thoughts on paper and reading them once in a while can remind you of the stage where you're mid with thinking at a high level. When you write, the flow of information naturally comes and goes so catching them is crucial.
Therefore, writing your thoughts is How to Read the Bible Effectively, especially if you are new to reading texts. Have a special notebook or diary for your scripture reading and from time to time study your own writing.
5- Read The Bible on A Regular Basis
For a beginner, many biblical words can be hard to understand and easy to use in day-to-day life. If you truly want to deepen your Jesus consciousness, make it a habit to read the bible on a daily basis.
When you read these texts regularly, you become familiar with the message and words which inspire you to keep going. In addition it becomes easier to adopt Bible teaching and practice in your life. It's How to Read the Bible Effectively if you are new to bible teachings.
Also Read about Top 5 Difference Between Trust and Faith in The Bible
6- Engage with The Text
The Bible is not just a holy book one must read and treasure, but, for me, it's a guiding book to follow in real life. While you are taking a serious step to read, understand and follow The bible, you need to engage in practicing the text.
Decide only to read a few verses, and give your thoughts about it, try to practice it in your regular activities. When you practice the message you learn through the Bible, it becomes more interesting and effective.
Engaging with the text is How to Read the Bible Effectively and follow for real, for real experiences. Yes, I have experienced the result of reading, rereading and practicing the text so I can say you will experience a miracle.
Also Read about Ways to Create Interest to Read a Book 
FAQS
1- How to read the bible in chronological order?
Reading the Bible in chronological order helps to understand the history behind it. If you are interested in studying in this manner. The simplest way is that there are many applications available you can use for your own benefits.
There are a set of plans available on the Bible apps which will guide you through the Bible in the right manner, as the events occurred.
2- Can you tell me about some books on how to read the bible?
Yes, of course there are many books available online and offline that can guide you to read the Bible in the best ways. Here are some of the names I have selected for you.
1- "How to Read the Bible for All Its Worth" by Gordon D. Fee and Douglas Stuart
2- "The Bible Tells Me So: Why Defending Scripture Has Made Us Unable to Read It" by Peter Enns
3- "Misreading Scripture with Western Eyes: Removing Cultural Blinders to Better Understand the Bible" by E. Randolph Richards and Brandon J. O'Brien
4- "Reading the Bible Again for the First Time: Taking the Bible Seriously But Not Literally" by Marcus J. Borg
5- "The Bible Made Impossible: Why Biblicism Is Not a Truly Evangelical Reading of Scripture" by Christian Smith
Final Words: I hope you will be able to follow these simple tips and achieve your spiritual goals in a short time. Following, studying and practicing the Bible is a very personal choice. The more intense your desire, the less time you will take to grow.
If you can develop a habit of reading the bible on a daily basis, this one simple change will do magic to you. I hope you found this article helping and informative. If yes, do like, share and comment with those we might need at the moment.
Also, don't forget to bookmark this page for more informative articles like "How to Read the Bible Effectively " for instant access in the future.
Stay Healthy, Stay Blessed